Over 120 stranded at Rohtang Pass rescued
Kullu, May 24
The Manali administration today rescued over 120 people, including 20 tourists and 15 Buddhist monks, who were stranded due to sudden snowfall at the Rohtang Pass on Friday.

Report not aimed at fault finding, Sukhu tells CM
Shimla, May 24
State Congress president Sukhwinder Singh today met Chief Minister Virbhadra Singh to apprise him of the steps he was taking to identify and rectify the shortcoming to strengthen the party.


Sukhwinder Singh, state Congress president
CM responsible for Cong's rout: Dhumal


Hamirpur, May 24
Former Chief Minister PK Dhumal today asked Chief Minister Virbhadra Singh to accept the responsibility for defeat in the Lok Sabha elections in the state. Talking to mediapersons here today, Dhumal said, "Till May 16, Chief Minister Virbhadra Singh was saying there is no Modi wave in the state and it was only his wave in the state. But after the defeat he is blaming Modi wave for the defeat which is quite surprising."
PK Dhumal
monkey menace
US team meets Forest Minister
Shimla, May 24
The Himachal Pradesh Government will seek technical assistance from California University for capturing monkeys, sterilisation, prevention of various diseases and management of garbage and primate parks, said Forest Minister Thakur Singh Bharmouri here today.
Finish work on time, govt officials told
Palampur, May 24
Chief Parliamentary Secretary Jagjivan Pal today asked government officers to complete all development works under a time-bound plan and follow the development agenda of the state government.


CPS Jagjivan Pal listens to public grievances at Thural near Palampur on Saturday. Photo: Ravinder Sood
Medical College in Palampur
BJP flays govt decision to cancel letter of intent
Palampur, May 24
The BJP today criticised Chief Minister Virbhadra Singh for the cancellation of letter of intent issued to Vivekananda Medical Research Institute (VMRT) led by senior BJP leader and MP for setting up a medical college at Palampur.
Una swimming pool to be functional after 2 yrs
Una, May 24
After a gap of two years, the swimming pool at the Indira Gandhi Sports Complex will be made functional on May 26. It remained closed as the operation and maintenance of the facility could not be outsourced. The District Sports Council and the District Swimming Association made efforts to make it functional.
Joint efforts, collective wisdom only mantra for development: VC
Shimla, May 24
Joint efforts, open mind and collective wisdom is the only mantra for the development of the university.
Best Garment Construction Award conferred on NIFT student
Dharamsala, May 24
Usha International, leader in sewing machine industry, gave away this year's Usha -- NIFT 'Best Garment Construction Award' to Subhash Chander Burman, a student of the National Institute of Fashion Technology (NIFT), Kangra. The convocation event was held at Kangra yesterday.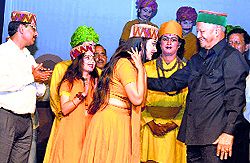 CM opens ballet fest
Shimla, May 24
India is a rich repository of art and culture and Shriram Bharatiya Kala Kendra, New Delhi, is doing a yeoman service in the preservation of country's cultural heritage.


Chief Minister Virbhadra Singh honours artistes of Shriram Bharatiya Kala Kendra at the Gaiety Theatre in Shimla on Friday. A Tribune photograph

Engineering student found hanging
Shimla, May 24
An engineering student of a private university was found hanging from the ceiling at his room in Sector 4 in New Shimla yesterday.
Insurance firm told to pay for deficiency in service
Sundernagar, May 24
The Consumer Forum, Mandi, has directed ICICI Lombard General Insurance Company, Mandi, to pay Rs 30,000 to the complainant along with 9% interest per annum from the date of institution of the complaint till its realisation.