Oh My Gold!
She sure is a star with a difference! She shows up dot on time. As the crowd goes berserk trying to catch a glimpse of her, Shilpa Shetty maintains her celeb demeanour, manages to smile at scores of cameras and answer queries on the opening of her store Satyug Gold in Chandigarh on Saturday.


Couple entry: Shilpa Shetty & Raj Kundra Photo: Manoj Mahajan

She's rock solid
She is all smiles, as she gets off from the white Mercedes. With husband Raj Kundra by her side, in a light casual attire, Shilpa Shetty is a picture of calm even as her fans go into a frenzy trying to catch a glimpse of her. Her fans queue up to the stairs of Satyuga Gold, the jewellery showroom, she came to inaugurate.



Shilpa Shetty Photo: Himanshu Mahajan




In the dress circle
Attires, colour, panache- the ladies of Ludhiana had it all, each one sporting a designer dress and outshining the other. The event was a workshop organised by Vogue School of Style to share tips on fashion.



Participants at the vogue workshop




Rhythm with reason
While manoeuvring an art form so refined, Shabnam Nath's passion for kathak floors you. She took to kathak while she was studying at The Lawrence School, Sanawar and continued training under the aegis of Shobha Koser, the director of Pracheen Kala Kendra even after graduating in the art from the Government College of Girls, Chandigarh.


The right move: Shabnam Nath



In first person
Chandigarh-based Deepak Chopra had everything going for him…great business, lovely family and all the worldly possessions one could aspire for. But in one stroke he lost it all. "It felt like I was put in a boat, hands tied and pushed into the ocean. All I could do was look at the setting sun in my life helplessly," recalls Deepak as his first book Mantras For Inner Peace was launched on Saturday at UT Guest House-6.
Love is in the air
The starcast of forthcoming Punjabi movie Mundeyan Ton Bach Ke Rahin (MTBKR) came calling to Chandigarh on Friday. Punjabi actors Roshan Prince, Simran Kaur Mundi, Jassi Gill, Pawan Gill and Navinder Kirpal Singh are starring in this bromance comedy that would leave the audience amazed. Besides this the naughty Bharti Singh, Anshu Sawhney (Preeto) and Minto too have bedecked the movie, which will release on May 30.
Pasta perfection
A cold salad is perfect during the summer heat. I make mine veggie-loaded so it's substantial and filling too. The ones we see at wedding feasts are choked with pasta bits and mayonnaise with very little of greens or protein. Now, that's no salad at all, for it is imbalanced and unhealthy.
Master stroke
Chandigarh Lalit Kala Akademi and the Seagull Foundation for the Arts, Kolkata are organising an exhibition of the new artworks by the legendary artist, scholar, poet, cultural commentator Padmavibhushan KG Subramanyan. The exhibition will open on May 26 at 5.30 pm at the Government Museum and Art Gallery-10.


Suitable choice
With our Bollywood celebrities walking the red carpet with élan in gowns reaffirms that fact that we have arrived on the global fashion scene. An awardee of the 'best design' at Sportking Institute, Navisha Gupta is all for sophistication.


Chic look: Navisha Gupta

Meet Bobby Jasoos
Makers of, the Vidya Balan starrer, Bobby Jasoos are ready to launch the trailer of the film but the question is where? Bobby Jasoos is a film about the journey of a female detective (played by Vidya Balan) and the film is set in Hyderabad. Ali Fazal is the male lead.


First impression: Vidya Balan



In and out of love, eternally!
Anurag Kashyap has found love again with a young girl and is quite open about it. He talks about Bombay Velvet and The World Before Her and also his personal life.
Barun Sobti talks movies
Actor Barun Sobti, who recently finished shooting for Satra Ko Shaadi made under John Abraham's production banner, talks about his role and much more...
I screamed at Daniel Radcliffe: Jennifer Lawrence
Hunger Games actress Jennifer Lawrence has revealed that she screamed at Harry Potter star Daniel Radcliffe when she first met him. The 23-year-old actress, who is a self-confessed Harry Potter fan, recalled the awkward moment during an appearance on Late Night with Seth Meyers, reported a publication.
Tiger Shroff to play Shiva?
We recently heard how Karan Johar will be adapting Amish Tripathi's book, Immortals of Meluha for the big screen. The first book in Amish Tripathi's Shiva Trilogy, Immortals of Meluha tells us the story of a Tibetan immigrant named Shiva who is invited to the kingdom of Meluha.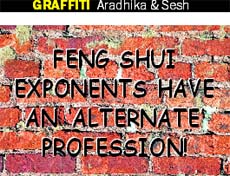 CHATTER BOX