M A I N N E W S
Prime Minister Modi takes charge
Sworn in 15th PM

45-member team takes oath

Cabinet berth for Rajnath, Sushma, Jaitley, Gadkari, Harsimrat
KV Prasad
Tribune News Service
New Delhi, May 26
Ushering in the new government of Prime Minister Narendra Modi, President Pranab Mukherjee today administered oath of office and secrecy to the 45-member Council of Ministers, marking the completion of a transition to a new order mandated by the people and witnessed by a galaxy of leaders of South Asian region and India.
As the evening shadows lengthened across the sprawling forecourt, the majestic Rashtrapati Bhavan formed an impressive backdrop to the special stage set up to conduct the ceremony witnessed by over 3,000 special invitees and millions through television and live streaming on the web.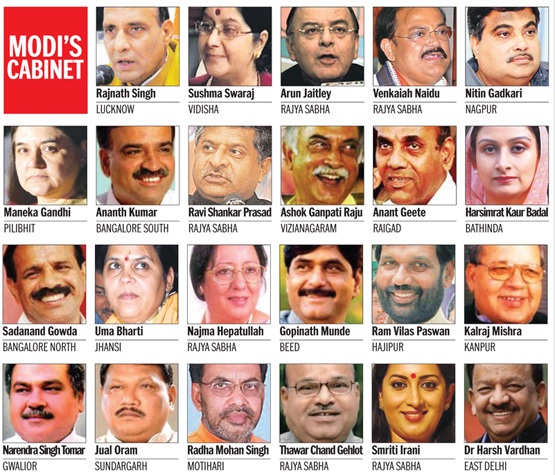 Ministers of State (Independent Charge): Gen VK Singh (retd) | Rao Inderjit Singh | Santosh Gangwar | Shripad Naik | Dharmedra Pradhan | Sarbnanda Sonawal Prakash Javadekar | Piyush Goyal | Dr Jitendra Singh | Nirmala Seetharaman
Ministers of State: GM Siddeswara | Manoj Sinha | Nihal Chand | Upendra Kuswaha Pon Radhakrishnan | Kiren Rijiju | Krishan Pal | Dr Sanjeev Kumar Baliyaan | Mansukh Bhai Vasava | Rao Saheb Dadarao Danve | Vishnu Dev Sai | Sudarshan Bhagat
Having propelled the BJP to victory with absolute majority in three decades, the 63-year-old Modi took oath in Hindi shortly after 6.00 pm. Earlier, on his arrival, slogans of Bharat Mata-ki-Jai' and `Vande Matram' reverberated in the air.
Promising to usher in a transparent era of governance matched with delivery, the Modi government was fastest-off-the-block with the official website launched almost simultaneously as Modi signed the register.
In his first message to the people, he said: "On 16th May 2014, the people of India gave their verdict. They delivered a mandate for development, good governance and stability. As we devote ourselves to take India's development journey to newer heights, we seek your support, blessings and active participation. Together we will script a glorious future for India. Let us together dream of a strong, developed and inclusive India that actively engages with the global community to strengthen the cause of world peace and development."
Responding to Modi's major diplomatic initiative, leaders of SAARC countries, including Nawaz Sharif (Pakistan), Hamid Karzai (Afghanistan), Mahinda Rajapaksa (Sri Lanka) graced the occasion. Vice President Hamid Ansari, outgoing Prime Minister Manmohan Singh, Congress chief Sonia Gandhi, Governors, including NN Vohra, Lieutenant Governor Virendra Kataria, Punjab Chief Minister Parkash Singh Badal, allies of NDA, members of the diplomatic core, and personalities from the field of sports, films and industry also witnessed the 90-minute grand ceremony.
The new Prime Minister, who advocates a lean government, inducted 24 ministers in the Cabinet, 10 Ministers of State with Independent Charge and 12 Ministers of State seeking to strike a balance with a blend of experience and new.
The biggest beneficiary among the allies was SAD's Harsimrat Kaur Badal. She was rewarded with a Cabinet rank even without any previous experience unlike Ram Vilas Paswan (LJP) Ashok Gajapathi Raju (TDP) and Ananth Geete (Shiv Sena), all of whom have had a stint as ministers either in the state or Centre. Bagging a Cabinet berth, television-star-turned-politician Smriti Irani was another big gainer.
Star-studded show
SAARC heads: Nawaz Sharif (Pakistan), Hamid Karzai (Afghanistan), Mahinda Rajapaksa (Sri Lanka), Tshering Tobgay (Bhutan), Sushil Koirala (Nepal) , Abdulla Yameen Abdul Gayoom (Maldives), Navinchandra Ramgoolam (Mauritius), Shirin Chaudhury (Bangladesh Speaker)
Bollywood: Salman Khan, Anupam Kher, Dharmendra, Vinod Khanna, Shatrughan Sinha, Hema Malini
Industry: Mukesh Ambani, Nita Ambani, Anil Ambani, Gautam Adani, Ashok Hinduja, Sunil Mittal
Other VVIPs: Hamid Ansari, Sonia Gandhi, Manmohan Singh, APJ Abdul Kalam