Dying in vain in the quest for justice
A substantial number of women have alleged that policemen are abetting suicide due to the failure to help them in getting justice. Such charges are levelled against senior-most officers too due to their inaction and apathy. When the police are alleged to be on the wrong side of the law, who can deliver hope for justice?
Rajbir Deswal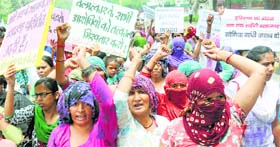 Dalit activists from Bhagana village in Haryana protesting against the rise of incidents of rape of Dalit women. photo: Manas Rajan Bhui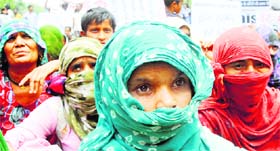 There are immolations reported from the South when famous cine actors die. Farmers too are reported to be committing suicide in many parts of the country due to crop failure and the burden of debt. Students have been known to have attempted immolation protesting against fee hike and other issues. No doubt such steps are taken when every other option seems to have failed and when one is either left alone to fend for oneself or one is so upset over the system that refuses to deliver that one decides to do something "extraordinary and spectacular". In all the above-mentioned categories, I don't recall any case where a case has been registered against an authority prior to the suicide. The recent examples of attempted, (and at some places executed) suicide cases against police inaction invariably invites registration of cases against policemen.
What makes these suicides different from the rest? The reasons may not be far to seek. Is it because the grievance- redressal system in the police is faulty? Is it because policemen as first responders are insensitive to the genuine concerns of the victims? Is it that the people protesting have almost no knowledge of the criminal-justice delivery system and its efficacy? Is it because the vested interests try to arm-twist the police into taking action largely provoked by them? Is it that police officials' training leaves much to be desired? Is it that the Criminal Procedure Code doesn't provide for instrumentalities required for immediate correctional remedies to take care of the malaise? Is it that the law and procedures require all the protocols to be addressed without ensuing delays? Is it because some people have a low threshold and want the quickest possible action — even expecting the police to throw to winds the requirement of hard proof before taking remedial action in a certain matter? Is it that the police do not have a fair image and are not seen as dispensing and delivering justice in an unbiased and honest way?
The extreme way
Perhaps most of what has been said above is correct, but still resorting to the extreme step of attempting suicide or an immolation when a myriad other legal options are available is by itself a baffling act. Why is it that the social and familial bonds do not provide emotional succour to the victim? It began in 2008 in Haryana Police, when a woman by the name of Sarita committed suicide at the Police Headquarters Panchkula, after she was allegedly raped. It is reported that she, having run from pillar to post for justice found that certain police officials had not taken action as per law on her complaint. This writer will desist from making comments on such cases since some of the cases are sub judice, yet a recall of a few cases should not be out of place for reasons of research and analysis.
In a very recent case (May 9, 2014) of a 35-year-old woman committing suicide, as reported from Jind in Haryana, enquiries at the levels of a woman Inspector General of Police, a woman Deputy Inspector General of Police and a woman Inspector of Police, confirmed her allegations as being "false". Accordingly, a cancellation report was filed with the concerned Court. The Court fixed May 8, 2014, to hear if the complainant was satisfied with the police report or not, providing again an opportunity for the woman, to express her viewpoint before she committed suicide on May 9, 2014. Before taking the extreme step, she named several accused persons in the suicide note, besides five police officials. A case has now been registered for "abetting suicide." The fact remains, if these many instrumentalities of law aren't sufficient enough to take the things to a logical conclusion in a manner that justifies nullifying false accusations, then investigations will remain only an ongoing process, and complainants and litigants would never be happy with an agency that does not toe the line expected by them. Also, if a person's insinuations are ab initio (at the beginning) suspect, should it all amount to abetting an offence on the part of the law-enforcing agencies?
Recently, another case was registered in Karnal involving among other policemen, a Superintendent of police himself, besides others. Many Deputy Superintendents, Inspectors, non-gazetted officers and other ranks are involved elsewhere. Sarita, in her suicide note, had alleged that she was committing suicide as the police had failed to take action against two police officials who raped her in Rohtak in 2008, when she was summoned by CIA staff, who had arrested her husband in a theft case. She had committed suicide in front of the police headquarters at Panchkula when she did not get justice from the Rohtak police. After serious allegations against the police, the Haryana government handed over investigations to the CBI.
Need for soft skills
Suggestions to improve the system cannot be exhaustive since every case differs in merit and circumstance. Yes, if some stark streaks of undeliverability are straightened and corrected, much will be achieved in at least addressing the problem and ending the spate that continues unabated. Policemen are required to be more educated and need to be made aware of the victims' concerns. It should be a senior-level officer, not less than an Inspector, assisted by a battery of psychologists, counsellors and legal experts to handle the first information on such cases. Else, they are bound to end up in an unsavoury situation as a victim may be compelled to resort to an act like committing suicide. Generally, the complaints are handled by either the munshi of a police station who is a Head Constable-level official, or an Officer on Special duty who is a Non-Gazetted Officer. Both are generally not trained in soft skills and adequate knowledge of laws and procedures.
Those who report crimes to the Police should at the first possible instance be briefed about the factual position of the law vis-a-vis their expectations, which generally are unrealistic. There needs to be put in practice a system which assures the victim the efficacy of the criminal justice delivery system. Browbeating the police into action by vested interests needs to be neutralised by involving peace committees and NGOs who should be on the panel with the police authorities to be summoned while handling such cases. Undoubtedly, police officials need to be trained not only in law but also in soft skills so as to be seen as delivering and not being suspected for their demeanour. There are training modules available with professional NGOs which can be outsourced for the time being, till an in-built training curriculum is chalked out in police training academies.
Although every safeguard is available in the Criminal Procedure Code providing for the instrumentalities required for immediate correctional remedies to take care of the malaise, executive orders from the departmental head from time to time regarding grievance redressal may not be uncalled for. The Haryana DGP has made it mandatory to complete investigations in a rape case in not more than a month. Procedures do entail delays but assigning tasks to various teams of investigating officers and a direct supervisory control over investigations should make things fall in place. Hard proof is the most important requirement in a trial. At the same time, the victims need to assist the police in providing all the important clues and witnesses before launching the prosecution in any case. It goes without saying that the police should be seen to be delivering in the most honest and professional manner, a task which does not seem easy to attain in the face of the image that the police has as of now. Efficient officers with proven integrity need to be projected by the police. With them being around, problems such as the feeling of helplessness that pushes victims to committing suicide can be taken care of.
Speed and procedures
As an insider, this writer can very safely deduce that the policemen are shaken and saddened with such instances taking place frequently. Not only do such cases put a policeman in a quandary of sorts since he too is answerable not only to his superiors but also to the courts, media and the general public. However, in an anxiety to please all, he does put himself in a fast-forward mode to be seen as "delivering" at times. This hurry is not only detrimental to the case he is handling but tells upon his own mental health as well. There are a plethora of policemen facing departmental action in such cases which may necessarily not be of their making due to circumstances. This is not a happy scenario. The policeman has to do his job and he has to be allowed to carry out his job well, without any pressures being either brought upon him or him yielding to situations he is not trained to handle. Surely, it's all very demoralising for the police — the arguments against their lack of efficiency also taken into account.
Pushed to the wall?
An element of continuity is a necessity in perpetration of abetted pressuring to take one's own life, to accuse someone of the offence as described in Section 306, IPC. The police role will always come into play in reporting, registering and investigating a crime. Also, the victims sometimes expect much more than what is envisaged under the law and procedure. For example, if a child is crushed under a vehicle, the relatives would want the driver to be "handed over to them" or "hanged immediately." Such irrational demands cannot be met by the police and if someone commits or threatens to commit the offence of suicide blaming the police, the blame is ill-founded.
A nightmare for police

Section 306 of the Indian Penal Code states that "If any person commits suicide, whoever abets the commission of such suicide, shall be punished with imprisonment of either description for a term which may extend to ten years, and shall also be liable to fine." This Section requires a predicament for the perpetrator to create circumstance for compelling someone to commit suicide. It may not be as convincing to believe that a police officer should have reason to abet the crime of compelling someone to commit suicide, though his actions in demanding money, delaying the matter at hand, pressurising for compromise etc are suspect from the very beginning and he/she can be criminally or departmentally proceeded against on such articles of charge. There has to be the intention or knowledge of wrongdoing that constitutes part of a crime, as opposed to the action or conduct of the accused, on the part of the police official in making the victim contemplate suicide either abetted or aided —otherwise the reasons for such an action could be many. At the same time, a barrage of such cases registered across Haryana demand an evaluation of the police-public interface.
Legal wrangle

Section 309 of the Indian Penal Code says, "Whoever attempts to commit suicide and does any act towards the commission of such offence, shall be punished with simple imprisonment for a term which may extend to one year, or with fine, or with both." In some Western countries, attempt to commit suicide "is regarded as a manifestation of a diseased condition of mind deserving of treatment and care rather than as an office to be visited with punishment". Experience has shown that when the police books those who cross them on "inaction" or "seeking favourable action" by threatening to commit suicide, they generally invoke Section 309 against them to "play safe."

With the introduction of the Punjab Right to Service Act, 2011 (which may be replicated in other states too) and the Police being brought under it, should there be in place in the near future a mechanism when the police officer will be protected as in the case of doctors, since frivolous complaints are being filed against them at the proverbial drop of a hat.
Death or justice

Rajiv Goswami immolated himself in full public view outside AIIMS in New Delhi, protesting against reservation of jobs for the backward classes promised by the Mandal Commission in 1990.

Sarita, committed suicide outside the police headquarters in June 2008. In her suicide note, she had alleged that she was committing suicide as the police failed to take action against two police officials who raped her in Rohtak, when she was summoned by CIA staff, who had arrested her husband in a theft case.

In September the same year, Suman, a resident of Pashina Khurd village near Samalkha, attempted suicide in front of the police headquarters alleging inaction of Panipat police, whom she alleged of murdering her brother. She survived.

On May 9, 2014, another woman committed suicide from Jind, alleging five policemen of inaction in a case involving her alleged molestation.
The writer, a former Commissioner of Police of Ambala, Panchkula is presently IG Telecom, Haryana