G R O U N D Z E R O
ground zero

Modi gets his development mantra just right
The new PM has emphasised on reviving the economy. Significantly, he has said his focus will also be on health, energy, education, water and roads. Unless he makes a difference in these aspects, India shining would remain an empty slogan.
Raj Chengappa

After his impressive though rather chaotic swearing-in ceremony that was witnessed by over 3,000 invitees, including yours truly, Prime Minister Narendra Modi has hit the ground running. He has sent clear signals that while he did believe in delegation, he was going to be the 'Prime' Minister. Significantly, in the note released regarding allocation of portfolios to his ministers, as part of his responsibility Modi has put down that he would be dealing with "all important policy issues".
In the second meeting of his Cabinet Modi asked his ministers to put up a list of priorities and set a time-table for their first 100 days in office. He then laid down a 10-point agenda for his government that included giving bureaucracy the confidence to act, promoting fresh ideas, bringing transparency and accountability in government, focusing on health, energy, education, water and roads, addressing concerns of the economy, including infrastructure and investment reforms, time-bound implementation of programmes, stability in policy and people-oriented governance.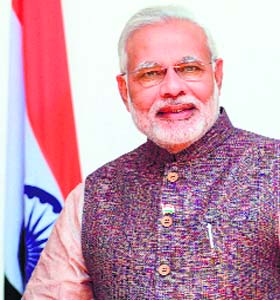 Modi has already set the tone for the government he would like to run.
Yesterday, Modi jettisoned his predecessor Manmohan Singh's policy of setting up countless Groups of Ministers (GOM) to deal with complex issues that had resulted in a policy paralysis. In doing so, Modi has already set the tone for the government that he would like to run.
Modi's agenda emphasises on reviving the economy – since inflation and unemployment had emerged as major concerns during the poll process. But that he has got his priorities absolutely right is reaffirmed by his focus on health, energy, education, water and roads. In each of these areas, India has been found wanting. Modi understands that unless he makes a qualitative difference in tackling these issues, India shining would remain an empty slogan.
Take drinking water for instance. It is India's shame that even 65 years after Independence one out of four Indians still does not have access to potable water. Half of India's population does not get drinking water at home. Instead, in 15 out of the 29 states, people have to walk an average of half a kilometre to fetch drinking water. When it comes to sanitation, we all have to hang our heads in disgrace. Half of India's population or over 600 million still practise open defecation.
This unhygienic and shameful state of affairs has seen the burden caused by diseases remain high. In health care, India is faced with a double whammy. Apart from traditional afflictions like malaria, pneumonia, tuberculosis and diarrhoea, rising affluence has seen urban Indians face a range of lifestyle diseases such as heart attacks, hyper-tension, cancer and AIDS. There is now tremendous pressure on the already overburdened health care system, whether at the primary, secondary or tertiary levels, and these need urgent intervention from government.
Another major area of concern is education and its link to the lack of skill development. While enrolment rates have gone up (in primary education it has crossed 90 per cent), the standard of teaching remains low. Surveys have shown that almost half the fourth standard students cannot read or carry out simple divisions in mathematics. Teacher absenteeism remains high and the quality of classroom infrastructure or school buildings low. In higher education, despite mushrooming of colleges and universities, apart from high dropout rates there is a shortage of job-oriented courses to meet the demands of the economy.
Two other issues – energy and roads – also are in a sorry state. Despite recent improvements in India's power generation capacity, 300 million (or one out of four) people in India do not have access to frequent electricity. In rural areas that figure is one in three. The energy sector is beset with problems, resulting in India being unable to provide a secure supply of energy to its people. There is an ever-growing gap between demand and supply and fuel imports have skyrocketed. Our per capita consumption of electricity remains one of the lowest in the world.
In roads too, while there has been a quantitative growth in connectivity, in terms of quality we have a poor mix of modern highways and narrow pathways with only half of India's road paved. We still have one of the lowest road and highway densities in the world. Only 16 per cent of our roads are four-laned. Our average road speed is 30 km per hour as compared to 60-80 km per hour in developed countries, including China.
The new Prime Minister must be acutely aware that the road ahead is long and arduous. But if Modi puts his shoulder to the grind, he would find a billion wanting to add their weight so that a majority of Indians would at least have access to the bare necessities of life.