Patnaik calls on Modi, Jaya may meet today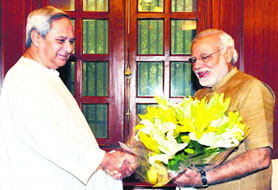 New Delhi, June 2
Odisha Chief Minister Naveen Patnaik's and Prime Minister Narendra Modi meeting today and the scheduled meeting between Modi and Tamil Nadu Chief Minister Jayalalithaa tomorrow are being closely watched in the political circles here. These offer a study in contrast as Patnaik's BJD and Jayalalithaa's AIADMK were not in the BJP camp.

Prime Minister Narendra Modi with Odhisha Chief Minister Naveen Patnaik in New Delhi on Monday. PTI

Ensure transparent, effective governance: Modi to ministers
New Delhi, June 2
Prime Minister Narendra Modi today asked his Cabinet colleagues to follow the BJP manifesto and deliver what the party had promised to public in its pre-poll presentations by ensuring that the welfare schemes trickle down to all. He also asked them to overlook family while doing selfless work for people.
Uddhav is Sena's CM nominee
Mumbai, June 2
In a clear indication that it may break away from the BJP, Shiv Sena today declared its party chief Uddhav Thackeray as its chief ministerial candidate for the forthcoming Assembly elections in Maharashtra.
BJP may lose a quarter of its MPs in UP
Lucknow, June 2
Is the BJP's dream run in Uttar Pradesh, where it won a staggering 71 of the 80 Lok Sabha seats, under threat? As many as 22 of the newly elected MPs who face serious criminal charges may lose their parliament seat if they are convicted under the Supreme Court directive of wrapping up cases related to lawmakers within one year.
Gogoi meets dissident MLAs' leader
Guwahati, June 2
In a significant move apparently at the instance of the All India Congress Committee (AICC), Assam Chief Minister Tarun Gogoi today called the leader of the dissident Congress MLAs, Dr Himanta Bishwa Sharma, for discussions amid speculations about reshuffle of the ministry to accommodate some dissident MLAs. Before meeting Health and Education Minister Dr Sharma, Gogoi called in a senior Congress MLA close to the dissident camp, Sarat Borkotoky, for discussions.
Priyanka's SPG withdrawal remarks
Security doesn't depend on someone's whims & fancies: MoS
New Delhi, June 2
In the wake of Priyanka Gandhi asking the SPG to withdraw exemptions given to her family from security checks, Union Minister of State for Home Kiren Rijiju today asked why she was trying score a "brownie point" as security does not depend on "someone's whims and fancies".
Cabinet Secy Ajit Seth gets 6-month extension
New Delhi, June 2
Cabinet Secretary Ajit Seth was today given six months extension in service, just 12 days before he was supposed to retire, in an apparent move to ensure continuity by the new Narendra Modi government. The extension of Seth (62) was approved by Appointments Committee of the Cabinet, headed by the Prime Minister. This is second extension for Seth who was given one-year extension by the previous UPA government last June.
60,000 primary schools in Bihar without headmasters
Patna, June 2
Nearly 60,000 of the 73,000 government primary schools in Bihar, mostly in rural areas, do not have a "proper" headmaster. "Eighty per cent of the primary schools in Bihar are running without proper headmasters. In many places, teachers have been made in charge of these schools to manage it on temporary basis..., " an official of the education department said.
Black money SIT mulls ways to move ahead
New Delhi, June 2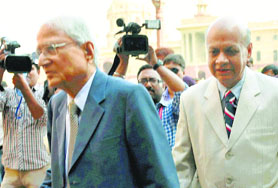 The first meeting of the Special Investigating Team (SIT) on black money discussed modalities and road map to proceed further. According to a statement issued, the meeting was held here today under the chairmanship of Justice M B Shah, former Supreme Court judge.

Special Investigation Team Chairman Justice MB Shah (retd) and Vice-Chairman Justice Arijit Pasayat (retd) arrive to attend the first meeting of the panel in New Delhi on Monday. PTI

Rajnath seeks road map on internal security
New Delhi, June 2
Taking note of concerns voiced over the government's development projects being affected by the internal security situation, Home Minister Rajnath Singh today asked chiefs of security agencies and paramilitary forces to prepare a roadmap to strengthen the security architecture.
Housing for all by 2022, says Venkaiah
New Delhi, June 2
Union Minister of Urban Development, Housing and Urban Poverty Alleviation M Venkaiah Naidu said the government was committed to the goal of 'housing for all by 2022'. Addressing a high-level meeting with the ministry officials and various other stakeholders, the minister pointed out that 2022 is the 75th year of India's freedom when the dream of the urban poor for housing needed to be realised.
Akhilesh orders 24x7 power supply for Modi's Varanasi
Lucknow, June 2
Following pressure built up by seven-time Varanasi South MLA Shyamdeo Roy Chaudhury's indefinite hunger strike, Chief Minister Akhilesh Yadav has made Prime Minister Narendra Modi's constituency a power cut-free district.
Chavan expands Maharashtra cabinet
Mumbai, June 2
Maharashtra Chief Minister Prithiviraj Chavan today expanded his cabinet by including two more members. Amit Deshmukh, MLA from Latur and son of former Chief Minister Vilasrao Deshmukh, and Abdul Sattar Abdul Nabi, MLA from Sillod in Jalna were today administered the oath of office and secrecy by Governor K Sankaranarayanan.
Veterans take up OROP issue with PM
Chandigarh, June 2
Following the change of guard at the Centre, ex-servicemen have taken up the issue of one rank—one pension (OROP) scheme and other welfare measures with the new political leadership.
Mumbai blasts
SC stays Yakub Memon's execution
New Delhi, June 2
The Supreme Court today stayed the execution of Yakub Memon, sentenced to death for masterminding the 1993 serial blasts in Mumbai in which 257 people were killed and over 700 injured.
Ex-servicemen take up OROP issue with PM
Chandigarh, June 2
Following the change of guard at the Centre, ex-servicemen have taken up the issue of one rank—one pension (OROP) scheme and other welfare measures with the new political leadership. In memorandum submitted today to the Prime Minister Narendra Modi, Home Minister Rajnath Singh, Law and Justice Minister Ravi Shankar Prashad and other members of Parliament, the Indian Ex-servicemen Movement (IESM) has drawn the government's attention to their pensing demands and other issues that were included in the BJP's election manifesto. IESM has also sought immediate withdrawal of all pending appeals filed by the defence ministry against disabled soldiers and widows in the Supreme Court, formation of a military veteran's commission and job employment up to the age of 60 years. TNS
Kedarnath Yatra resumes after brief delay
Dehradun, June 2
The Kedarnath Yatra was today halted for nearly three hours due to inclement weather in the higher reaches of Rudraprayag district of Uttarakhand. However, the district administration said no landslides or casualties were reported in the district. A fresh batch of 390 pilgrims left for Kedarnath shrine from Sonprayag today. The yatra was hit due to poor weather 10 days ago as well. The district administration claimed that adequate arrangements were in place to ensure pilgrims' safety. Rudraprayag District Magistrate Raghav Langar said the pilgrimage was stopped as a precautionary measure and was later resumed after the weather improved. TNS
Jaitley to review chopper deal
New Delhi, June 2
Defence Minister Arun Jaitley will review the Rs 3,600 crore AgustaWestland chopper deal with the ministry preparing a presentation for him on the procurement that was scrapped after allegations of bribery and payment of kickbacks. The Directorate General of Acquisition will soon make a briefing before the Defence Minister on the case involving procurement of 12 AW-101 VVIP choppers for the IAF, Defence Ministry officials said today. The briefing, which is likely to take place this week, will also include details about the ongoing arbitration and investigations going on in both India and Italy in the case, they said. — PTI