M A I N N E W S
Udhampur-Katra rail line ready for launch
Devinder Thakur/ Deepanker Gupta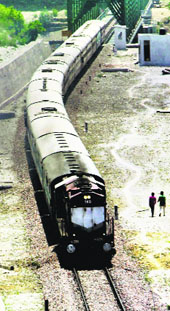 A train passes through Jajjhar Khad Bridge during a trial run on the Udhampur-Katra link on Wednesday. PTI

Katra/Udhampur, June 11
Railway authorities have successfully carried out a trial run on the newly-constructed railway line between Udhampur and Katra that connects the Kashmir Valley.
"The trial run was conducted using a departmental and materials train (DMT), which is helping in placing concrete on the track. The work will go on for another five to seven days. The train will have 15 wagons. Very soon, people will be able to board the train," said Northern Railway General Manager Pardeep Kumar after reaching Katra from Udhampur by train on Wednesday morning.
Prime Minister Narendra Modi is likely to inaugurate the railway line later this month.
On December 7, 2013, the authorities successfully ran a light power engine from Udhampur to Katra town, but the Commissioner Railway Safety (CRS) team pointed out some rectification regarding the track.
"We may conduct two more trial runs. We are waiting for authorisation from the Centre for a railway information systems' officer. After the authorisation, the railway administration will decide the date to start the service," said Kumar.
Once operational, the 25-km stretch between Udhampur and Katra would provide direct connectivity to Katra and benefit Vaishno Devi pilgrims.
At the Udhampur railway station, the General Manager described the direct train service to Katra as the biggest-ever achievement of the Northern Railway.
"By facilitating lakhs of pilgrims who intend to pay obeisance at the Mata Vaishno Devi shrine, the direct train service will be the biggest-ever achievement of the Northern railway," said Kumar.
He said the Katra railway station will be "world class" with all basic facilities including ticket counters, yatra parchi counter, air-conditioned waiting rooms, restaurants, shopping complex , Indian Railway Catering & Tourism Corporation Ltd (IRCTC ) guest house and elevators.
On the safety aspect, he said he personally inspected all the tunnels, bridges and the track. The snags pointed out by the CRS have been removed by the construction wing and thus 16-bogie train has comfortably reached the Katra railway station.