OPED

society
Children's homes: Tales of broken promises
Upneet Lalli
Child rights in children's homes are violated with impunity. We need to make these homes places of socialisation and provide an environment that nurtures children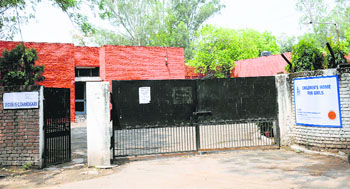 A view of the children home for girls (earlier Bal Niketan) located in Sector 15, Chandigarh. A home for children should protect and nurture children and not make them vulnerable to exploitation or abuse. We have miles to go before the rhetoric of child rights becomes a reality. Tribune photo Manoj Mahajan

Where the mind is without fear, and head is held high, Tagore's prayer seems to be unanswered, if we look at it from the eyes of our most vulnerable children, amongst the 440 million children in India. Tearful eyes, bruised bodies, a mind full of constant fear and traumatised souls is the state of children in some institutional homes. The word 'home' connotes a place where one is secure, loved and protected. This earliest place of socialisation provides an environment that nurtures the child.
This century began with a powerful legal enactment, the Convention on Rights of the Child (1990) that recognises and protects human rights of children. India has signed and ratified this Convention which spells out the different types of rights viz. right to survival, right to protection, right to development and right to participation. While Rights may be constitutionally secured, they do cannot automatically implement themselves.
Two major legislations reflecting the rights-based approach are Juvenile Justice (Care and Protection of Children) Act, 2000. The JJ Act looks at two categories of children, i.e. Juveniles in Conflict with Law and Children in Need of Care and Protection. The Act spells out rules and the the role of the State as a facilitator for implementation of this legislation. The other legislation is Protection of Children from Sexual Offences Act, 2012 (POCSO), which came into force on November 14, 2012. It provides protection to children, from the offences of sexual assault, sexual harassment and pornography. These offences have been clearly graded as per the gravity of the offence. There were 8,541 cases of child rape reported in 2012 (NCRB). Both these laws have a long way to go in achieving the objectives they seek. The implementation of these laws is itself a commentary on state capacity and capability of various stakeholders.


Homes or hellholes?
Karjat, Maharashtra May, 2014: 32 inmates in the age group of 4-15 years suffered sexual abuse in an unauthorised home.
Tamil Nadu, March 2014: Two unauthorised children's homes run by an NGO in Korukkupet and Royapuram (Tamil Nadu) sealed. Nearly 41 children were rescued after many complaints of sexual abuse in the homes. Laptops and CDs seized. Children were poor orphans. No proper record kept.
Chandigarh, April 2014: The male supervisor of Bal Niketan arrested for allegedly sexually harassing of several orphans and destitute inmates.
Jaipur, 2013: Illegal shelter home. Sexual abuse of girls. Many children from the North-East sent back to their home state
Rohtak, April 2012: The home had more than 100 girls, some as young as 5-7 years were subjected to sexual abuse at the behest of the in charge. The victims had to undergo secondary victimisation since they had to repeat their horror story to multiple agencies.
Delhi, February 2012: Abuse of three boys in Umeed Aman Ghar, a shelter home in Mehrauli, South Delhi. The young boys were abused by their seniors.
Traditionally, in India, the responsibility of care and protection of children has been with families and communities. A strong well-knit family provides a foundation of stable childhood. Where parents are unable to take care of children, the State has to step into the role of caregiver. The JJ Act specifies different categories of children in need of care and protection. These include, amongst others, even street children or working children, a child whose parents have surrendered him or who is missing and run away. Also included are those being or likely to be grossly abused, or exploited for the purpose of sexual abuse or illegal acts, etc. These children need a more protective environment in terms of care givers.
Best interests of the child
The ethos with which these homes should be run should not be profit or charity but serving the best interests of the child. Under the JJ Act, there are different institutions to look after both juveniles and those in need of protection.
Children's homes may be established by the State government or maintained either by the State or in association with voluntary organisations for the reception and care of children who are in need of care and protection. Subsequently their, treatment, education, training, development and rehabilitation has to be taken care of. The Rule provides that all children's homes should be registered as Child Welfare Institution under Section 34(3) of the Act and Rule 71 and certified as per procedure. They are also supposed to report to the concerned Child Welfare Committee about every child received by them. The responsibility of care and welfare are provided under the rules with specific facilities like accommodation, nutrition, mental health, education, vocational training etc. The JJ act is thus very comprehensive. More than a decade later, not only are the structures not fully in place, unprofessionalism in running these homes is the norm, not an exception. Is it sheer apathy or inhumanity? Safety and security do not just happen, they are the result of consensus and public investment'.
Piece-meal approach
Child protection has been dealt with in a piece-meal way, with allocation of minimum resources reaching out to a miniscule number of children in difficult circumstances. There is no annual data about the number of children in different child-care institutions, whether for juveniles or children in need of protection. The total number of institutions with children in India is impossible to quantify. Many evade classification or are still unregistered. As of today, we do not know how many children are there in different types of homes, and how many in children's homes, shelter homes, transitional homes, after-care organisations and 24-hour drop-in centres that exist in various states from where all the children come.
Recently, in Kerala, almost 500 children were rescued. They were transported from Bihar and Jharkhand, and were sent to orphanages. Investigations into whether this was a case of trafficking are still on. There are multiple issues concerning vulnerable children—be it child labour, trafficking or abuse.
Failure to secure child rights
The most recent incident took place at Karjat Shelter Home, Maharashtra on May 28, 2014. At least five inmates were sexually abused. Children as young as 11 were forced to have sex among themselves and also with the accused. The long-term costs of child abuse and neglect are associated with health care, psychological damages, lives of crime, substance abuse, domestic violence and conflict. These are ultimately borne by society.
Mute witness
"When the lives and rights of children are at stake, there must be no silent witnesses," was Nelson Mandela's belief. It is shocking that crimes against children are either not reported or cognisance is not taken. We as a society remain a mute witness. In a survey by the Ministry of Women and Child Development in 2007, covering 10,500 children across 13 states, shocking results revealed that two out of every three children reported to being physically abused. About 53.22 per cent children reported having faced one or more forms of sexual abuse. Children on street, at work and children in institutional care reported the highest incidence of sexual assault. Around 50 per cent abusers are known to the child or in a position of trust and responsibility. The position continues to be the same.
A wake-up call
Massive abuse of children at Apna Ghar at Rohtak 2012, should have been a wake-up call to set children's homes in order, as per provisions of JJ Act. Reign of terror, sexual molestation by staff members, regular beatings and psychological abuse— unabated litany of woes. Many homes still operate with little accountability and virtually no oversight. The Act provides a roadmap for management to tackle abuse inside institutions but many privately-run homes resist registration. Even though the Act provides for inspection committees in each district, there are no regular inspections and reports are not in the public domain. Most children will not report abuse to anyone, unless they trust the adults.
Defining sexual offences
The other legislation, POCSO, has filled up the legal lacunae of not only defining but making sexual offences against children stringently punishable. The POCSO Act is gender-neutral and has listed aspects of touch as well as non-touch behavior under the ambit of sexual offences. The Act incorporates child-friendly trial procedures as also special court to complete the trial in a year. Like the best international child protection standards, the Act provides mandatory reporting of sexual offences. The State and enlightened society needs to play a more pro-active role for child protection. After all children are future citizens. Investment on child protection is not a luxury choice but a national necessity.


What needs to be done
It is important to identify vulnerable families and children, and provide all services to them.
Developing standard protocols on child-protection mechanisms at various levels a must as is defining roles and responsibilities of each individual and agency.
An effective community-based monitoring mechanism should be put in place to ensure accountability at various levels.
Monitoring should be based on indicators of performance such as quality of services and levels of child friendliness.
The current perception is that child sexual abuse is a law-enforcement problem and contributes to complacency on this matter. Child protection has to be the shared responsibility of concerned agencies and society. Synergy is required between efforts being made by different stakeholders requires focus.
Child abuse victims, especially of sexual abuse, need specialised counselling to heal and recover from trauma.
Child participation is a must. Children's voices need to be heard by everyone. All fora addressing issues of child rights should have adequate children's representation.
Regular monitoring should involve giving the opportunity to children to express their views. They should be involved in development of district child-protection plan, and in management of institutions, etc.
The writer is Deputy Director, ICA, Chandigarh