G R O U N D Z E R O
Key to Modi's global success lies at home
Raj Chengappa
The globetrotting would help Modi shape his world view. But it is India's economic strength and stability that would determine just how much clout he would command on the international stage.

Narendra Modi may have ridden to victory on the plank of economic development and governance. But in his first 10 days as Prime Minister of our great nation, he has won more brownie points on his foreign policy moves than on forming his Cabinet or setting the domestic agenda.
True, on the home front the new PM has made some good moves. Modi told his Cabinet colleagues that he would set both the agenda and the pace and they better keep up with it or else…. By entrusting Arun Jaitley, a colleague he implicitly trusts, as his Finance Minister he has sent a clear signal to the business community that boosting the economy is a top priority. That saw the Sensex give him a 25,000-point salute.
Modi bowled over the bureaucracy by telling them to work without fear and be decisive in their actions — in short, he told the 'steel frame' to show plenty of mettle for a change. Then in appointing former Intelligence Bureau chief Ajit Doval as National Security Adviser, the Prime Minister can expect to get sound advice on how to deal with internal strife and outsmart neighbouring countries' 'dirty tricks' agencies.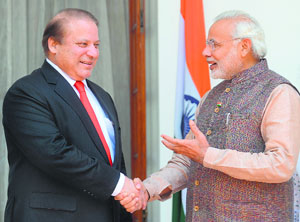 Inviting SAARC leaders, including Nawaz Sharif, for the swearing-in was a diplomatic coup.

Yet it was foreign affairs that dominated his first week's agenda. Modi made a diplomatic coup by inviting heads of state from SAARC countries, including Pakistan, for his swearing-in ceremony. Unlike his predecessor Manmohan Singh, Modi showed he was willing to act swiftly and get the show going rather than stand on protocol.
That the world has woken up to Modi is evident from the flurry of invitations in his inbox. Powerful countries, including the once-disapproving Uncle Sam, have indicated that they are keen to engage with him. Chinese Foreign Minister Wang Wi is in town today to work out early dates for President Xi Jinping's visit to India. As Gujarat Chief Minister, Modi had built his bridges with the Chinese leadership.
China's apparent eagerness to engage with Modi is partly to thwart the formation of a growing arc of nations angry with Beijing's aggressive border posturing that has seen dormant disputes with Japan, Vietnam and the Philippines heat up. China is also concerned with US President Barack Obama's stated policy of "pivoting" towards Asia and wants India to remain neutral.
Modi is aware of the opposition from RSS ideologues for making any major overtures towards China at this stage. To start with, Modi is likely to insist that China cease all border intrusions and ensure that peace and tranquility be maintained on the Line of Actual Control. He would also invite cash-rich China to make major investments in Indian infrastructure projects.
Modi wisely chose Bhutan for his first foreign visit later this month, indicating that his priority would be better relations with our neighbours. Apart from being India's friendliest neighbour there are strategic reasons behind the decision as Bhutan, like India, shares an un-delineated border with China. Meanwhile, in keeping with the thrust on neighbours, new External Affairs Minister Sushma Swaraj's first visit is slated to be Bangladesh. Modi is likely to visit Myanmar in November to attend the Ninth East-Asia Summit.
In early July, Modi will visit Japan – his first trip outside the region – to renew a friendship that had developed with his twitter follower Prime Minister Shinzo Abe. With the rise of China, both countries see the usefulness of a strategic cooperation apart from major economic ties. From Japan, India is looking for both technology and investment, particularly for its Delhi-Mumbai Industrial Corridor and other infrastructure projects. In mid-July, Modi will be flying to Brazil to attend the sixth BRICS summit where he will engage in bilateral summits with leaders from Russia, China, South Africa and Brazil.
Modi's most talked about trip though would be to the US, a country that had steadfastly denied him a visa after the 2002 Gujarat riots. Obama broke the ice by calling up Modi after he became Prime Minister and later, discarding protocol, invited him for a bilateral summit during the UN General Assembly session in September. The US is India's major trading partner and both countries are looking to enhance economic and defence ties. India is looking for investments and technology transfers and the US continues to view India as a major market and regards Modi as "business friendly".
In November, Modi is likely to attend the G-20 summit in Brisbane, Australia, which is the premier forum for international economic cooperation among countries that represent 85 per cent of the world's GDP and 75 per cent of its trade. So within six months of his taking over as PM, Modi would have met most leaders who matter on the world stage and to India.
The frenzied globetrotting would give Modi a rare insight into foreign policy and shape his world view. But as he would have already realised, it is India's economic strength and stability that would determine just how much clout he would command on the international stage. So even as he creates waves on foreign shores, Modi's primary focus should remain rapid and inclusive economic growth that provides jobs and brings down inflation. The sooner he gets that act going the better for him, India and the world.
raj@tribuneindia.com