It's never too old to travel and have fun
Kishwar Desai
It is now well known that travel actually boosts confidence, and even challenges the brain, possibly preventing Alzheimer's or dementia, as one learns constantly while on the move




Kishwar Desai

WHILE travelling to some slightly off-the-beaten-path areas in France this week, I was struck by the large number of 'grey' tourists, i.e., those who are on the other side of 70. But in this part of the world, these wanderers have a particular profile: they are mostly European or American. And it is heartening to note how adventurous the Western tourist can be. Perhaps this ability and desire to travel when they could be expected to sit at home and look after the grandchildren is one of the distinct advantages of living in more prosperous nations, or countries where travel is appreciated as a lifestyle choice. It is not considered a 'waste of money' if an older couple take a holiday on their own, without the family.
But in India, travelling just for pleasure is practically unheard of, especially as one gets older. Even though it is now recognised that travelling actually makes one more confident and knowledgeable, and could be therapeutic, there are many reasons why older generations in India tend to restrict their travel to the absolute essential, usually to pilgrimages. In fact it is now well known that travel actually boosts confidence, and even challenges the brain, possibly preventing Alzheimer's or dementia, as one learns constantly while on the move. Apart from that, Indian tourists of any age often restrict themselves to the known and familiar, rather than the unknown. If travelling abroad, the obvious choice would be to visit the popular hunting grounds like London or Paris, as rarely do we want to step outside our comfort zone. But actually the further we wander, the more interesting the landscape and the information we absorb!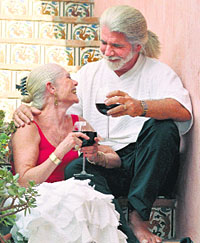 Right now I am sitting outside a cafeteria, at a brightly painted pavement table in the quaint old French town of Beaune, facing a church, eating a variety of cheeses, some of which come from this region itself. It is a beautifully sunny day, though shortly we will be descending into wine cellars, as this area is famous for its burgundy wine. And so we are also going to visit the 'museum' of wine, and no doubt taste some of them. We can look forward, thus, to a bewildering but fascinating assault on our senses and our palates, leading to a wonderful siesta afterwards.
We have also spent the morning at a lively street market, trying out a variety of local breads and food, as once you come to France, no matter how far you travel, everyone is deeply focused on gastronomy. (And that also makes me wonder if the Indian traveller is also reluctant to go to different places just for food? We are alright visiting the Eiffel Tower, or Versailles in France, but to travel to eat or drink is... well, a little too self-indulgent perhaps?)
As if to support my theory, I find that the only Indian we have encountered thus far is a young chef from Bangalore, whom we met while he was very efficiently slicing up meat into thin slivers in one of the restaurants. He offers us a fabulous cheese platter laden with a rich variety and then brings out the most wonderful burgundy to go along with it. This knowledgeable young man used to work with the Taj Group in New York, and is now very happy to live in Beaune. But he also tells us that he has rarely seen any Indians here before our arrival, possibly because the only thing to do here is to eat and drink!
And so we move from one restaurant to another, sampling a variety of cooking. We start with the first course at one eatery, then move for the next course to another. That way one can put in a short walk in between courses, as it would not be possible to consume the quantities of food that are considered normal here! I am amazed at how thin the French are, as they put so much emphasis on food.
Even young tourists here, we realise, are deeply concerned with what they put in their stomachs. It cannot just be junk food and so they pore over the menus and the wine lists as though reading the latest best seller. To encourage them, the shops offer an array of wines by the glass, an oenophile's paradise!
Of course Beaune is also famous for its Kir, a deliciously tangy cocktail made with the local burgundy, and that is also highly recommended.
The chef from Bangalore has, however, assured us that a taste of India will arrive here very soon in the shape of Indian wines as he would like to introduce them to the connoisseurs of Beaune. And so Beaune might be on the map for oenophiles from India and for those who like a culinary adventure. Pack your bags!