Post-poll rumblings in Left parties
NEW DELHI, JUNE 7
A decade after literally dictating the UPA government, the Left parties are today in the midst of a gathering storm, debating both over its leadership and disconnect with people in general and voters in particular.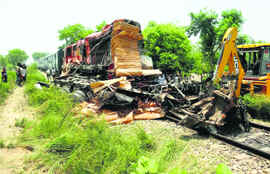 A track being cleared after a train hit a truck at a crossing in Hardoi on Saturday. PTI

Shun violence, join mainstream: Centre to Assam ultras
Guwahati, June 7
Union Minister of State for Home Khiren Rijiju rushed to the hill state today to take stock of the law and order there, a day after the brutal killing of a Superintendent of Police and his PSO by militants in Karbi Anglong hill district on Thursday. He urged the militants to join the mainstream.
BJP leader shot dead in Greater Noida, mob torches vehicles
Greater Noida, June 7
BJP leader and Dadri Nagar panchayat chairman Geeta Pandit's husband Vijay Pandit (37) was shot dead by four unidentified persons in the Dadri area tonight, after which a mob set ablaze 16 vehicles near a police station in protest. The assailants came on two motorcycles and held the pistol at Pandit's temple and mouth and shot him dead when he was returning home from his brother's shop at Bramhpuri around 8.30 pm, police sources said.
'BJP humiliated Munde, wanted to leave party'
Mumbai, June 7
Revelations by senior BJP leader Pandurang Phundkar, the leader of the Opposition in the Maharashtra Legislative Council, about Gopinath Munde has left the BJP reeling.
U'khand fake encounter: Kin of convicts meet DGP
Dehradun, June 7
The families of 18 policemen, who were convicted by the CBI Court on Friday for allegedly carrying out a fake encounter of young MBA graduate Ranbir Singh in June 2009, met Director General of Police (DGP) BS Sidhu here today.
Villagers lynch BSF jawan after youth shot along B'desh border
Agartala, June 7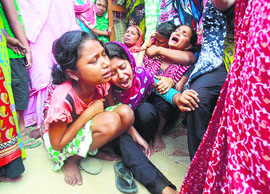 A BSF jawan was lynched after a man was killed in firing by border guards as they came under attack from villagers while chasing smugglers close to the Indo-Bangladesh border in Tripura, but the villagers gave a different account of the events. When the BSF personnel were chasing smugglers last night, villagers of South Ramnagar attacked the border guards with lathis and choppers, BSF DIG BS Rawat said today.

Family members mourn the death of a villager who died in a clash, on the outskirts of Agartala on Saturday. Reuters

Integrated plan needed to fight Naxals: Rajnath
Lucknow, June 7
A comprehensive integrated action plan was required to solve problems like Naxalism, separatism or terrorism and his ministry was working on it, Union Home Minister Rajnath Singh today said. "Whether it's Naxalism, separatism or terrorism, a comprehensive integrated action plan is needed and my ministry has started work on it. We accept the challenge and based on this efforts will be made to take balanced action," Rajnath said. He said efforts required to tackle big problems before the country were not made in the past. "We have started to work on the integrated action and we have faith to achieve success," he said. — PTI
No final dates yet for Modi's visit, says US
Washington, June 7
The US has said no dates have been finalised yet for Prime Minister Narendra Modi's Washington visit. "On Prime Minister Modi's possible travel to the United States — nothing to announce on dates," State Department Deputy Spokesperson Marie Harf told reporters. "As (US) President (Barack) Obama and Secretary (of State, John) Kerry have both said, we look forward to welcoming the Prime Minister to Washington, just don't have any dates yet. I know there are a lot of reports out there about dates, but we don't have dates yet," Harf said in response to a question. — PTI