Last word: K. Chandrasekhar Rao

Rebel is finally the ruler
By Suresh Dharur
A perceived slight in the Naidu govt set KCR on the Telangana path, which has ultimately led to crowning glory. Peopleís high expectations from the maverick, however, may prove tougher than delivering a new state.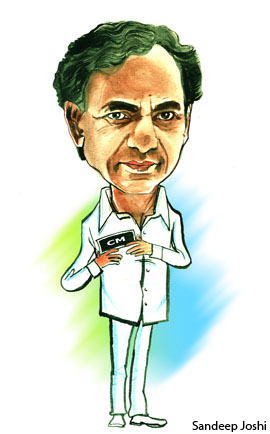 After savouring the Che Guevara moment, now comes the burden of expectations. For Kalvakuntla Chandrasekhar Rao, widely seen as an architect of the Telangana statehood movement, the transformation from a rebel to a ruler has been swift. His 13-year-old Telangana Rashtra Samithi (TRS) has earned a decisive mandate in the recent elections, putting him in the driverís seat to guide the destiny of the new state.
However, the flip side of achieving a political goal is that one loses the luxury of blaming the enemy, both real and imaginary, for the things that go wrong. It is this irony that KCR, as the TRS chief is known in political circles, is grappling with now. Just three days into his new role as Chief Minister, KCR finds his effigies being burnt by the same people who adored him as a champion of the statehood cause for more than a decade. A warrior of many a political battle, he gets down to the task of fire-fighting as protests break out across Telangana over the proposed dilution of a loan waiver scheme, a key poll promise of the TRS.
"KCR is like Sachin Tendulkar of Telangana politics. People do not want him to fail. Even a hint of watering down of the loan waiver for farmers has triggered anger," says one of his close aides. Settling down in his chair and holding a Benson and Hedges cigarette between his fingers, KCR says meditatively, "I know people are restive. They have suffered a lot for six decades at the hands of exploitative Andhra rulers. They have huge expectations from us. We cannot fail." A steady stream of supporters was still pouring in to congratulate him for realising a long-cherished statehood dream.
KCR, who turned 60 last month, is in no mood to rest on the laurels. He has declared reconstruction of Telangana to make it a model state in the country, welfare of weaker sections and minorities and creating more jobs and irrigation facilities as his top priorities.
Life with style
The critics have often questioned KCRís "Nawabi lifestyle" and wondered whether he would be fit to lead the state, given his personal habits and late-night drinking sessions. Poet and an avid fan of old Hindi film songs, he, however, makes no bones about his taste for good things in life. He is said to have a penchant for premium Scotch and Benson and Hedges. However, on doctorsí advice, he quit alcohol two years ago but continues to smoke.
KCRís personal habits often provided fodder for his political rivals. His laid-back lifestyle and penchant for escaping from public glare to spend time at his farm house in the neighbouring Medak district have often evoked derisive response from his detractors. "Raatri bar, pagalu darbar (Bar at night and darbar during the day)," was how the actor-turned-politician Roja, now with the YSR Congress Party, described his lifestyle. "No other political leaderís personal habits have been subjected to scrutiny as much as KCRís," says his son K Taraka Rama Rao, who is now a minister in his fatherís Cabinet.
A post-graduate in Telugu literature gifted with mesmerising oratory skills and razor-sharp sarcasm, KCR has already earned the image of a folk hero in Telangana politics, having single-handedly led the movement through a turbulent period. His quirky one-liners, dubbed by his detractors as offensive and unparliamentary, never failed to grab media headlines.
Adore him or abhor him, you cannot ignore him. For Telangana, the backward region yearning for statehood for six decades, he was the folk hero who liberated the region from the clutches of "exploitative forces". For the rest of Andhra Pradesh, though, he is a divisive force and a rabble-rouser who sowed seeds of hatred and separated the Telugus.
Man of the mike
Frail, lean with emaciated look and dressed in white trousers and full-sleeve shirt, KCR at first glance does not come across as an ideal candidate to lead a movement that calls for upsetting the status quo and rubbing the mighty and the powerful on the wrong side. But, give him a mike and a crowd, he transforms into an orator par excellence, holding the audience in rapt attention with his biting one-liners and comparative figures to drive home the point that Telangana was a victim of deliberate neglect and exploitation across all sectors by successive governments.
So complete was KCRís domination of AP politics in the last decade that the very mention of his name evoked extreme responses, depending on the regional loyalty of the people one spoke to. Admiration and hatred flowed in equal measure. However, even his bitter critics would vouch for his mass appeal, persuasive skills and political craft based on pragmatic calculations. Emerging as the powerful symbol of Telangana identity, he had succeeded in bringing the statehood issue to the centre-stage of national politics, getting almost all allies of the UPA on board and compelling the central leaderships of both the Congress and BJP to hurry through the process of passage of the Telangana Bill in the 15th Lok Sabha in a race against time.
The political journey of this four-time legislator and four-time MP has been a bumpy ride, making friends and enemies with equal ease. Whether it was his participation in the UPA-I government at the Centre in 2004 or his stormy exit a year later accusing it of delaying decision on the Telangana demand, KCR was provocative, eccentric, rebellious and rabble-rousing, all rolled into one.
The defining moment in KCRís career came in December 2009 when his indefinite fast forced the UPA government to announce the initiation of the process for creation of separate Telangana state. "KCR chachudo, Telangana vachudo" (Either Telangana comes or KCR dies) was his slogan before launching the fast.
The rabble-rouser
At the height of the Telangana movement, KCR positioned himself as a rabble-rouser in the mould of Shiv Sena leader late Bal Thackeray, targeting people from Seemandhra who have made Hyderabad their home. His call "Telangana waale jago, Andhra waale bhaago" injected bitterness into the bifurcation debate.
It is often said in political circles that KCR had quit the Telugu Desam Party in 2001 to float TRS only because he was denied a Cabinet berth by his former boss N Chandrababu Naidu. "Had he been made minister at that time, he would not have started the Telangana agitation," a senior TDP leader Y Ramakrishnudu says. KCR was close to Naidu and served in his Cabinet from 1996 to 1999. Later, he was made Deputy Speaker of the Assembly, a post he quit to revive the Telangana movement at a time when the TDP government had imposed an undeclared ban on even using the word "Telangana" in the Assembly.
Starting his political career with the Youth Congress in the mid-1970s, KCR joined the TDP in 1983 and was elected to the Assembly from Siddipet in Medak district four times between 1985 and 1999. He had an uneasy courtship with the Congress in 2004. After his exit from the UPA, he was part of a grand alliance, comprising the TDP and Left parties in AP, ahead of the 2009 elections. He was elected to the Lok Sabha from Karimnagar in 2004 and 2006 and from Mahaboobnagar in 2009.
The political void created by the sudden demise of Chief Minister YS Rajasekhar Reddy in September 2009 gave an opportunity for him to step up the Telangana agitation that turned out to be decisive.
Very early in his new role as Chief Minister, KCR has realised that meeting the high expectations of people is far more challenging than leading a mass movement.