OPED —

History
He put Punjab on India's financial map
Nina Puri
Between a glorious beginning and a calamitous end unfolds the story of a fascinating personality. His career graph of over half a century in undivided Punjab rose much higher than his diminutive physical stature.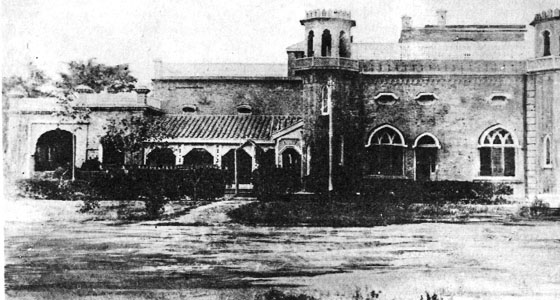 This palatial Victorian bungalow in Lahore was Harkishen Lal's home and is at present the Lady Fatima Medical College
Born barely a decade and a half after Punjab was annexed by the British in 1847, Harkishen Lal (1864-1937) had, in a mere 23 years, catapulted himself from a small dusty town, Leiah, in the North-West Frontier Province to the pinnacle of academic acclaim by being awarded a fellowship at Trinity College, Cambridge in 1887 for a tripos in mathematics.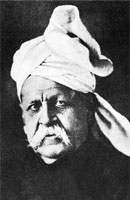 Harkishen Lal was a visionary leader
Harkishen Lal was a man of many contradictions. Irony often defined him. An ardent nationalist, he admired everything Western — from lifestyle and sartorial inclinations to ideas and ways of thinking. Always well groomed, he dressed like an Englishman; this lent him the veneer of an aristocrat. For most of his life, Harkishen Lal lived in a palatial Victorian bungalow in Lahore (presently Lady Fatima Medical College). His entire ministerial salary went towards its furnishing and upkeep. His children were brought up by English governesses.
Patron of arts
Harkishen Lal sent his daughter and three sons abroad for their higher studies. A patron of the arts and artisans, his residence housed a library as well as a museum. He was the first in Punjab to own cars. When his assets were liquidated, the flower-pots alone were sold for Rs 3 lakh. Today, his private collection of books is in the Dwarka Das Library, Chandigarh. Known for his gracious hospitality, Harkishen Lal entertained the high and mighty of his time in splendid style. Viceroys, ministers, colleagues and friends were entertained lavishly. He ran separate kitchens, western and Indian, even engaging Muslim cooks. Exquisite cuisine served in silver dishes became legendary. Many Congress leaders like Moti Lal Nehru, Madan Mohan Malviya, Gopal Krishen Gokhale, Dinshaw Wacha, Sir Hasan Imam and many others on various occasions were his house guests. Yet, he himself chose to live in a small room surrounded by portraits of beggars as a reminder of his humble beginnings. Tribal leaders and people from his home-town were invited to stay with him. With a liberal mindset and a secular outlook, Harkishen Lal respected all religions. Drawn towards the Sikh religion, a granthi came every day to read the Guru Granth Sahib. All his four children married outside caste and community. Harkishen Lal's second wife was a Maharashtrian. His German daughter-in-law, Elizabeth Gauba, ran a school in Delhi; initially Rajiv Gandhi and Sanjay Gandhi studied here. His elder son, Kanhaiya Lal, a Punjab legislator and prolific writer converted to Islam and married thrice.


Peaks and troughs

Besides being a financial wizard, Harkishen Lal actively participated in politics as President of the Indian Association of Lahore. He was a delegate to the Indian National Congress. He became the target of O'Dwyer's wrath and that of British financial institutions.


Unfortunately for the British, Harkishen Lal had a revered position in the city of Lahore but this popularity had also earned him enemies, of whom the Arya Samaj and British-sponsored banks were the most prominent.


He had launched his first financial venture, Punjab National Bank in 1895 with the help of Dyal Singh Majithia, a member of the old elite of Lahore. After Majithia's death in 1896, Lal's position was weakened.


A conspiracy was hatched and he was ousted from the Punjab National Bank's governing body. He floated the People's Bank of Lahore which accumulated deposits of Rs 15,000,000 in no time on account of his sterling reputation.


While he believed that India could prosper only if the country's capital was invested in indigenous industries, British banks raised capital for traders who imported goods from the United Kingdom.
Promoting women's education
Education was a priority for Harkishen Lal. In the late 19th century he, unlike Lala Lajpat Rai, vigorously promoted girls' and women's education, as well as institutes for technology. He did not hide his preference towards western education. When his grand-daughter joined the Ganga Ram School in Lahore, he retorted that the school was for behanjis! Arrogant remarks like this might not have gone down well with many people. There was many a falling-out with prominent Arya Samajis over political and socio-cultural issues.
Dyal Singh Majithia greatly admired Harkishen Lal and nominated him as a Managing Trustee on all his Trusts: The Tribune, College & Library. In 1910, Harkishen Lal started Dyal Singh College. When Dyal Singh's wife, Rani Bhagwan Kaur, contested Dyal Singh's will in the court for the Tribune Trust, it was Harkishen Lal who defended the will.
Punjab was largely a province of traders. Harkishen Lal brought Punjab onto the industrial and financial map of India. Recognised as the doyen of commerce and industry, he was familiarly known as the Napoleon of Finance in Punjab. His terms of reference and inspiration may have been Birmingham and Manchester, but they were translated into Swadeshi when it came to planning the country's economic resurgence and development. Indian fabrics were used to furnish his home, and his clothes were made with indigenous fabric because he wanted to promote the country's weaving industry.
A visionary, Harkishen Lal recognised there could be no political progress without economic progress. He could justifiably be described as the father of indigenous banking and insurance companies in the Punjab. Supported by Dyal Singh Majithia, he founded the Punjab National Bank in 1895. In 1896, he founded the Bharat Insurance Company. A couple of years later, he started the Peoples' Bank because he and Lala Lajpat Rai could not see eye to eye on several issues while running the Punjab National Bank. He offered special interest rates for widows students and public institutions.
Pioneering industrialist
Harkishen Lal set up numerous industries between 1901 and 1906: flour mills, brick kilns, soap factories, ice factories, cotton-weaving mills and saw mills. Control over finance gave him immense power. In 1905, he was instrumental in funding a Commercial Academy in Lahore. This metamorphosed into what it is today the PHD Chamber of Commerce and Industry. After attending the Delhi Durbar in 1911, Harkishen Lal brought the entire generating plant to Lahore and started the Lahore Electric Supply Company in 1912. For the first time, the streets of the city were lit. Other cities followed. A run on banks in 1913 adversely affected his financial and industrial business. Honest to the core, he later returned, with interest, every penny to his shareholders. From 1913, Harkishen Lal returned to practising law, and was back in the fold of the Congress, actively organising its annual industrial exhibitions. In 1925, he opened the New Peoples' Bank of India and ran the biggest combination of mills and factories east of the Suez. He was the chairman of more companies than anybody else in India. In 1926, at the Indian Industrial and Commercial Congress held in Delhi, a resolution was moved — under Harkishen Lal's presidentship —to approve the establishment of an Indian Associated Chamber of Commerce. This initiative was the precursor of the Federation of Indian Chamber of Commerce and Industry (FICCI).
Recognised for his intellectual and business acumen, Harkishen Lal was invited to participate and provide evidence in several government and financial committees and conferences. Before the Simon Commission, he candidly deposed against the government system of Dyarchy. The Central Banking Enquiry Committee constituted in 1929, appointed Harkishen Lal to represent Indian indigenous banking. Several provincial maharajas engaged him as their financial adviser.
An ardent nationalist and patriot, Harkishen Lal played a pivotal political role in the Indian National Congress, particularly from 1893 to 1919. Dyal Singh being unwell, Harkishen Lal was asked to read his reception address at the first Indian National Congress held in Lahore in 1893. At the 1909 INC session held in Lahore, as Chairman, Harkishen Lal read an inspiring address. Congressman, Dr Satya Pal, credited him for his pioneering work in its early years, stating, "It is to Harkishen Lal that the Congress in the Punjab owes its existence." Both Harkishen Lal and Lala Lajpat Rai in 1904 were members of a committee of the INC to study the question of writing a Constitution for the Congress. In 1907, Harkishen Lal was asked to mediate between the extremists and moderates during the Surat split of the Congress.
Accused of fanning the agitation against the Rowlatt Bill, Harkishen Lal, along with Lala Duni Chand and Rambhaj Datt, was sentenced to prison for life. The ensuing Montford Reforms, however, earned them complete reprieve within six months.
Thereafter, followed a twist in the tale: Harkishen Lal and Mian Fazl-i-Husain, both barristers, were appointed ministers in the Punjab government. Their respective portfolios were agriculture and industry, and education. K.L. Gauba writes "both were strong men; what power they had they used, what they did not, they created". Harkishen Lal resigned as minister when he planned to give evidence before the Privy Council in England in the famous Michael O' Dwyer vs. Shankaran Nair case.
Rejection of British titles
Lala Lajpat Rai and Lala Harkishen Lal may have lived in different worlds, but both "dominated them dividing the Province between them"! The two men maintained a constant love-hate relationship. Gandhi's call for non-cooperation and boycott of British goods and institutions found them on opposite sides of the fence. Not a votary for "boycott" advocated by Gandhiji, Harkishen Lal preferred to initiate reforms by joining the government. Being a true Swarajist, he never accepted a British title.
When it comes to patronage, diversity of interests and the command of capital and personal influence, there were very few people at the time in the same position as Harkishen Lal. However, in the 1930s world-wide economic depression hurtled him towards financial ruin. He was also mired in court cases. In 1934, Chief Justice Douglas Young sounded the death knell for all his concerns. A man who would "rather break than bend", he was awarded an indefinite prison sentence for contempt of Court for not apologising by Young. (Incidentally, only after this harsh judgment was the law amended to a maximum prison term of six months.) The Napoleon of Finance had met his Waterloo, fast forwarding his death. Harkishen Lal's business, political and social engagements over half a century find resonance even today.
The writer is the author of Political Elite and Society in the Punjab. She is working on the biography of Harkishen Lal.