No recoveries, yet 85 booked for drug peddling in Moga
Moga, May 28
The Moga police have booked 85 persons on the charge of drug trafficking in nine cases under the Narcotic Drugs and Psychotropic Substances (NDPS) Act in the district in the past two days.








Phoolka takes on Harsimrat over Nanavati report
Ludhiana, May 28
Senior advocate and Aam Aadmi Party (AAP) leader HS Phoolka today said Cabinet Minister Harsimrat Kaur Badal's statement that the Modi Government would implement the Nanavati Commission report to punish the guilty in the 1984 riot cases was "highly surprising".


HS Phoolka,

aap

leader

Why no turbaned Sikh in Union Cabinet, Cong MLA asks Modi
Chandigarh, May 28
Lauding the efforts of Prime Minister Narendra Modi in downsizing his Cabinet, Punjab Pradesh Congress Committee (PPCC) vice-president and Guruharsahai MLA Rana Gurmit Singh Sodhi today pointed out that there was no turbaned Sikh in the Union Ministry.

Cong has no right to oppose dynastic politics: Singla
Chandigarh, May 28
Former Finance Minister Surinder Singla today said the Congress had no right to oppose dynastic politics as the party had itself "promoted dynastic politics in the country for the past several decades."

Synthetic drug racket: Cong accuses ED of slow probe
Jalandhar, May 28
The Congress has accused the Enforcement Directorate (ED) of going slow in the probe into the Rs 6,000-crore synthetic drug racket.

Spell out stand on Article 370, Cong to CM
Chandigarh, May 28
The Punjab Pradesh Congress Committee (PPCC) has asked the SAD patron, Chief Minister Parkash Singh Badal, to clarify his stand on the abrogation of Article 370. The issue has been raked up by Minister of State Jatindra Singh.




Agri Bank sends notices to 4,500 defaulters
Chandigarh/Mansa, May 28
Hundreds of farmers are running from pillar to post as they have received 'E' notices, which means that their land will be put on sale to recover the money they took as loan from cooperative banks, including the Punjab State Cooperative Agriculture Development Bank and its branches.

52% water samples fail potability test in Muktsar
Muktsar, May 28
Surveys conducted by the health department so far this year reveal that 52 per cent of the water samples lifted in Muktsar district have failed to clear the potability test.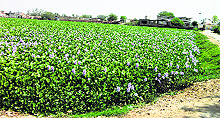 Ponds in Abohar full of hyacinth
Abohar, May 28
A survey has revealed that most of the ponds in Abohar villages such as Dangarkhera, Alamgarh, Kandhwala Amarkot, Diwankhera, Bahawalbasi, Jandwala Meerasangla and Azeemgarh in the urban area are covered with water hyacinth.

A pond covered with water hyacinth in Dangarkhera village near Abohar. A Tribune photograph

Nanakshahi Calendar row
Visa denied, SGPC not to send jatha to Pakistan
Amritsar, May 28
The Nanakshahi Calendar row has once again divided the Sikh community as the SGPC and the DSGMC have decided not to send their jathas to Pakistan for observing the martyrdom day of Guru Arjan Dev there after the Pakistan High Commission denied visa to the pilgrims, contending that the PSGPC is observing the event on June 16 as per the original Nanakshahi Calendar.
Supply up, price of Pak cement falls
Amritsar, May 28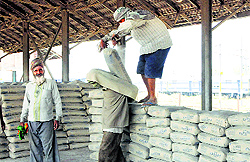 Traders in the region have stocked up huge quantity of Pakistani cement as its prices fell by about 15 per cent in the Indian market. Rajan Bedi, an importer of cement and sugar from Pakistan, said prices had decreased by about Rs 35 per sack. The 50-kg sack that was sold at Rs 260 each a week ago is now being sold for Rs 225.


Labourers lift Pakistani cement in Amritsar on Wednesday. Photo: Vishal Kumar

Last pay drawn fixed as family pension
Chandigarh, May 28
The Punjab Government has decided to pay special family pension to the dependents of deceased employee equal to the last pay drawn by the latter with effect from April 1, 2014.
Bypoll on mind, Patiala MC scouts for funds
Patiala, May 28
With an eye on the Patiala (urban) Assembly segment bypoll, the local municipal corporation has decided to approach the government and seek over Rs 40 crore for completing development projects ahead of the bypoll.
Finally, ray of hope for Deepa's family
Chandigarh, May 28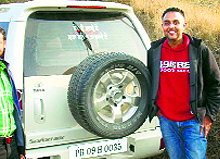 Finally, the family of Garhshankar farmer Jagdeep Singh Deepa, 26, whose mysterious death was initially explained as a case of 'drug overdose', has begun to see a ray of hope with a Special Investigation Team (SIT) being set up by the Punjab Police.




Deceased Jagdeep Singh Deepa at his native village of Parowal.


Hans quits dera 'gaddi'
Jalandhar, May 28
Six years after he became "Gaddi Nasheen" of Nakodar's Dera Lal Badshah, renowned Sufi singer Hans Raj Hans today announced that he had quit the dera "gaddi".



Hans Raj Hans in Jalandhar on Wednesday. A Tribune photograph

Bathinda airport may be commissioned in 2 months
Chandigarh, May 28
With the National Democratic Alliance Government in the saddle, Punjab is hoping for early inauguration of its Bathinda airport, an Instrument Landing System (ILS) at the Ludhiana airport and clearance for the Mohali International Airport.
BSF repatriates Pak national
Amritsar, May 28
The Border Security Force (BSF) today handed over a Pakistani national identified as Iftikhar (35), a resident of Narowal district. He had inadvertently entered into the Indian territory on May 26.
Farmers told to use water sprinklers
Moga, May 28
The state Agriculture Department conducted a demonstration of movable sprinkler to irrigate maize fields at the government seed farm in Raonta village of Nihalsinghwala sub-division in Moga district.
Patwalia among 14 advocates designated senior by HC
Chandigarh, May 28
Deepinder Singh Patwalia has kept up the family tradition of standing up for justice. Son of retired Supreme Court Judge, Justice Kuldip Singh, and brother of Punjab and Haryana High Court's former Judge, Justice Paramjit Singh Patwalia, he was today designated Senior Advocate.
100-acre food park to come up at Ladowal
Chandigarh, May 28
CM Parkash Singh Badal today gave in principle approval to establish a 100-acre Mega Food Park at Ladowal in Ludhiana district.


HC: Provide separate toilets for women cops
Chandigarh, May 28
The Punjab and Haryana High Court today directed the state Home Department and the Director-General of Police to provide separate toilets for policewomen in all police stations within four months.
High Court notice to Divya Jyoti Sansthan
Chandigarh, May 28
The impasse continues over keeping Ashutosh Maharaj's body in a freezer by his followers on the pretext that the spiritual guru is in deep meditation. Acting on a petition filed by his son Dalip Kumar Jha for handing over the Maharaj's body for performing his last rites, the Punjab and Haryana High Court today issued fresh notices to Divya Jyoti Jagriti Sansthan. The High Court also fixed August 25 as the next date of hearing in the matter.


ASI held taking Rs 7,000 bribe
Moga, May 28
The Vigilance Bureau today claimed to have caught red-handed an assistant sub-inspector (ASI) posted at the Nihalsinghwala police station in the district while accepting a bribe of Rs 7,000 from a local resident.
Man killed, 4 booked
Ropar, May 28
The Morinda police today booked four persons in connection with the murder of Sarabjeet Singh (33), a resident of Bada Samana village. Sarabjeet's body was found in a well at nearby Rasulpur village in the morning.