Over 250 held in anti-drug drive
Chandigarh, May 22
In a major crackdown on the drug mafia, the police have arrested more than 250 peddlers from various parts of the state.



Akali leader's son held for possessing heroin
HC notice to state, agencies for tardy lifting of wheat
Faridkot, May 22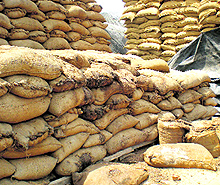 Taking note of the rotting wheat in the mandis in Faridkot, the Punjab and Haryana High Court has issued a notice to the state Mandi Board and five procurement agencies. They are to appear in court on May 28. Kulbhushan Rai, president of the Ahrityas' Association in Faridkot, filed the writ petition as large stocks of wheat had been lying in the open in mandis in Faridkot, Jaitu, Kotkapura and Sadiq in the district.

The rotting wheat in Jaitu Mandi in Faridkot on Thursday. Tribune photograph

Cong puts 2 MLAs on notice over indiscipline
Chandigarh, May 22
The PPCC disciplinary committee today put its two MLAs, Kewal Dhillon from Barnala and Rana Gurmit Sodhi from Guruharsahai, on notice over alleged indiscipline.
Cong okays panel to look into rout
New Delhi, May 22
The Congress today finalised the panel of members who would over the next month assess reasons behind the party's poor performance in Punjab and submit a report to the central leadership about what needed to be done to stem the rot.
Youth Cong chief seeks Majithia's resignation
Jalandhar, May 22
Punjab Youth Congress president Vikram Chaudhary expressed dissatisfaction over the resignation of Minister for Jails, Tourism and Cultural Affairs Sarwan Singh Phillaur from the council of ministers and demanded that state Revenue Minister Bikram Singh Majithia should step down immediately.
BJP loses urban vote bank
Gurdaspur, May 22
The state BJP has lost its most significant vote bank — people residing in cities and small towns — with a majority of its leaders not being able to secure leads in their respective seats.
Negative image of some Akali ministers cost us dear: Shanta
New Delhi, May 22


The in charge of BJP affairs in Punjab and former Chief Minister of Himachal Pradesh, Shanta Kumar, has urged the party's central leadership to take urgent measures to revive the party in the wake of its poor performance in the Lok Sabha elections in the state.


Shanta Kumar, bjp's Punjab incharge
MLA Sidhu's supporters hit back at SAD
Amritsar, May 22
The supporters of Chief Parliamentary Secretary Dr Navjot Kaur Sidhu today hit out at SAD councillors who had accused her of neglecting Akali Dal-ruled Municipal Corporation (MC) wards in her Amritsar (East) constituency.
AAP holds protests in Kejri's support
Chandigarh, May 22
Activists of the Aam Aadmi Party (AAP) today held dharnas in various parts of the state to express their solidarity with party convener Arvind Kejriwal.
bhai rupa land row
Ex-Union minister takes on SGPC
Chandigarh, May 22
Taking on the SGPC's top brass, former Union Minister MS Gill today said that it was unfortunate that the SGPC authorities used police force against small and marginal farmers of historic Bhai Rupa village to take the possession of 161 acres there.
Attack on Amritsar lawyers
Probe against Joshi to be finished in a month: Govt
Chandigarh, May 22
Just about a week after two Amritsar-based advocates, Sandeep Gorsi and Vineet Mahajan, were allegedly targeted for exposing "dual vote" matter allegedly involving Punjab Minister Anil Joshi, the Punjab Government today undertook to complete the investigation in a month's time.
Faulty meters: PSPCL slapped penalty
Patiala, May 22
The Punjab State Electricity Regulatory Commission (PSERC) has imposed a penalty of ~1 lakh on the Punjab State Power Corporation Limited (PSPCL) for its failure to replace defective meters in time.



Bajwa calls for stir against proposed hike



AAP demands audit of Powercom


Engineers to switch off phones in protest
Power cuts back in Bathinda after 5 yrs
Bathinda, May 22
Until last week, this city enjoyed the status of "no power cut" zone of Punjab. Bathinda MP Harsimrat Kaur Badal seemed to have pulled enough strings in the Powercom to ensure uninterrupted supply to the residents of the city.
Sangrur dist sans grievance redressal panels for 2 years
Sangrur, May 22
The redress of public problems does not seem to be a priority of the state government as it has failed to constitute grievance redressal committees at sub-division and district levels in Sangrur in the past two years.
Arhtiyas, labourers block highway
Abohar, May 22
Arhtias (commission agents) and labourers blocked the Abohar-Fazilka stretch of the national highway (NH) for two hours to express resentment over poor wheat lifting, unloading and payment arrangements. The protesters burnt the effigy of Markfed and blamed its local officials of being "callous".
Hoshiarpur girl tops in North in ICSE


Chandigarh/ Hoshiarpur, May 22
Nivedita Vij's unquenchable thirst for success has taken her to the top. The Hoshiarpur girl topped in Punjab, Haryana, Himachal Pradesh, Chandigarh and NCR in the Indian Certificate of Secondary Education (ICSE) Class X exam. She got 98 per cent.

Nivedita
School board nod to cash awards for top students
Mohali, May 22
From this session onwards, the Punjab School Education Board (PSEB) would present cash awards to the top three students of Class X.
Girl students protest poor facilities at Pbi varsity
Patiala, May 22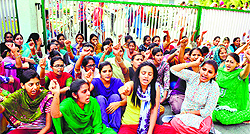 Girl students of Amrita Shergill Hostel in Punjabi University protested the lack of basic amenities in the hostel today. They blocked the university gates for several hours.



Students protest on Punjabi University campus in Patiala on Thursday. Tribune photo: Rajesh Sachar

Pak Sikhs have accepted amended calendar: Makkar
Amritsar, May 22

SGPC chief Avtar Singh Makkar today expressed hope that the amended Nanakshahi Calendar would soon be implemented in Pakistan as the "Sikhs there had given their consent to observing 'gurpurbs' as per the amended version approved by the Akal Takht".




SGPC chief Avtar Singh Makkar and other members return from Pakistan via the Attari border on Thursday. Photo: Vishal Kumar


Driver alleges misuse of official vehicle by officer
Fatehgarh Sahib, May 22
The Deputy Commissioner has ordered a probe after the official driver of a PCS officer alleged that the latter in connivance with another officer pressured him to make bogus entries into the logbook of official vehicles.




Cabbie to be deported for Australian's rape


Sydney, May 22
An Australian court has ordered the deportation of a Punjabi-origin taxi driver after convicting him for indecently assaulting a woman passenger four years ago, a media report said.




2 youths get 5 yrs for assault on principal
Ropar, May 22
The Additional District and Sessions judge Harish Anand yesterday awarded a sentence of five years to two youths for attempting to murder a school principal. The convicts are Gurvinder Singh and Surinder Singh of Chaklan village. Surinder was a former student of the school.





Undertrial escapes police custody, nabbed
Abohar, May 22
Balwinder Singh, who was arrested by the Sriganganagar police under the Narcotic Drugs and Psychotropic Substances (NDPS) Act, fled from the the court complex this afternoon but was nabbed later.