SAD likely to get MoS berth in Modi Govt
Chandigarh, May 23
The Shiromani Akali Dal (SAD) is all set to be a part of the NDA Government being formed under Narendra Modi. The party is likely to get one berth in the new Union Ministry to be formed.


SAD leader hits out at PPCC chief
Chandigarh, May 23
SAD leader Maheshinder Grewal today urged PPCC chief Partap Bajwa to look into his alleged misdeeds, including "grabbing village common land", before holding Revenue Minister Bikram Majithia accountable for anything.
Anti-Bajwa sentiment rages as top leaders discuss rout
New Delhi, May 23
A massive sentiment against PPCC chief Partap Bajwa raged as top state leaders gathered here to ponder over reasons behind the party's rout in Lok Sabha elections.


Hemkunt Sahib pilgrimage begins today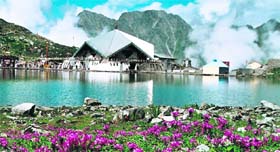 Amritsar, May 23
A year after the devastating flashfloods wrecked havoc in Uttarakhand, the pilgrimage to Sri Hemkunt Sahib is all set to start tomorrow. This time, the registration of pilgrims has been made mandatory.



Nearly 5,000 pilgrims are expected to visit Sri Hemkunt Sahib in the first batch. PTI photo

Strike by '108' staff paralyses health 'lifeline'
Jalandhar, May 23
An indefinite strike by '108' ambulance workers on Friday threw the emergency health services out of gear in Punjab.
MCI on PIMS tour to decide on medical seats
Jalandhar, May 23
A team of the Medical Council of India (MCI) is on a two-day inspection tour of the Punjab Institute of Medical Sciences (PIMS) here to verify its claim of meeting the requirements for the MBBS admissions for the coming session.
Stick-wielding women out to end drug menace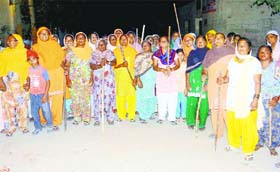 Moga, May 23
After launching an awareness drive against drugs and then forcing liquor contractors to shift their vends away from the residential areas, women of Bilaspur village in this district, has taken up swords and bamboo sticks to drive out drug peddlers from the village.



Women of Bilaspur village in Moga district on a night patrol to stop drug smugglers from entering their village. Tribune Photo

Corridors of power near Golden Temple
Chandigarh, May 23
The Punjab Government will soon ensure uninterrupted power supply to commercial establishments in the vicinity of the Golden Temple to prevent dependence on alternative means of supply, including generators.
Sarna flays SGPC chief over Pak visit
Amritsar, May 23
Former DSGMC chief Paramjit Singh Sarna has hit out against SGPC president Avtar Singh Makkar over the latter's claims on his return from Pakistan.
All those named in drug racket must quit: MLA Sidhu
Amritsar, May 23
Indirectly referring to Revenue Minister Bikram Singh Majithia, Chief Parliamentary Secretary Dr Navjot Kaur Sidhu today said all those named in the Bhola drug racket should resign from their posts.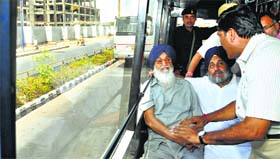 for faster travel: Chief Minister Parkash Singh Badal and Deputy CM Sukhbir Badal review the Bus Rapid Transport System in Ahmedabad on Friday. A Tribune photograph
Visitor centre opens at Virasat-e-Khalsa
Anandpur Sahib, May 23
The visitor centre at Virasat-e-Khalsa, the Sikh heritage museum, was opened for the public here today.
Rs 34-cr infra projects hanging fire in Patiala
Patiala, May 23
Under the state government's Optimum Utilisation of Vacant Government Land Scheme, projects worth Rs 34 crore in Patiala have not been completed. Contractors blame the Punjab Infrastructure Development Board (PIDA) for not releasing the payments on time.
Relief to Khaira in case lodged under SC Act
Chandigarh, May 23
Acting on a petition filed by Congress spokesperson Sukhpal Singh Khaira and five others, the Punjab and Haryana High Court today stayed further proceedings in an FIR registered under the Scheduled Castes and Scheduled Tribes (Prevention of Atrocities) Act.
Industrialists oppose changes in VAT Act
Anandpur Sahib, May 23
The visitor centre at Virasat-e-Khalsa, the Sikh heritage museum, was opened for the public here today.
Villagers left high and dry as school project shelved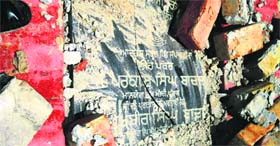 Abohar, May 23
Residents of Sappanwali village on the Abohar-Sriganganagar stretch of the National Highway-15 had dreamed of a bright future for their wards when Deputy Chief Minister Sukhbir Singh Badal laid the foundation stone for an English-medium model school there on January 25, 2011, with much pomp and show.

The foundation stone was damaged to express public ire in Sappanwali village in Abohar.
Denied post-matric scholarship, SC/BC students move court
Faridkot, May 23
Many students belonging to scheduled castes/backward classes (SC/BC) studying in private medical colleges in the state are deprived of the benefit of the Post-Matric Scholarship Scheme.
Hoshiarpur students awarded in US

Hoshiarpur, May 23
Rayat-Bahra Group's All Terrain Car has bagged the first prize in Asia in the US Baja Race. The off-road vehicle was among 100 entries from institutes across the world.





The vehicle designed by college students bagged the first prize in Asia in US Baja Race.

Man gets 17-year jail in UK for attack on Namdhari sect chief
Chandigarh, May 23
A Leicestershire-based man of Punjabi origin was today jailed for 17 years for attack on Namdhari sect chief "Satguru" Uday Singh inside a gurdwara.
Garamendi, Meehan to head US-Sikh Caucus
Washington, May 23
The bipartisan American Sikh Congressional Caucus has announced the appointment of John Garamendi and Patrick Meehan as its new co-chairs. While Garamendi is from the Democratic party, Patrick Meehan represents the Republican party.


HC wants 'secret' disposal of bodies in Bathinda probed
Chandigarh, May 23
The Punjab and Haryana High Court today directed the Punjab Government to ensure a probe into the allegations of clandestine disposal of 30 bodies in Bathinda. The probe is to be carried out through an appropriate agency with some senior officer monitoring it.
List norms to hire rights panel staff, govt told
Chandigarh, May 23
The Punjab and Haryana High Court today directed the Punjab Government to produce finalised draft recruitment rules for hiring staff in the Punjab State Human Rights Commission. The draft has to be produced before notifying the rules.

Jail official 'tortures' inmate, booked
Sangrur, May 23
The police have registered a case against Hardip Singh Bhatti, deputy superintendent, district jail, Sangrur, for on the charge of inscribing the word kaatil (murderer) in Gurmukhi on the back of a prisoner with a hot iron rod about eight months ago.
86 drug peddlers held in Amritsar
Amritsar, May 23
As a part of a statewide drive against drug peddling, the police have arrested as many as 86 small drug peddlers from various parts of Amritsar city. During the last three days, the police have confiscated 100 gm heroin, over 5 kg narcotic powder, 260 gm charas, 12 gm smack besides 3,175 tablets, 2,075 capsules and 133 injections. As many as 82 cases under the Narcotic Drugs and Psychotropic Substances (NDPS) Act have been registered so far.
4 held in blind murder case
Sangrur, May 23
The police today claimed to have solved a blind murder case within a week, with the arrest of four persons. They also recovered Rs 8,000, a stereo, a DVD, an LCD screen, belonging to the deceased and a motorcycle used in the crime by the accused.