Faulty building plans: UT blacklists architect
Chandigarh, May 23
After targeting commercial sites for building violations, the Estate Office has initiated action against the private architects involved in the process of submitting the building plans of the commercial premises that have come under the scanner.
Now, staff to photograph water meters as evidence of their visit to houses
Chandigarh, May 23
In a bid to end complaints of city residents, who claim that no one visits their houses to note down the water meter reading due to which they get inflated bills, the MC has now decided that the staff that take the meter reading will have to click a picture of the water meter and submit it to the MC to prove that they have visited the houses.
Drizzle brings relief from heat
Chandigarh, May 23 Drizzle in the evening provided the tricity residents with relief after a hot day.



Zirakpur bus stand all set to become functional by June 15
Chandigarh, May 23
The Zirakpur bus stand will become functional by June 15, but not before ensuing that buses leaving the stand do not come in the way of ongoing traffic.
Independent analysis of voice samples allowed
Chandigarh, May 23
The accused in a corruption case, former UT police Superintendent of Police (SP) Deshraj Singh today moved an application in the CBI court seeking an independent analysis of all voice samples that are with the investigating agency. The IPS officer sought to conduct a mirror image of all the voice recordings that were with the investigating agency in the court that would later be analysed by their private experts. The application was allowed by the CBI Court of Special Judge Vimal Kumar.
Senior citizens visit Institute for Blind
Chandigarh, May 23
Members of the Senior Citizens' Welfare Association (Regd.), Mani Majra led by its president, Amrit Dhingra, visited the Institute for the Blind, Sector 26, Chandigarh, today.
PGI gets nod to restart drug trials
Chandigarh, May 23
In a hope for patients suffering from chronic ailments (like cancer and hepatic), for which no specific drugs are available till date, the PGIMER has decided to restart drug trials. The Institute Ethics Committee (IEC), has recently given approval for restarting the trials while these were kept on hold by the previous IEC a few years ago, in view of the inability of the committee to monitor the trials with a limited staff strength.
JERC gives 3 months to UT
Chandigarh, May 23
The Joint Electricity Regulatory Commission (JERC) has given three-month time to the UT Electricity Department for starting the process of installing prepaid meters.
108 service hit as staff strike work
Mohali, May 23
Patients suffered as staff of the 108 ambulance service went on strike in support of their demands.
Alcoholics Anonymous meet tomorrow
Panchkula, May 23 Alcoholics Anonymous (AA), a worldwide fellowship of the recovering alcoholics, will organise a special meeting for the benefit of suffering alcoholics at Little Flower Convent School, Sector 14, here on May 25 from 6 pm.
Paid parking: Mohali MC sends ball in traders' court
Mohali, May 23
The Mohali Municipal Corporation has thrown the ball into shopkeepers' court on the issue of paid parking. The civic body offered them an option of not charging parking fee from vehicle owners and instead asking the shopkeepers of the markets concerned to bear all expenses on running the parking facility.



A view of the parking lot at the Phase VII market in Mohali on Friday. Tribune photo: Vicky Gharu
AAP central observer files police complaint
Chandigarh, May 23
The central observer of Aam Aadmi Party's (AAP) Chandigarh unit today lodged a police complaint seeking registration of an FIR against unknown persons for sending a wrong email to the party's head office and media houses announcing her resignation.
Ex-serviceman, family stage dharna against police 'inaction'
Zirakpur, May 23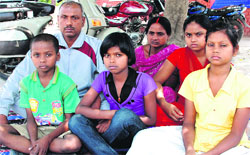 An ex-serviceman and his family of five today staged a dharna in front of the local police station alleging police inaction against the two persons, who allegedly assaulted him and tore off his wife's clothes after trespassing their house.


Lorik Das and his family stage a dharna outside the Zirakpur police station on Friday. Tribune photo: Nitin Mittal
Widen roads to prevent accidents, P'kula DC to NHAI
Panchkula, May 23
Taking a serious note of frequent road accidents occurring at the intersection of Majri Chowk on the Kalka-Ambala and the Yamunanagar-Panchkula highways, Deputy Commissioner (DC) Dr SS Phulia has written to the National Highways Authority of India (NHAI) to work out the possibility of widening the roads to save human lives.
Jyani launches dengue awareness campaign
Mohali, May 23
Health Minister Surjit Kumar Jyani inaugurated a state-level dengue awareness campaign from the Civil Hospital here today.
Sector 49 residents get faulty water bills
Chandigarh, May 23
The residents of housing societies in Sector 49 have got faulty water bills. While the sewerage cess is Rs 10 per house, the residents have been charged Rs 50.
Royal Bengal tiger dies at Chhatbir Zoo
Chhatbir Zoo, May 23
Wildlife conservation at Chhatbir Zoo suffered a major setback with the death of Prithivi, a male Royal Bengal tiger, here today.
Programme on child abuse
Mohali, May 23
The Smart Wonders School, Sector 71, organised a special awareness programme on child abuse for the students of Classes VI, VII and VIII. The session was appreciated by all the educators.
CBSE to hold Green Olympiad
Chandigarh, May 23
To sensitise the students on environmental issues, the Central Board of Secondary Education (CBSE), will conduct Green Olympiad in collaboration with The Energy and Resources Institute (TERI), in September-October this year.
GCG-42 to start courses in cosmetology and animation from this session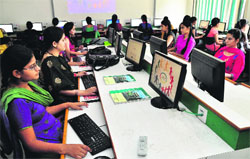 Chandigarh, May 23
The Government College for Girls, Sector 42 — which is leading in skill-oriented courses among government colleges in the city — will introduce two new professional courses from the academic session 2014-15.


Students have a trial run at a laboratory set up for the postgraduate cyber crime course, to be introduced at the Government College for Girls in Chandigarh. Tribune photo: Parvesh Chauhan
Literary week ends at Bhavan Vidyalaya
Chandigarh, May 23
The literary week, being held at Bhavan Vidyalaya, Sector 27, ended on a high note as three main competitions were held today.
PU chemistry prof invited to Italian varsity
Chandigarh, May 23
As part of an international project on molecular magnets, Prof Raj Pal Sharma, Department of Chemistry, Panjab University (PU), has been invited the University of Ferrara, Ferrara (Italy), from June 2-9.