Major admn shake-up on cards
Chandigarh, May
27 The Akali-BJP leadership in Punjab began cracking the whip on the political leadership last week by asking Jails Minister Sarwan Singh Phillaur to resign.
State bans unrestricted sale of poison
Chandigarh, May 27
The state government under the Punjab Poisons Possession and Sale Rules, 2014 stated that no person was allowed to store or sell over 100 different categories of poison without a licence.
Traders upbeat after Modi-Sharif meeting
Amritsar, May 27
With Prime Minister Narendra Modi and his Pakistani counterpart Nawaz Sharif agreeing to normalise trade ties between the two countries, the trading community here hopes that it will give a boost to the cross-border trade in the coming days.
War of words erupts over dynastic politics
Chandigarh, May 27
Sukhpal Khaira, PPCC spokesman, today said that PM Narendra Modi had "encouraged" dynastic politics by inducting Harsimrat Badal in his Cabinet.
Brahmpura is Parliamentary Party Leader
Amritsar, May 27
To silence critics, a day after Bathinda MP Harsimrat Kaur Badal was inducted in the Union Cabinet, the ruling SAD today appointed party stalwart Ranjit Singh Brahmpura as its Parliamentary Party Leader in the Lok Sabha. The SAD's preference for Harsimrat over Brahmpura (the second seniormost leader in the party) for the elevation had evoked criticism from various quarters. Former Congress Chief M inister Capt Amarinder Singh too had said that Brahmpura deserved a ministerial berth.
Modi's stand on dynastic politics a farce: Congress
Chandigarh, May 27
Sukhpal Khaira, PPCC spokesman, today said that PM Narendra Modi had "encouraged" dynastic politics by inducting Harsimrat Badal in his Cabinet.
Capt sets up office in Amritsar
Amritsar, May 27
Newly elected Amritsar MP Capt Amarinder Singh has set up his regular office in the city. The office will function from 4, Court Road. It will be manned by permanent staff.
BJP panel to probe poor poll results
New Delhi, May 27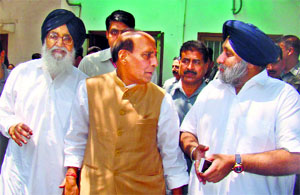 Stung by its below-par performance in the just concluded Lok Sabha elections, which saw stalwart Arun Jaitley being defeated in Amritsar, the BJP's core group met here today and set up a committee which will look into the reasons for the setback and suggest measures to revive the party in the state.

Chief Minister PS Badal and Deputy CM Sukhbir Badal with Union Home Minister Rajnath Singh in New Delhi on Tuesday. Tribune photo


Akali Dal collecting inputs from all seats
Gurdaspur, May 27
The three-member SAD committee constituted by Chief Minister Parkash Singh Badal in the aftermath of the Lok Sabha election results has blamed the party's poor performance on the inadequate projection of developmental works initiated by the state government in the media.




Beer prices down by 40%
Amritsar, May 27
The government's allocation of fixed quota to liquor contractors to boost revenue has proved beneficial for booze lovers as the prices of beer have come down by around 30 to 40 per cent in the state.

18 DCs, 22 SSPs found absent
Chandigarh, May 27
Focusing on reforms in the functioning of government offices, Chief Minister Parkash Singh Badal has asked Chief Secretary Rakesh Singh and state DGP Sumedh Saini to seek an explanation from 18 Deputy Commissioners and 22 Senior Superintendents of Police (SSPs) found absent from their offices during a surprise check conducted by the Chief Minister's office yesterday.

State airports fail to take off
Chandigarh, May 27
Though Punjab's boisterous politicians would like to showcase the state's progress by showing off the new airports in the state, the economic unviability of these airports reveals the state's flawed policy of development.

'108' ambulance staff on strike refuse to relent


Chandigarh, May 27
The staff of the '108' ambulance service camping at the office of the National Rural Health Mission (NRHM) in Mohali continued their agitation for the sixth day today as the Punjab Government refused to listen to their grievances.

In doldrums, PRTC seeks govt funds


Patiala, May 27
To save the Pepsu Road Transport Corporation (PRTC), the management is seeking Punjab Government's support to pay the debts that have derailed the functioning of the corporation.
To facilitate farmers in the direct sale of dairy products and organic vegetables, Kisan Huts will provide value for money to them and ensure quality items reach consumers at a reasonable price.

Sangrur plan panel lying defunct for more than a year


Sangrur, May 27
The district planning committee has not been reconstituted reconstituted for the past one-and-a-half-years. The chairperson has not been appointed since January 2013 and hence, no meeting has been held. The last meeting was organised in October 2012.

Ambiguity over MBBS seats; aspirants worried
Patiala, May 27
Ambiguity over the number of seats available in medical colleges in the state has medical aspirants and their parents worried. Though the All India Pre- Medical/Pre-Dental Test (AIPMT) for 2014-15 was held on May 4, the official website of Baba Farid University of Health Sciences (BFUHS), does not provide adequate information on the number of seats available at the medical colleges in the state. All the medical colleges in the state are affiliated to the BFUHS. The website does not even carry any information on the fee structure of MBBS and BDS courses.

ASI dismissed for conniving with drug smugglers


Moga, May 27
An Assistant Sub-Inspector (ASI) of the Punjab Police posted at Fatehgarh Panchtoor police station in Moga district has been dismissed for negligence in duty and alleged connivance with drug smugglers.

Drug addicts in lockup a headache for policemen
Faridkot, May 27
While senior police officers are boasting about making 59 arrests in Faridkot district under the Narcotic Drugs and Psychotropic Substances (NDPS) Act in the last six days, low-rung staff in police stations are facing a Herculean task of controlling these addicts in the lockup.

Khanna's non-inclusion in Cabinet irks BJP cadre


Gurdaspur, May 27
The non-inclusion of four time Gurdaspur Member Parliament (MP) and film star Vinod Khanna in the Modi Cabinet has disappointed the party rank and file in his home constituency.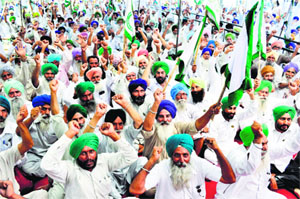 Farmers protest power cuts
Patiala: Members of the Bharatiya Kisan Union (Ekta) and BKU (Dakaunda) protested outside the office of Punjab State Power Corporation Limited (PSPCL) on Tuesday. They demanded 12 hours of uninterrupted power supply to tubewells, reduction in power tariff, and decrease in fee for new connections. They threatened to continue the protest if their demands were not met. — TNS
Activists of the BKU (Ekta-Ugrahan) and BKU (Dakaunda) protest erratic power supply, in Patiala on Tuesday. Tribune photo: Rajesh Sachar


Norms for cancer relief fund eased


Ludhiana, May 27
New instructions issued for getting monetary benefits under the Chief Minister's Cancer Relief Fund have bought relief to patients in the state. The state government provides Rs 1.5 lakh as financial assistance to cancer patients undergoing treatment at government or empanelled hospitals. Earlier, the amount was provided to the patient just once and if the latter's preliminary treatment cost was less then Rs 1.5 lakh, he was not allowed to avail the remaining amount.
The police today constituted a Special Investigation Team (SIT) to probe the death of Garshankhar farmer Jagdeep Singh Deepa (26).




Punjabi held for 'killing' wife
Sacramento, May 27
A Punjabi man was arrested for allegedly killing his wife. The body of Anita Sidhu, 39, was found by a family member on Sunday morning inside her Royal Palm Drive home in Fremont. One of the male relatives, who apparently lived at her home, noticed Sidhu's car parked in the driveway, which was unusual because she normally left for work early.

Desecration: Pak Sikhs threaten stir
Islamabad, May 27 A Sikh organisation in Pakistan has threatened to launch countrywide protests if those who allegedly desecrated the Sikh holy book are not arrested by Saturday.Speaking to the media, Ramesh Singh, patron, Pakistan Sikh Council (PSC), demanded that a judicial commission be constituted to investigate how and why such incidents had started happening across Sindh province, reported the Dawn.

72 drug peddlers held in Hoshiarpur
Hoshiarpur, May 27
As many as 76 cases were registered against drug peddlers and illegal liquor traders in the district as part of the statewide anti-drugs drive. In these cases, 126 accused were booked and 72 of them were arrested. Senior Superintendent of Police (SSP) Sushil Kumar said 54 accused were absconding. He said, "Those absconding would be nabbed soon as we have got reliable tip-offs about them. We have recovered 500 gm of opium, 56.5 kg of poppy husk, huge quantities of narcotic drugs and powder from the accused."

9 held with drugs in Abohar
Abohar, May 27
The police have seized 10 gm heroin after intercepting a car here and arrested Anil Kumar of Malout. A medical practitioner, Krishan Kumar, of Muktsar was nabbed with 1,890 sedative tablets in Maujgarh village.