OPED —

Defence
Military woes: What Modi govt needs to fix
Dinesh Kumar
Two developments on the very first day of the newly sworn in Modi government have come as a surprise if not a disappointment to the country's defence community. First, the BJP-led NDA government has not so far appointed a full-time dedicated defence minister. Second, Union Finance Minister Arun Jaitley, who has also been allotted the defence portfolio, announced on May 27, the very first day after being sworn in, that he was holding only temporary charge of the Ministry of Defence and that a full-time defence minister would be appointed in about a fortnight. This means that any meaningful work related to this vital ministry that forms part of the apex Cabinet Committee on Security (CCS) will have to wait for now.


Behind the ritualistic annual Republic Day parade is the story of mismanagement and abject neglect of the country's defence
This is surprising considering that the BJP is known for maintaining a tough line on defence and national security issues. In its 2014 Lok Sabha election manifesto, the BJP has devoted two pages (compared to five-and-a-quarter pages in its 2009 election manifesto) to defence, internal security, nuclear capability and related issues promising to correct almost everything that is wrong with India's defence and the armed forces. The listing, however, is somewhat haphazard and does not read as methodical. Whether it is because it was put together in a hurry or is ominously indicative of the functioning of the Defence Ministry in the days ahead will be known in time.


What the government could
make a start with
Modi's government will need to take bold and innovative measures. Blacklisting companies has not helped; rather it has delayed if not altogether stopped procurement of some vital defence equipment, adding to the cause for delays in modernising the armed forces. Perhaps a more pragmatic policy of not objecting to agents getting commissions so long as the political executive and government employees, including bureaucrats and the armed forces have not accepted commission would be in order and the equipment selected for induction based solely on merit. Also, it needs to be kept in mind that the cheapest is not always the best while the best is often more expensive.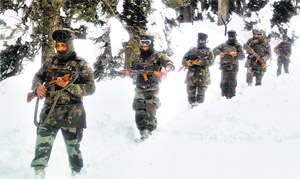 Equipment, gear and arms for soldiers working in counter-insurgency operations should be a priority for the government
However, at a far more fundamental level, India needs to improve its indigenous capability and diligently works towards self reliance in core areas. Why is it that the Indian Space Research Organisation has been a far better success story? Can the DRDO and key defence public sector units not replicate that model? The DRDO needs to focus on realistic goals rather than spread itself thin. Also, the government needs to devise ways to attract the best talent into the DRDO and vital defence PSUs such as HAL and take a hard look at the factors that have led to a large number of scientists resigning from service. Private participation needs to be increased. The Ministry of Defence needs more bureaucrats with a positive attitude and a better-"educated" top military brass and complete synergy between them. From them, the government must seek and demand excellence. But first India needs a defence minister with leadership qualities who will show involvement and take ownership of this vital ministry. He or she, along with Prime Minister Narendra Damodardas Modi, must get going quickly and make things happen.
Defence matters

The defence budget as a percentage of GDP remained less than 2.5 (as low as 2.18 in 2003-04 during the BJP-led NDA govt under Prime Minister Vajpayee)


Average capacity utilisation of defence shipyards ranged between just 23 per cent and 48 per cent during Vajpayee's tenure. There was no progress on creating an Aerospace Command


The government needs to devise ways to attract the best talent into the DRDO and vital defence PSUs such as HAL


An antiquated Army remains embroiled in counter-insurgency operations, while intelligence-gathering capability by the premier intelligence agencies is lacking.


The Ministry of Defence needs more bureaucrats with a positive attitude and a better "educated" top military brass and complete synergy between them.


China announced a 12.2 per cent increase in its defence budget, taking the military spending for this year to $132 billion, far above India's $36 billion.
Woefully inadequate & deficient
First, a reality check. India's defence is not in good health. It has not been in good health for many years now despite purchases of some major big-ticket items in recent years. Behind the impressive and ritualistic annual Republic Day parade is a dismal story comprising a mix of awful mismanagement, sordid inadequacies, grave politicisation, terrible corruption and abject neglect of the country's defence and armed forces. The armed forces are almost entirely import-dependent with India's self-reliance capability being severely limited if not entirely negligible reflecting poorly on a country that aspires to be a major power to reckon with. Procurement procedures are long and unwieldy. Private industry participation is severely limited as is foreign direct investment. Obsolescence of the Army in particular is high while the Air Force's fighter aircraft squadron strength has declined as has also the Navy's submarine fleet. India's conventional arms superiority over Pakistan is on the decline. China is making marked strides while India lags far behind and is yet to even satisfactorily develop, let alone induct, a missile that can reach China's centre of gravity – notably Beijing and Shanghai.
Officer shortages in the armed forces, particularly the Army, abound even as scientists and engineers continue to resign from the country's premier defence research and development institutions and defence public sector units. An antiquated Army remains embroiled in counter-insurgency operations, while intelligence-gathering capability by the country's premier intelligence agencies is far from optimum. The three services, each of which is preparing to fight its own war, remains uncoordinated at the top in the absence of a Chief of Defence Staff. A revolving-door senior civil bureaucracy calls the shots in the Ministry of Defence, with the armed forces being largely kept out of the decision-making process while also being ignorant of the functioning of the civil government… the list is simply endless. In sum, there seems to be more wrong than right with India's defence.
Areas for concern
India woefully lacks self-reliance capability. Almost six decades after it began its quest for self-reliance by establishing a series of government-owned defence research, development and production units, India has attained only a 30 to 35 per cent self-reliance capability for its defence needs. Even this figure is suspect because much of this capability is based on transfer of imported technology and license production of imported defence equipment. The fact is that India has been unable to develop any core strengths in defence technology. More seriously, as is officially admitted by the government, India lacks competence and capability in developing strategic technologies. Yet, despite this limitation, an unrealistic and overambitious Defence Research and Development Organisation (DRDO), which spearheads India's defence research and development, has embarked on an ambitious path of developing almost the entire gamut of major weapon systems and platforms, many in which it has no previous experience.
The DRDO and its subsidiary units have been unable, for example, to develop an engine for a tank let alone for a fighter aircraft. It has not quite succeeded in even making a rifle. (The 5.56 mm Indian Small Arms System or INSAS rifle that took years to develop has not quite measured up, thus forcing the Army to import rifles from overseas). Several studies and reports have been prepared on how to reform the DRDO, all of which have not quite translated into a discernable change and improvement. Time and cost overruns continue to be a consistent theme in the DRDO.
As a result, India is over dependent on imports for its defence needs. India continues to purchase about 70 per cent of its defence hardware making it a 'Foreign-Made Indian Military'. It is common sense that the Indian defence establishment will be forever susceptible to compromise in the absence of an indigenous military-industrial complex.
But even imports are handicapped by delays in defence-procurement procedures which have added to the obsolescence of many sections of India's defence. Blacklisting of firms has further complicated matters. For example, virtually all major firms selling artillery guns currently stand blacklisted, making the Regiment of Artillery among the most antiquated section of the Indian Army.
India is the world's only democracy where the services do not play a role in the government's decision-making process. The Army, Navy and Air Force Chiefs function as department heads who are summoned for consultations on an as-and-when basis by the government. There is no established system of institutionalised interaction between the political executive and the service chiefs. Any such interaction is dependent on the individual interest of the prime minister or defence minister of the day. In the absence of a Chief of Defence Staff (CDS), the services are not coordinated at the top and there is no solitary principal military adviser to the government akin to a National Security Adviser.
The armed forces too are not unanimous on the appointment of a CDS, with the Indian Air Force opposed to the move and both the Army and Navy in favour of such a post. Such rivalry is not unusual and was also witnessed in the United States until 1986 when President Ronald Reagan took a top down approach and passed the Goldwater-Nichols Act, whereby the powers of the Chairman Joint Chiefs of Staff were increased and the chain of command streamlined.
There are limited joint commands, some of which are not even truly joint. The operational commands of each service is located in completely different cities thus posing a challenge for inter-services coordination. There is no move for creating theatre commands.
The internal health of the armed forces, especially the Army, is another area of concern. Officer and soldier shortages, politicisation in the top hierarchy, moral, professional and financial corruption and declining moral fibre are some of the issues that plague the armed forces. The Army's secondary task – aid to civil authority – has since long become its primary duty. The Army remains embroiled in counter-insurgency and internal security operations in Jammu and Kashmir and the North-East, thus adversely impacting its operational preparedness and training. India's land borders with China, Pakistan, Myanmar, Bangladesh, Nepal and Bhutan are managed by a mix of five different forces - Army, Assam Rifles, Indo Tibetan Border Police, Border Security Force and Sashastra Seema Bal, which in turn are divided between the Ministry of Defence and Home Affairs thus creating serious coordination problems.
Earlier promises not kept
The Modi government's task is well cut out. Perhaps they can take some lessons and make observations from the six-year (1998-2004) BJP-led NDA government headed by Prime Minister Atal Behari Vajpayee, which failed to carry out much-needed (and promised) reforms in higher defence management. The Vajpayee government had shied away from appointing a CDS, while otherwise creating its secretariat (Integrated Defence Staff or IDS, headed by a three-star general as a Chief of Integrated Staff or CIS) and annually surrendered a significant portion of the capital budget of the armed forces. The defence budget as a percentage of GDP remained less than 2.5 (as low as 2.18 in 2003-04); average capacity utilisation of defence shipyards ranged between just 23 and 48 per cent and there was no progress on creating an Aerospace Command. As the 19th Parliamentary Standing Committee on Defence Report of the 13th Lok Sabha tabled on April 2003 (fifth year into BJP-led NDA's rule) scathingly stated "the security objectives have been adversely affected by archaic and cumbersome procurement and financial procedures which require drastic overhaul".
The 18th such report tabled in December 2002 termed procurement procedures as being "time consuming". It castigated the government for remaining indecisive on lateral induction of ex-servicemen into central police organisations and other government departments and for the delays in the indigenous development of weapon platforms (example Light Combat Aircraft and missiles) and import of vital equipment (example AWACS and Advance Jet Trainer).
Against a requirement for 3,53,765 bullet-proof jackets for Army soldiers posted in counter-insurgency operations and along the Line of Control, only 1,24,640 such jackets were available during Vajpayee's tenure. Also, the much promised One Rank One Pension and a national war memorial remained an illusion. Significantly, it was also during this period that the government succumbed to demands from hijackers and released three dreaded terrorists in Kandakhar. The Kargil War, fought between May and July 1999, revealed the Army's lack of preparedness. Two-and-a-half years later, the massive mobilisation of the armed forces along the India-Pakistan border that lasted 10 months from December 2001 to October 2002, following the terror attack on Parliament on December 13, 2001 further exposed serious drawbacks in India's armed forces. Little changed then. Little has changed since.