Ads outside commercial buildings
Civic body gets High Court rap
Chandigarh, June 3
In a stern indictment of the Chandigarh Municipal Corporation, the Punjab and Haryana High Court has asserted that it is still unclear why the civic body turned a blind eye to the blatant violation of statutory provisions hovering around the installation of hoardings and advertisements outside commercial buildings.
Ads have come up outside commercial buildings at several places in Chandigarh in violation of the rules. Tribune photo: Vicky Gharu

PSEB Class X exams
With 84%, visually impaired eyes IAS
Chandigarh, June 3
Setting an example for others, 16-year-old Samta, who is visually impaired, has scored 84 per cent marks in the Punjab School Education Board (PSEB) Class X examinations. A student of Institute for the Blind in Sector 26, Samta wants to become an IAS officer or a lecturer.
Visually impaired student Samta celebrates her success with her parents in Chandigarh on Tuesday. Tribune photo: Manoj Mahajan



Education scenario in Mohali dist worrisome
Mohali, June 3
"All is not well" in Mohali, the so-called education hub of Punjab, as far as the education scenario is concerned. The district, which has been continuing hitting the bottom bracket in the district-wise total pass percentage figures and failing to produce any topper in the state for the past several years.


Students during a sports session at Government Senior Secondary School in Phase III-B1, Mohali, on Tuesday. Tribune photo Vicky Gharu
GMSH-16 patients harassed
Chandigarh, June 3
Patients visiting the Government Multi-Specialty Hospital (GMSH), Sector 16, have been facing inconvenience as the ultrasound machine at the infirmary has been lying non-functional for over two weeks now.


City continues to sizzle; no respite in sight
Chandigarh, June 3
The city continued to endure the scorching heat conditions for the third consecutive day today as the maximum temperature recorded was 40.5 degree Celsius, two notches above normal.

Students use an umbrella to protect themselves on a hot sunny day in Chandigarh on Tuesday. Tribune photo: S Chandan

323 vehicles challaned in May
Chandigarh, June 3
The State Transport Authority (STA) challaned 323 vehicles for various offences in the city in the month of May. The authority carried out an intensive campaign to challan vehicles plying without documents, overloading passengers and polluting city.
The Chandigarh traffic police impound a wrongly parked car during a special drive in the Industrial Area, Chandigarh, on Tuesday. Tribune photo: Manoj Mahajan



Hoardings removed
Mohali, June 3
The Municipal Corporation, Mohali, removed unauthorised advertisement hoardings in the Phase V market today. The drive was carried out in the presence of a Duty Magistrate and police personnel.

A crane removes illegal hoardings at the Phase V market in Mohali on Tuesday. Tribune photo: Vicky Gharu



Hooda to meet workers
Panchkula, June 3
Haryana Chief Minister Bhupinder Singh Hooda and state president of the Congress Ashok Tanwar will hold a meeting with party workers in Panchkula on Saturday. This will be the first meeting of the Congress leaders with the party workers in the district after Lok Saba Elections.
Rs 1.87 crore sought for development of Balongi
Mohali, June 3
Deputy Commissioner Tejinder Pal Singh Sidhu said Balongi village, near here, will be developed systematically. He said based on estimates received from various department a letter seeking development funds of over Rs 1.87 crore had been sent to the government for approval.
Mansa Devi SHO transferred
Panchkula, June 3
The station house officer posted at Mansa Devi Complex was transferred due to the alleged failure in controlling violence at Saketri village in last one week. Alleging slackness on the part of police in the murder case of Ashutosh Bhardwaj, a BJP leader, residents held a massive protest outside the police station on May 26.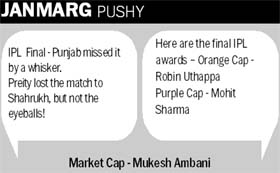 HJC pays tributes to Bhajan Lal
Panchkula, June 3
In a novel way to pay tribute to their leader and former Haryana Chief Minister Chaudhary Bhajan Lal on his third death anniversary, members of Haryana Janhit Congress (HJC) distributed fruits among the patients undergoing treatment at Civil Hospital, Sector 6, here today.
2 abattoirs to come up in P'kula
Panchkula, June 3
To curb the unauthorised culling of animals in the district, the Panchkula Municipal Corporation will come up with two slaughterhouses soon. The slaughterhouses were being set up by a Chandigarh-based Company at a cost of over Rs 29.65 crore.
Kalka SDO shifted
Panchkula, June 3
The Haryana government has transferred Manita Malik, sub-divisional officer (Civil), Kalka, with immediate effect by replacing her with Shakti Singh. He was earlier posted as General Manager, Haryana Roadways, Yamunanagar.
Southern sectors face power cuts
Chandigarh, June 3
For the second consecutive day, a number of sectors in the southern part of the city remained without power for over three hours today. Officials said due to a technical snag in the supply line from Sector 32, sectors 32,33, 34, 45, Burail village and other adjoining areas remained without power from 10 am to 1 pm.
MC, Admn hold coordination meet
Chandigarh, June 3
The issue of 100-foot-wide road to come up from the Mani Majra police station to Mansa Devi Temple was discussed during the monthly coordination meeting of the UT Administration and the Municipal Corporation (MC) held at the UT Secretariat here today.
UT Administrator chairs meet on Master Plan 2031
Chandigarh, June 3
UT Administrator Shivraj Patil today chaired a meeting to finalise the recommendations of the committee constituted to hear objections to the draft UT Master Plan 2031.
Khair wood recovered from forest official's house
Panchkula, June 3
The Panchkula police have booked an employee of the Haryana Forest Department after nearly 20 quintals of khair wood was recovered from his house in Kot village near here last evening.


No cars for first-year hostel inmates at PU
Chandigarh, June 3
First year hostel students of Panjab University will not be allowed to keep four-wheelers from the academic session 2014-15. This step was taken to deal with the traffic and parking problem being faced by the PU authorities.
Panjab University to prepare list of nuisance makers
Chandigarh, June 3
Taking a serious note of the yesterday's incident of trespassing in the office of PU VC, the authorities had started the process of preparing the list of those students who created nuisance in the campus time and again.
DAV College-10 to introduce new courses from this session
Chandigarh, June 3
Keeping in view demands of students of medical stream courses, DAV College, Sector 10, is coming up with a community college for medical laboratory technology course from the 2014-15 academic session.
PU declares admission schedule
Chandigarh, June 3
Panjab University (PU), Chandigarh, has declared the admission schedule for the university teaching departments for the 2014-15 session. A Panjab University handbook of information has been released and it is now available on the sale counter on a cash payment of Rs 550.
government schools
Prospectus for Class XI admissions to be available from June 11
Chandigarh, June 3
Prospectus and application forms for admission to Class XI at government schools will be available from June 11 onwards. The UT Education Department has allotted six centres for procuring and submitting the forms that include Government Model Senior Secondary School (GMSSS) in Sectors 37, 46, 28, 20 and 10 and GMSSS, Modern Housing Complex, Mani Majra.
Hardeep Singh is PU NSUI president
Chandigarh, June 3
The National Students Union of India (NSUI) today announced Hardeep Singh 'Lalli' of the Public Administration Department as its president on the Panjab University campus at the Student Center in the presence of senior party leaders with attendance of students in a large number.