How & why a well-run campaign succeeded
Narendra Modi's triumphant journey from Gandhinagar to Delhi has been a pulling-out-all-stops, multi-media and multi-dimensional enterprise. An analysis of his campaigns can help us to understand the structural transformation of the public sphere in contemporary times.
Nilanjana Gupta
In 1960, the first televised Presidential debate in the US changed political communication forever. A relatively unknown junior Senator from a religious minority suddenly became a serious challenger to Vice President Richard Nixon, known for his hard work and experience. On that day, John F Kennedy — tanned, handsome, articulate and confident —looked more Presidential than an ailing, sweating, ill-dressed, balding Richard Nixon. Kennedy went on to become the President and the crucial role played by television was acknowledged by Kennedy himself immediately after: "It was the TV more than anything else that turned the tide."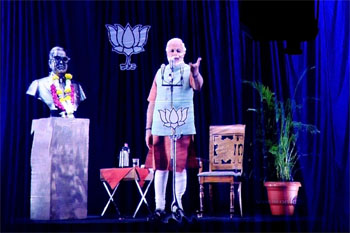 An image of the then BJP prime ministerial candidate Narendra Modi pictured during a live, "3D hologram" telecast in Mumbai
At a recent Bharatiya Janata Party meeting held in Delhi, Narendra Modi lauded the success of his election campaign which, he said, should be studied and written about, just as Tony Blair's "New Labour" Campaign and Barack Obama's campaign for the first term of his Presidentship have been. The recently concluded 2014 election campaign in India is likely to be remembered as a watershed event in political communication. The campaign managers have used a combination of traditional and new media to reach out to huge numbers of people.
Transformation of public sphere
An analysis of these campaigns can help us to understand what the theorist Jurgen Habermas has called the "structural transformation of the public sphere" in contemporary times. Habermas argues that in the early years of liberal democracy, the citizen could participate in political discussions and debates in a range of ways, from newspapers and journals, clubs, coffee houses, town-hall meetings, political gatherings to informal discussions. These debates brought issues into focus and created public opinions which would then influence political practice. Thus, citizens used the public sphere to determine and influence politics. A look at political campaigns today seems to suggest that there has indeed been a structural transformation of the public space. Now, political discourse is determined by powerful elites, media is carefully manipulated and public opinion is measured by opinion polls. In this scenario, the citizen becomes a consumer of the carefully crafted spectacle, created by strategists and media experts.
Modi's strategy of transforming this election from the British system of democratic election into an American model meant that he and his team could set the terms of the style and substance of the campaign. Just as American Presidential candidates do, Modi brought together a competent, creative and professional group of people who controlled various dimensions of the campaign. It is to Modi's credit that he was able to inspire and engage a group of professionals such as B.G. Mahesh, founder of several web-based sites including OneIndia, a news portal which delivers content to more than 18 million viewers. A site, India272.com, was created to harness the enthusiasm of individuals keen to see BJP win at least the magic number of 272 Parliamentary seats. Any individual could register on this site as a volunteer. This way, thousands of young people were included in working for the campaign bypassing or enhancing the traditional methods of using party organisations to activate volunteers.
More roundabout ways were created and devised to bring together a variety of segments of society into a massive group of dedicated workers of which Campaign for Accountable Governance (CAG) is one. Run by 66 employees and manned by thousands of volunteers, this site did not originally appear to have any direct connection with the BJP or Narendra Modi. Its Facebook page which has more than 5 lakh "likes" describes itself as "A group of spirited individuals striving for accountability in governance!" and has an Indian flag with the slogan "Because India deserves better" under a drawing of people — seemingly young — with their fists raised high. The actual website is slick and less coy about its political objectives: "Modi Ane Wala Hai". There are interactive options and, most importantly, invitations to join the organisation. A moving "live" strip informs us that as of the time of writing the article there are 1,04,417 members, that one new member was added that day and that there are 29 new city chapters. One can also refer friends whom the site will then connect with. One of the characteristics of recent successful campaigns has been the sense of identification and involvement of the voters with particular candidates.
Obama's first campaign could not initially attract much money from big business. Advertising on social networks and smartphones led to small donations from large numbers of voters, especially young voters, to add up to one of the largest campaign funds in recent times. This created identification and enthusiasm in the donors. While the large numbers of volunteers for Modi certainly reflect the power of the campaign, it also suggests that many young people who are normally excluded from the sphere of public discourse became, not active citizens of a democracy, but passive followers of a particular brand or symbol.
Holograms to woo audience
However, the most intriguing and talked-about initiative has been the use of holograms of Modi to address audiences across the nation as part of what the CAG called its "Bharat Vijay 3D Rally campaign". This technology allowed Modi to undertake what is described as Modi's National Mega outreach programme to connect with people across the country. The CAG site says, "Apart from being innovative and emphatic, this 3D initiative ensures that the effect of the leader's speech remains undiluted. This technology allows him to connect to hundred locations simultaneously. This event has established Narendra Modi as a leader who wants to integrate more of science and technology into the everyday life of Indians." These holographic rallies were planned to cover at least 1000 cities across India. This is a far cry from L.K. Advani's Rath Yatra which used the physical dimension of space, touch and presence. Today's new virtual space has been emphatically and decisively taken over by the NaMo campaign as a site from which to recruit, indoctrinate and turn the subterranean wave of anti-incumbency discontent into a pro-Modi tsunami. In December 2013 when he was elected as Chief Minister of Gujarat for the fourth term, Modi already had 8 million fans on Facebook. His faith in the virtual is not, therefore, new. By the 2014 General Election, the number of Modi's fans on Facebook had risen to 14 million, second only to Barack Obama among politicians globally. 11.85 million Tweets have been directly addressed to Narendra Modi's official account @NarendraModi this year already.
The impact and numbers of the inclusion of tech-savvy India was clear on counting day as Modi's message "India has won!" became the most-retweeted message ever in India. For Indians, especially Hindus, the idea of darshan has always been central to their ritual practices. The practice extended to the rulers of the country and now political leaders too are objects of darshan. Political leaders thus have to carefully craft their image and in this too, Modi and his team did an outstanding job. Modi's election costume deserves a mention. Modi's kurtas were no ordinary, off-the-shelf affairs. Carefullycolour-coordinated, they were made of expensive linen and fine handloom.
Packaging the product
The inclusion of advertising professionals such Prasoon Joshi and Piyush Pande in his team helped to "package" the product: a man willing to undergo hair transplants, probably some time in 2007, tailor his kurtas at one of the most expensive places in Gujarat, carry a Mont Blanc pen and wear Bvlgari sunglasses, thereby replacing the traditional image of a man of the people with the man who has arrived. Strategists successfully turned this election into a vote on leadership, rather than issues. By adapting the US Presidential mode of campaign, most voters, especially young voters disenchanted with party-bound politics, saw this as a battle between Rahul Gandhi and Narendra Modi with Arvind Kejriwal as a distant contender. In this line-up, Modi's rhetorical and organisational skills honed for years, ironically as pracharak, and party worker, clearly won the day.
A journalist's account of Modi's encounter with the elite of the capital in the Taj Palace banquet hall about a year ago concludes that "if Modi had given his 'Leader's Lecture' in a school debate contest, he would have lost" yet also notes that the audience left the venue "in awe". Clearly, the commentator suggests, this was a victory of style over substance. Modi's speeches were far from flawless. Does anyone recall his sequence of historically inaccurate rhetorical flourishes in Bihar towards the beginning of his campaign? In an attempt to identify himself with a glorious Bihari past, he claimed Taxila as part of Bihar, that Alexander was beaten back by the patriotic Biharis and so on. Yet despite all these intellectual bloopers, he managed to sweep through Bihar and wipe out one of his severest critics, Nitish Kumar. When the Opposition seemed to falter, as in the now-infamous chaiwallah comment by veteran Congress leader Mani Shankar Aiyer, the BJP and Modi response was to use this as another weapon to attack the dynastic role of the Nehru-Gandhi family. Rahul Gandhi's attempt to defend and clarify Aiyer's comment was ignored by the traditional media, social media and ultimately by the voters. Priyanka Gandhi's comment on neech rajniti also was taken out of context and re-interpreted to suggest that she had made a comment on Modi's relatively humble social background.
Facebook statistics show that "jobs" was the major concern in election-related posts. If Facebook is the new "public sphere" then this suggests that for India's youth, employment was the biggest focus. However, in election speeches, Modi rarely used concrete facts and figures to address such concerns. Rhetoric and flourish carried the day. For example, when questioned about his textile policy, Modi replied with alliterative assurance that his 5F formula provided the answer. With dramatic hand movements foreshadowing the growth curve with infinite possibilities, he explicated this as "from farm to factory to fabric to fashion to foreign". This performative response triggered spontaneous applause from the audience. One wonders whether the applause was caused by the dramatic use of rhetoric or the textile policy outlined here. Yet again, spectacle rather than substance won the audience over.
Emotive appeal
Modi's team used emotive rhetoric to answer some of the questions raised by the anti-Modi brigade, the most significant being about his anti-secular, pro-Hindu ideology. He effectively claimed the role of the champion of secular rule by arguing that in his state, development has proved to be inclusive for all sections of society as development itself is for everyone. By accusing all other parties of playing "vote-bank" politics where religion or caste determines policies, Modi argued that it was they who were the actual anti-secular forces, not he. Similarly, he dismissed the flagship, much-touted NREGA programme as a "dole" to the poor; he would re-label the scheme as "service dedicated to the nation" to provide a sense of dignity to those under the scheme. In both these instances, the campaign changed the political discourse but did not address the issue itself. Critics were effectively silenced.
Persuasive discourse is a fundamental part of democratic practices. However, Plato distrusted rhetoric precisely because people are moved by emotion and laughter which often prove to be more effective than logic and rationality. In the recently concluded elections, Modi took persuasive discourse to new heights. Issues were noticeably absent and emotion and passion were crucial tools that crafted the massive victory
The writer, Professor, Dept of English, Jadavpur University, was Director School of Media Communication and Culture, specialises in popular culture, new media
Rhetoric vs logic

Issues were noticeably absent. Images of tears in Modi's eyes and his choked voice after his triumph flooded websites, inspired Twitter comments and enthralled tv viewers.

Ancient Greeks believed that the study of rhetoric was an integral part of necessary practical and philosophic knowledge.

Plato argued that rhetoric could be used or misused for emotional manipulation of audiences to the point that true philosophical debate was absent. His assessment of the power of rhetoric may still be true even in this postmodern digital age.

Aristotle argued that rhetoric should be seen as a method of engaging in philosophical debate.

It was Plato who won. Passion and emotion were the crucial tools that crafted the victory.