Shongtong-Karcham power project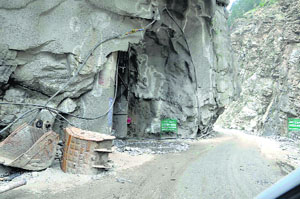 Army, HPPCL at loggerheads
Shimla, June 8
The 450-MW Shongtong-Karcham power project on the left bank of the Satluj in Kinnaur has hit a roadblock. The Army and Himachal Pradesh Power Corporation Limited (HPPCL) are at loggerheads over the shifting of ammunition depot and barracks near Powari to make way for the project.

A view of the Shongtong Karcham power project in Kinnaur district. Tribune photo: Amit Kanwar

State to celebrate 2014 as 'silk year'
Shimla, June 8
In a move to revive silk industry in the state, the government has decided to celebrate 2014 as 'Silk Year' from June 12 onwards. The day is also important for the state's only silk mill, located at Bodh in the Nurpur area of Kangra district, as it will complete 50 years. The golden jubilee celebrations of the mill will also commence on the same day.
Villagers blacken boy's face for teasing girl
Una, June 8
The situation turned violent yesterday after a 22-year-old Jat youth allegedly passed remarks against a minor girl from the village, who belonged to the Dalit community. People from the two communities in Sanoli panchayat of Una district entered into a faceoff, forcing SDM Dhanvir Thakur and DSP Surinder Sharma to intervene.
Incentives galore, but cement companies refuse to decrease price
Solan, June 8
Cement companies have failed to decrease the prices of cement bags, despite the state government slapping notices on two major manufacturers, Ambuja Cements Limited and Jaypee Cements, for various violations.
PM urged to take up Tibet issue with Chinese minister
Dharamsala, June 8
Tibetan activists asked Prime Minister Narendra Modi to take up the issue of Tibet with visiting Chinese foreign minister Wang Yi. On the visit of Wang Yi's to Delhi today, the Students for a Free Tibet-India took to the social media to ask Modi and Minister of External Affairs Sushma Swaraj to raise the issue of border incursions in Ladakh, territory conflict in Arunachal and the crackdown in Tibet with him.
Chairman Kangra Block Samiti, BDO spar over purchase of solar lights
Kangra, June 8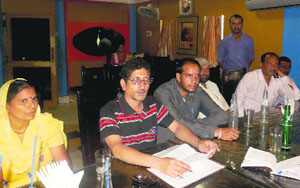 Kangra Block Samiti Chairman Kulbash Choudhary has demanded a high-level inquiry against Block Development Officer (BDO) Shashi Patial, who according to him had violated norms while purchasing 75 solar lights. Kulbash, while addressing a press conference here on Thursday, said the BDO had approved the quotation for 75 solar lights at Rs 23,500 each ignoring a quotation of Rs 19,900 violating government norms.

Block samiti chairman Kulbash Choudary addresses a press conference in Kangra on Thursday. Photo: Ashok Raina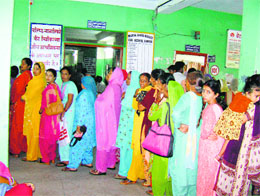 Kangra hospital victim of govt apathy
Kangra, June 8
In the absence of an assistant in the operation theatre, surgeries have not been performed at the Civil Hospital here for the past over one and a half years. Sources said a general surgeon, a gynaecologist, an ENT specialist and an orthopaedic surgeon had been reduced to mere medical officers in the OPD. The 50-bed hospital was inaugurated by Virbhadra Singh on December 3, 1985.

Patients wait at the OPD of the Civil Hospital in Kangra. Photo by writer

47 panchayats declared 'nirmal' in Chamba
Chamba, June 8
As many as 47 panchayats of Chamba district have recently been declared "nirmal" panchayats for being completely free of open defecation under the Nirmal Bharat Abhiyan (NBA). Besides, the work of making the environs of 30 more panchayats clean will get underway soon. There are 283 gram panchayats in the district.
Tourist rush on the rise
Kullu, June 8
The number of tourists to the state has seen a spurt this season. The Tourism Department said the number of tourists to Kullu as well as in the state had increased this summer as compared to last year. AR Thakur, president, Manali Hotelier's Association, said most of the hotels in Manali were experiencing over 90 per cent occupancy and there were heavy bookings for June.
Body of missing man found from BBMB canal
Mandi, June 8
The Balh police recovered a mutilated body, packed in a gunny bag filled with stones, of Manoj Kumar of Behna from the Bhakra Beas Management Board (BBMB) canal here yesterday. He was murdered by his wife, her paramour and a hired killer on the intervening night of March 25 and 26 at his house.
Una villages face drinking water shortage
Una, June 8
Due to the intense heat wave, a number of villages in the district have reported acute shortage of piped water. The situation has worsened because of repeated power cuts, which drastically restrict the hours of pumping water from ground aquifers to the distribution network.
Call to fill vacant posts of doctor
Kangra, June 8
The Himachal Medical Officers Association (HMOA) has demanded that all shortcomings mentioned by the Medical Council of India (MCI) in the DRPGMC, Tanda, and the IGMC, Shimla, should be rectified immediately so that the number of seats is not decreased.
CITU activists gherao labour office
Mandi, June 8
Activists of the Centre of Indian Trade Union (CITU) held a protest demonstration and gheraoed the office of the District Labour Officer here on Friday. The activists demanded the registration of unorganised workers with the State Labour Welfare Board. Union district president Bhupinder Singh said the Labour Welfare Board was providing several benefits to the registered workers, but the Labour Department was not registering new workers. He said for the past several months, the labour office was not accepting the forms. They also demanded registration of workers engaged in MGNREGA and who had completed 50 days of work as per the directions of the Central government. The activists also threatened to hold a state-level protest if their demands were not accepted. — TNS
SFI condemns cane-charge on HPU students
Shimla, June 8
Condemning the alleged cane-charge by the police on members of the Students Central Association (SCA) of Himachal Pradesh University outside the office of Vice-Chancellor ADN Bajpai yesterday, the state body of the Students Federation of India (SFI) today threatened to launch a state-wide agitation against dictatorial practices adopted by the VC. In a statement, state SFI president Suresh said, "India is a democratic country where every person has the freedom of expression and the right to voice his grievances in a peaceful manner." He questioned as to why the students, who were standing outside the VC office to submit their memorandum against the proposed fee hike to the Resource Mobilisation Committee, were cane-charged. TNS
5 killed in two road accidents
Shimla, June 8
Five persons, including an Intelligence Bureau (IB) employee Tashi Thakur, were killed and 12 others injured in two separate road accidents in the Rampur area of Shimla district last night. Four persons were killed and eight others were injured when a canter rolled down into a gorge near Nandkhari, 140 km from here. The canter was carrying pipes of the PHI Department and about a dozen labourers. The deceased were identified as Suresh, Ram Prasad, Umesh and Simerjeet who hailed from Jammu. In another accident near Sainj, 30 km from Rampur, Tashi Thakur, an IB employee posted in Shimla, was killed when the car he was travelling in veered off the road. Three other occupants of the car were injured in the accident. — TNS
House destroyed in Chamba fire
Chamba, June 8
A house was gutted in the Sundla bazaar of Salooni tehsil here yesterday, as per a report today. It said there was no report of casualty, adding that the cause of the fire was yet to be ascertained. Nearby villagers tried to douse the flames, but the house was reduced to ashes by the time fire tenders arrived from Chamba. The tentative loss was put around Rs 13 lakh. However, a team of officials had been deployed to assess the exact loss. An immediate relief of Rs 10,000 had been disbursed to the family of victim Raj Kumar, the report added. OC
Una enter cricket quarterfinals
Una, June 8
Una district entered the quarterfinals of the Inter-District Men Cricket Championship by defeating Sirmour in a two-day match that concluded at the Indira Stadium here today. In the first innings, Una were all out for 309 runs in 78.1 overs. In reply, Sirmour were all out for 252 runs in 55.2 overs. Gurvinder Singh and Ankush Bedi bagged four wickets each for Sirmour and Una, respectively. Playing in the second innings today, Una were 131 for 2 at the end of the second day's play. Una will now meet Solan in the quarterfinal match here from June 10 to 12. OC
Training for NCC cadets
Hamirpur, June 8
Rajinder Rana, state vice-chairman, Disaster Management Board, said the board had prepared a plan to train NCC cadets and school students to involve them in disaster management operations. Holding a review meeting here on Thursday, Rana said the scope of disaster management had increased manifold due to increased awareness about reducing loss from natural disasters, providing relief and the rebuilding process afterwards. — TNS
Man's body found hanging from tree
Una, June 8
The body of a 38-year-old man, identified as Amarjeet of Malahat village, was found hanging from a tree near the village link road here yesterday. Station House Officer (SHO) Kulwinder Singh said a woman from the village first saw the body this morning and reported the matter to the panchayat. The SHO said the deceased's pregnant wife had died on June 1 due to some complication. It is learnt that Amarjeet was mentally upset after the incident. OC
Rs 14.06 crore for Chamba development work
Chamba, June 8
A sum of Rs 14.06 crore has been earmarked under the Backward Region Grant Fund (BRGF) scheme during the current fiscal year for the execution of 884 development schemes in the district. This was stated by Forest Minister Thakur Singh Bharmouri while presiding over a meeting of the district planning committee here recently. — OC