Clash of examination dates
Job seekers in a dilemma
Nurpur, May 30
A large number of unemployed youths who have applied for written examinations for the posts of clerk in the Himachal Pradesh Service Selection Board (HPSSB) and the Indian Postal Department are in a dilemma as both examinations have been scheduled on the same day on June 8.
Villagers protest unruly supply of drinking water
Palampur, May 30
Residents of Jaind village of Sulaha constituency yesterday staged a dharna in front of the office of Executive Engineer, Irrigation and Public Health (IPH), at Thural to protest the non-availability of drinking water in the area.
Industry minister flags off Rs 40-cr work in Una
Una, May 30
The work on the channellisation of Swan river's three tributaries, estimated at Rs 39.63 crore, was formally launched by Industry Minister Mukesh Agnihotri at Badheda, Pandoga and Khad villages of the district. The 10 km embankment work on both sides of the Pandoga tributary will be constructed at a cost of Rs 14.47 crore, 7 km embankment along Badheda tributary will be constructed at a cost of Rs 13.2 crore, while a sum of Rs 11.96 crore will be spent on the 10 km embankment of Khad tributary.
World No Tobacco Day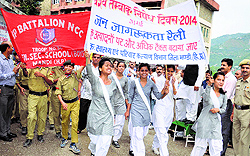 Health minister flags off rally
Mandi, May 30
Health and Family Welfare Minister Kaul Singh Thakur today flagged of a rally organised by students on World No Tobacco Day today at the zonal hospital, Mandi.


Students take out a rally to mark World No Tobacco Day in Mandi on Friday. Photo: Jai Kumar

Una tops in revenue collection
Una, May 30
The district Excise and Taxation Department has topped the state in revenue collection for the second consecutive year. During 2013-14, ~341.71 crore was collected as tax, which was 27.49 per cent more than the revenue generated in 2012-13.
Stokes bats for Pabbar gravity project
Shimla, May 30
Wary of the attitude of Narendra Modi government at the Centre towards the Rs 1,307 crore Pabbar gravity water supply project, Himachal Irrigation and Public Health Minister Vidya Stokes today defended the project and counted its merits over an alternate project.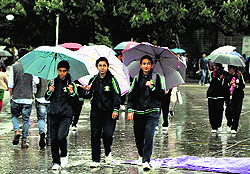 under cover:

Schoolchildren out with their umbrellas as it rained in Shimla on Friday. Photo: Amit Kanwar

CCTVs to check garbage dumping in Mandi
Mandi, May 30
The Municipal Council (MC) has decided to install CCTVs to check dumping of garbage and encroachment on government land in the town.
VC to approach party heads to check student violence
Shimla, May 30
Perturbed over frequent clash between student organisations having affiliation to major political parties, Himachal Pradesh University Vice-Chancellor ADN Bajpai has decided to approach state presidents of various parties and apolitical student outfits to tackle excessive politicisation of teachers and student community.
Power generation fails to pick up in state
Shimla, May 30
Power generation has failed to pick up this year, as power projects with HP State Electricity Board Ltd (HPSEBL), including 1500 mW Nathpa Jhakri and 1,000 mW Karcham Wangtoo, have not attained their peak generation this summer so far.
Vigilance probe a witch-hunt: Ex-DGP
Shimla, May 30
Former Director General of Police (DGP) ID Bhandari today accused the state government of haunting and targeting police officers and said the Vigilance and Anti-Corruption Bureau seemed to be working overtime to prove the charges contained in the Congress chargesheet and target people.
Workshop on emerging trends
Solan, May 30
A national-level conference on "Innovation in engineering, pharmaceutical, legal and management sciences" was organised at Bahra University, Waknaghat, today.
Forgery, cheating case
Ramdev aides join probe, get bail
Solan, May 30
Yoga guru Swami Ramdev's associates Acharya Balkrishan and Lalit Mohan, MD, Patanjali Yogpeeth Trust's Kehlog-based land, were today granted bail after the duo joined investigations in a case of forgery, cheating and criminal conspiracy.
Nepali labourers held for murder
Mandi, May 30
The Karsog police have arrested two Nepali labourers on the charge of murder.
Devotee killed in accident
Hamirpur, May 30
A devotee from Punjab was killed while seven others seriously injured when the tempo they were travelling in overturned near Harsour this morning.
Karate trainer killed in mishap
Kullu, May 30
A karate trainer was killed when a tipper hit his motorcycle near Badah here yesterday.