Beas dera head, RSS chief hold parleys in Mansa
Mansa, May 30
The RSS (Rashtriya Swayamsewak Sangh) chief, Mohan Bhagwat, today held a closed-door meeting with Dera Beas head Gurinder Singh at Narain Sarvhitkari Mandir School here today. The RSS has been holding a training camp in the school since May 25.



Mohan Bhagwat, RSS chief

32 fishermen among 37 Pak prisoners released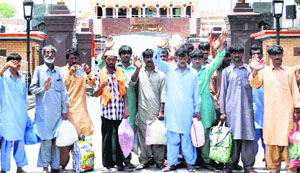 Amritsar, May 30
Reciprocating the goodwill gesture of the Pakistan Government that released around 150 fishermen from the Malir jail in Karachi and the Nara jail in Hyderabad at the swearing-in ceremony of Prime Minister Narendra Modi five days ago, India today released 37 Pakistani prisoners, including five civilians and 32 fishermen.


on way back home: Pakistani prisioners before crossing over to Pakistan at the Wagah check post on Friday. A Tribune photograph


Bajwa says he had resigned a week ago
Chandigarh, May 30
Punjab Pradesh Congress Committee (PPCC) chief Partap Singh Bajwa says he submitted his resignation to the AICC chief a week ago. Talking to The Tribune, he said he had urged the party high command to conduct a 'detailed study' on the factors responsible for the party's poor performance in Punjab.
Have no such information, says AICC general secretary
New Delhi, May 30
The Punjab Congress unit continues to be in a disarray after the party's rout in the Lok Sabha elections. Confusion persists on the reported resignation offer made by Pradesh Congress chief Partap Singh Bajwa to the party leadership.
Arrest drug lords, not addicts, says Amarinder
Patiala, May 30
Former Chief Minister Capt Amarinder Singh has dubbed the police drive against drug addicts as an alleged political stunt aimed at befooling the people who were fed up with the state government.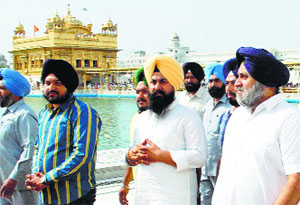 Time to punish guilty of '84 riots: Sukhbir
Amritsar, May 30
A day after his Union Minister-wife Harsimrat Kaur Badal appeared non-committal on the issue of the 1984 anti-Sikh riots, Deputy Chief Minister Sukhbir Badal today switched to damage-control mode and reiterated his resolve for severe punishment for the perpetrators. He said "the time has come to punish them".


Deputy CM Sukhbir Badal in Amritsar on Friday. photo: RK soni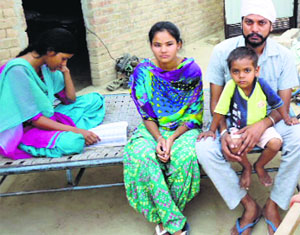 Muktsar village rape case
Police crackdown fails to deter protesting villagers
Muktsar, May 30
Their elders in jail, the families protesting the delay in the arrest of the main accused in a rape case are facing several hardships. A minor Dalit of Gandhar village was raped in January. But the key accused, Gurlal Singh, has yet to be arrested.


Rajvir Kaur and Harvir Kaur with their maternal uncle in their house at Muktsar's Gandhar village on Friday. Tribune photo

Clear CLU cases, Joshi tells dept
Chandigarh, May 30
Anil Joshi, Local Bodies Minister, today directed officers of his department to clear cases pertaining to change of land use (CLU) and building plans pending since June 10.
Loan defaulters, but minister's kin, bank staff spared the stick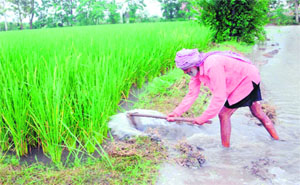 Mansa, May 30
n The brother-in-law of Irrigation Minister Janmeja Singh Sekhon, Jaspal Singh of Dhan Singh Khana village, avails a loan of Rs 3.75 lakh in September 1997 from the Punjab Agricultural Development Bank (PADB). Even after 17 years, no action is initiated against defaulter Jaspal. His pending dues have now shot up to Rs 13.5 lakh.

double-standards: Unable to pay back bank loans, several farmers have ended their lives in the state in recent years. file photo

No power sans rain harvesting plan in houses
Chandigarh, May 30
The Punjab Government will not release power and water connections to new 10 marla and above houses in the state that do not have a rainwater harvesting system in place.
Govt identifies sites where sewage flows into Sutlej
Chandigarh, May 30
A Punjab Government team travelling on the Sutlej from Nangal to Chamkaur Sahib today earmarked settlements where sewage was flowing into the river.
Farmers get subsidy without fulfilling criteria
Muktsar, May 30
Farmers of Lambi villages are availing of the subsidy for setting up fish ponds without meeting government requirements.
Police not registering FIR against EPF defaulters
Jalandhar May 30
Punjab Police officials in Jalandhar, Hoshiarpur and Kapurthala seem to not care two hoots for the Employees Provident Fund Organisation (EPFO) rule that an FIR should be immediately registered against any establishment if it fails to deposit the EPF of its employees.
Relief for freedom fighters, kin
Chandigarh, May 30
Chief Minister Parkash Singh Badal has approved the proposal to give due representation to freedom fighters' children and grandchildren in the various district-level committees.
Army exercise 'Vajra Prahar' ends
Chandigarh, May 30
Exercise "Vajra Prahar", being conducted in the plains of Punjab by specific divisions and brigades of the Jalandhar-based Vajra Corps, concluded today. The annual exercise was meant for training formations and units of the corps in designated operational roles.

honing combat skill: Army exercise "Vajra Prahar" in progress at some undisclosed location in Punjab. A Tribune photograph

Mamdot villagers oppose formation of nagar panchayat
Chandigarh, May 30
Residents of Mamdot and certain other villages located close to the Indo-Pak border near Ferozepur have opposed the constitution of a nagar panchayat there.
Sangrur district library faces shortage of staff, financial crunch
Sangrur, May 30
The district library in Sangrur has been facing financial crunch and shortage of staff for many years. Set up by Maharaja Ranbir Singh of the erstwhile Jind State in 1913 as Jind State Public Library, the library has over 5,300 members and over 63,000 books.



NRI booked for marriage fraud
Fatehgarh Sahib, May 30
A Khamano-based woman has complained to the police that her NRI husband duped her and her family of Rs 10 lakh on the pretext of taking her to Canada after the marriage.



Camelot project: HC admits plea by MLAs against tax notices
Chandigarh, May 30
The Punjab and Haryana High Court today admitted a petition filed by Punjab MLAs, asked to pay capital gain on more than Rs 2 crore earned by entering into a deal with Tata for construction of Tata Camelot Housing project. The petition will now be taken up by a Division Bench hearing tax cases.
Encroachment: Notices to state, Lokpal, Bibi Jagir Kaur
Chandigarh, May 30
Acting on a petition accusing former SGPC chief Bibi Jagir Kaur of encroaching upon more than 149 kanals of prime land, Justice Ritu Bahri of the Punjab and Haryana High Court today issued a notice of motion to the State of Punjab and the Lokpal.



Militant arrested in Gurdaspur
Gurdaspur, May 30
The police today arrested a self-styled commander of militant outfit Babbar Khalsa, Kashmir Singh Sheera, during a naka near Narpur village, 8 km from here.
Man kills brother over property dispute
Muktsar, May 30
A man allegedly killed his brother over a land dispute at Samagh village in Muktsar district on Thursday.
3 booked in land dispute case
Abohar, May 30
The Khuyiansarwer police today booked Ranjit Singh and his sons Devinder and Ashwani Kumar for attempting to grab panchayat land near a religious place in Kallarkhera village.