A novel initiative to wean youth away from drugs
Patiala, May 28
The Patiala police have started a drive to identify over 1,000 youths who have recently quit drugs in various parts of Patiala. Their services will be utilised to motivate others hooked on drugs to break the shackles.
Govt schools fail to cope with high enrolment
Patiala, May 29
With the number of students in government schools increasingly rapidly ever since the Right to Education Act was implemented, the state Education Department is finding it difficult to accommodate all the students. Since the infrastructure is limited, government schools are compelled to have a teacher-student ratio of 1: 60 in classes.
Post-poll debacle, Kashyap dissolves all BSP units
Jalandhar, May 29
After its worst ever performance in the state in the recent Lok Sabha poll, Narinder Kashyap, national general secretary of the Bahujan Samaj Party (BSP), today dissolved all its functional units in the state.
Row over Phoolka's appointment as state convener
Chandigarh, May 29
A controversy has begun over the appointment of HS Phoolka as AAP's state convener. Party activist Himanshu Pathak, who is in charge of the party's IT team at Jalandhar, today said that the executive committee of AAP had met at Jalandhar and passed a resolution in favour of appointing Phoolka as state convener.


Govt charters plane to airlift assault victim to Burundi
Patiala, May 29
The state government has finally made arrangements to airlift Yannick Nihangaza, who has been lying in comma at Columbia Asia Hospital, Patiala, for over two years, to Burundi in Africa.


Will mitigate farmers' woes, says Harsimrat
Amritsar, May 29
The newly sworn-in Union Food Processing Industries Minister, Harsimrat Kaur Badal, today said that diversification and food processing was the need of the hour. "Punjab is in my heart. I am aware of the farmers' woes and will take all necessary steps to redress their problems," said Harsimrat, while evading queries on the 1984 anti-Sikh riots, Arun Jaitley's defeat from Amritsar and the strained SAD-BJP ties.
Union Minister Harsimrat Kaur Badal pays obeisance at the Golden Temple in Amritsar on Thursday. Photo: Vishal Kumar


Will simplify property tax, not abolish it, says Joshi
Jalandhar May 29
Local Bodies Minister Anil Joshi today said the government would not abolish property tax, but would reintroduce it in a simplified version. Accepting that people were annoyed over the levy of property tax, which was also one of the reasons of the party's poor performance in the Lok Sabha election, Joshi said the party had learnt a lesson from it and had decided to simplify the tax.


Local Bodies Minister (centre) addresses a press conference in Jalandhar on Thursday. Tribune photo: Sarabjit Singh

18 DCs asked to explain absence
Chandigarh, May 29
The Personnel Department has sought an explanation from the Deputy Commissioners of 18 districts found missing from work by the CM's office during a surprise check early this week.
Muktsar de-addiction centre defunct for 3 yrs
Muktsar, May 29
Notwithstanding the tall claims of the state government that a number of steps are being taken to eradicate the menace of drug addiction, the de-addiction centre at Civil Hospital in Muktsar is lying defunct for about three years.


Clash over panchayat land
Abohar, May 29
Members of two communities exchanged brickbats and pelted stones on each other by taking positions on roofs of a religious complex and some houses in Kallarkhera village, about 25 km from here, on the Abohar-Sriganganagar road today.


The police got the construction of a building stalled in Kallarkhera village after a clash. Tribune photo
Snag hits another unit of Ropar thermal plant
Ropar, May 29
Another unit of Guru Gobind Singh Super Thermal Plant was today hit by a snag. Sources said unit no. 6 had to be stopped following a leakage in its boiler tube. Earlier, unit no. 5 had stopped functioning for the same reason on May 25. It has not been repaired so far.
Power cuts back to haunt residents
Patiala, May 29
Punjab State Power Corporation Limited has started imposing unscheduled power cuts in many parts of the state, following high demand for power and its failure to solve the coal supply issue.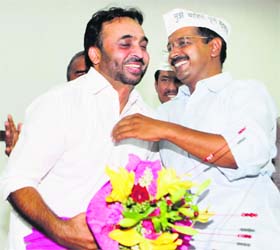 Comrades in arms: Bhagwant Mann greets AAP convener Arvind Kejriwal in New Delhi on Thursday. Tribune photo
SGPC flays PU move not to hold test in Punjabi
Amritsar, May 29
Taking a serious note of the alleged move of Panjab University (PU), Chandigarh, of not holding the PhD entrance test in Punjabi, the SGPC today shot off a missive to Vice-President Hamid Ansari.
Markfed centre in charge replaced
Abohar, May 29
Markfed has replaced its Abohar centre in charge Amarjit Singh Brar with Darshan Lal after drawing flak over poor lifting, unloading and payment arrangements for grain in mandis.
Extension denied to PSPCL director
Patiala, May 29
The state government has denied extension to Punjab State Power Corporation Limited (PSPCL) Director, Generation, GS Chhabra, who attained the age of superannuation earlier this week. The move is expected to sort out differences between serving engineers and the Punjab State Power Corporation Limited (PSPCL) management.


15 teachers get state award
New Delhi, May 29
Baljinder Kaur from Amritsar was among the 15 government schoolteachers from the state who were awarded the Malti Gyan Peeth Puraskar-2014 by Vice-President Hamid Ansari at a function here today. At least 13 of the 15 awardees were women.
(From left) Punjab Education Minister Sikander Singh Maluka, Union Minster for Women and Child Development Maneka Gandhi and Vice-President Hamid Ansari at a function to award teachers in New Delhi on Thursday. A Tribune photograph
Moonak Dalits allege social boycott
Baopur (Sangrur), May 29
Alleging that they have been facing "social boycott" by upper-caste people since May 15, the Dalits living in Baopur village of Moonak subdivision in the district today threatened to migrate in case their boycott did not end. Around 105 Scheduled Caste families live in the village.


Drivers can't blame stray animals for mishaps, says HC
Chandigarh, May 29
In a first, the Punjab and Haryana High Court has made it clear that accidents cannot be attributed to negligence on part of stray cattle. "Negligence cannot be attributed to anything other than a human agency," the High Court has ruled.


travel agents in soup
3 booked for Rs 17-lakh fraud in Hoshiarpur
Hoshiarpur, May 29
The district police have booked three travel agents in two cases for duping two people of Rs 17 lakh. Manmohan Singh of Ema Jattan had complained to Senior Superintendent of Police (SSP) that Balvir Ram of Jhanjowal had duped him of Rs 3 lakh on the pretext of sending him to England.


2,031 drug peddlers held
Chandigarh, May 29
Having arrested 2,031 drug peddlers in the past week, the Punjab Police is planning to smash the drug supply chain in the state. They have adopted a three-pronged strategy of choking the supply, catching the 'big fish' and nabbing peddlers and vendors.


Patiala SSP interacts with some drug addicts in the city on Thursday. Tribune photo: Rajesh Sachar
NRI's bag with Rs 1.5 lakh stolen
Hoshiarpur, May 29
A Canada-based NRI's bag containing cash and foreign currency was stolen by an unidentified person. In his complaint to the police, Hardyal Singh alleged that on Wednesday morning, he had gone to a shop near Valmiki Chowk in Hoshiarpur to get a cup of coffee.
Robbers' attack leaves 7 injured
Faridkot, May 29
Six armed robbers looted cash and jewellery from several people at Baggeana and Kot Sukhia villages of the district late last night. Seven persons were injured after they were attacked by robbers with sticks and sharp weapons.