It's getting hotter:

A rear view mirror of a car shows girls protecting themselves from the sizzling sun on a hot Saturday in Ludhiana. Tribune Photo: Himanshu mahajan
Two held with 25-gm of heroin
Ludhiana June 14
The police today arrested two drug peddlers and recovered 25 gm of heroin worth Rs 12.5 lakh from their possession at the Daba area. The accused has been identified as Sahil Kumar (21), a resident of Sector 32A, Chandigarh Road, and Narinder Kumar, alias Vicky (28), a resident of Azad Nagar.
City bus service
Tussle between conductors, officials harrows passengers
Ludhiana, June 14
The ongoing tussle between conductors and the authorities of the City Bus Service is giving a tough time to passengers as well as the Municipal Corporation.
Woman set afire
Ludhiana, June 14
A woman was set afire by her husband in the Sahnewal area this morning. The accused has been identified as Deepu, a resident of Pakka Darwaja of Sahnewal. It was learnt that he used to thrash the victim, Rekha.
Fishery students' strike enters Day 14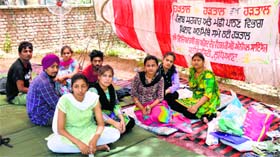 Ludhiana, June 14
Strike by fishery students of Guru Angad Dev Veterinary and Animal Sciences University (GADVASU) entered Day 14 today. Final year students of the bachelor of fisheries science at Fishery College, along with some pass out students, have been demanding job placements.

Protesting students outside the Veterinary Hospital in Ludhiana on Saturday. Photo: Inderjeet Verma

Awareness forum meet: Public welfare topics take a centrestage
Doraha, June 14
The general meeting of People's Awareness Forum, an NGO, was held under the chairmanship of Prithipal Singh Kapoor, a renowned historian and former pro Vice- Chancellor of Guru Nanak Dev University.
Suvidha Centre launched at Grain Market
Mandi Ahmedgarh, June 14
With intent to motivate maximum number of small and petty traders to enroll under recently launched Small Traders Rahat Scheme, office-bearers of local organisations have started Suvidha Center at the local Grain Market.
New traffic diversion plan in place
Ludhiana, june 14
The city police today implemented a new traffic diversion plan at the Jagraon Bridge for the smooth flow of vehicular movement.
Denizens all set to celebrate Father's Day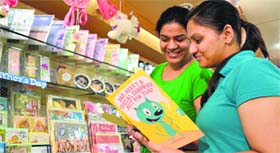 Ludhiana, june 14
With Father's Day falling on June 15, city denizens are all set to celebrate the day with zeal and make the day special for their fathers. Residents are buying gifts and greeting cards to express their love.



Girls select greeting cards for their fathers on the eve of Father's Day in Ludhiana on Saturday. Photo: Inderjeet Verma

Guidelines issued to industry officials
Ludhiana, june 14
State Industries & Commerce Minister Madan Mohan Mittal has issued instructions to all district officers and other officials of the department to check illegal mining in the state.
Rice expo begins on a positive note
Sahnewal, June 14
"The importance of new technology is being largely felt in the otherwise conventional rice trade. Rice millers from Punjab and other states should adopt this to improve their rice production, both quantitatively and qualitatively".
Newborn baby girl found abandoned in auto-rickshaw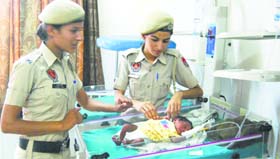 Ludhiana, June 14
An abandoned newborn baby girl was found from an auto-rickshaw outside Arya Samaj Temple, Field Ganj, here today. The infant was taken to the Civil Hospital where doctors said she was only 1-2 day-old.


Police personnel take care of the newborn baby girl in Ludhiana on Saturday. Photo: Inderjeet Verma


Last round of trials to grade players held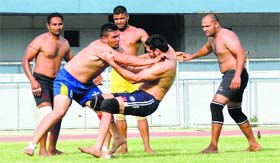 Ludhiana, June 14
The last round of trials for grading players for the World Kabaddi League were conducted at Guru Nanak Stadium here today. As many as 275 players competed today. They were selected from a total of 615 players. The trials had commenced on May 18.

Kabaddi players participate in the trials for the World Kabaddi League in Ludhiana on Saturday. Photo: Inderjeet Verma

City to host Junior Punjab Swimming Championship
Ludhiana, June 14
The 39th edition of the Junior Punjab State Swimming and Water Polo Championship for boys and girls in the age groups of 15-17 years and 13-14 years — in all the national events — will be held at the Punjab Agricultural University Swimming Pool from June 20-22.
City lads corner glory in int'l badminton meet
Ludhiana, June 14
Three badminton players from Ludhiana have cornered glory in their maiden international tournament to bring fame to their city as well as schools.