Financial aid comes for IIT heroes Amit and Sumit from various quarters
Aparna Banerji
Tribune News Service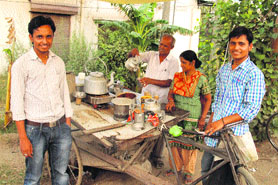 Amit and Sumit, sons of a tea vendor, who have made it to the IIT, at their father's tea stall in Jalandhar. Photo: Sarabjit Singh

Jalandhar, June 21
Help has started pouring in from various quarters for brothers, Amit and Sumit, who have this year also made a mark in the JEE (Advanced) exam. Various do-gooders and educational institutions are vying to help them and to ensure that their dream of making it to the premier institute of engineering of the country, which was cut short last year, is realised this time.
The education minister, at an event held here this morning, also took their number and said help would be provided to them.
Having cleared the counselling for IIT Kharagpur, Amit and Sumit couldn't study there, as they did not have money for admissions. Their father, Jeetendra Kumar, runs a tea vend at Chugitti Chowk here.
But they did not give up on their dream and cracked the JEE exam again.
While last year, their ranks were 1,600 (Amit) and 1,800 (Sumit), this year Sumit got 809th rank and Amit got 2014th rank in the JEE (Advanced) exam. The Tribune highlighted their plight in a news story carried today.
Two banks and an educational institute, among many do-gooders, have already lent them help. They have also been flooded with calls from across the city, with people offering support and promising the two brothers monetary assistance. City based do-gooder Dr Chetan Mehta has offered them help by offering them Rs 80,000 for their studies.
At an event here this morning, the two brothers were honoured by Education Minister Daljit Singh Cheema. At the same event, the minister also handed over to them Rs 1 lakh donated for their studies by St Soldiers Group of Institutions.
Interestingly, the minister first came to know about them when a journalist brought them to a prèss conference addressed by the minister here. They have also received assurance of help worth Rs 11,000 from the Rotary Club. While the manager of PNB bank branch offered them a loan, their account was opened in another one.
Satish Kumar Verma, a manager of the SBI, gave Rs 5,100 (each) to the brothers, to deposit in their newly opened accounts.
Talking to The Tribune, Sumit said, "While we hadn't even hoped last year that we would ever be able to study, the help from residents here has provided us the much-needed hope. We are thankful to all who have helped us. We just hope that help is also extended to other poor students in the city. We know how we spent last year. The same shouldn't happen to other poor students out there."
While the education minister's PA had called the brothers on Thursday and assured of any help they needed, at a meeting held at the press club here today, their number was taken by the minister, who said their case would be brought to the notice of the CM Parkash Singh Badal and help would be provided from the government as well.