India's attempts at the indigenous production of defence equipment can be described metaphorically — like a child using building blocks to make a dream masterpiece, but he falters and is helped along, but is still unable to put it together.
Yet the languid journey toward the stated goal of self-reliance in defence continues. The new NDA regime now intends to allow increased participation of global defence manufacturers, the very best in the business, to set up manufacturing partnerships with Indian companies.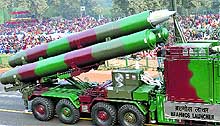 India and Russia started joint production with the cruise missile programme for BrahMos. Tribune photo: Mukesh Aggarwal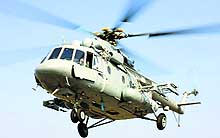 Between 2004-2008, Russia supplied 75 per cent of equipment, including Mi-17-V5 choppers

The government has suggested a hike in the foreign direct investment (FDI) in the defence manufacturing sector. It awaits ratification by the Cabinet Committee on Security (CCS). It may not immediately convert India into a manufacturer of high-end technology like planes, warships and guns, but it will create jobs in private and public sector defence manufacturing units, besides generating a spin-off in the economy and save some foreign exchange.
The Commerce Ministry headed by Nirmala Sitharman has suggested three FDI slabs with mandatory riders that will allow increased participation for foreign companies. The maximum of 100 per cent will be allowed for what is classified as state-of-the-art technology. At present, the FDI cap is 26 per cent, beyond which a list of riders hinder any meaningful investment. India's defence sector got a meagre FDI of Rs 24.36 crore ($ 4.94 million) between April 2000 and April 2013. Globally, the defence sector contributes between 2.5 to 3 per cent of the GDP, but India's share is not even worth the count.
An increased FDI cannot be touted as a panacea to get high-end technology. Military observers say New Delhi may lay its hands on top-of-the-line technologies by the sheer weight of its hefty shopping purse and the reputation of being the biggest arms importer in the world, but it would be preposterous to assume that enhanced FDI will make countries teach Indian engineers how to make aero-engines that power fighter jets at Mach-3 speeds or rocket boosters to propel nuclear missiles to greater distances.
Limits, proposals
The department of industrial policy and promotion under the Commerce Ministry has proposed three caps for the FDI in defence — 49 per cent, 75 per cent and 100 per cent. It has proposed 49 per cent FDI if there is no technology transfer and 75 per cent in case of technology transfer. And the no-cap policy should be reserved strictly for cases which bring in state-of-the-art technology. However, entry through the automatic route may still be barred on account of security and the proposal will have to be vetted by intelligence agencies. The matter will need the nod of the Narendra Modi-headed CCS, the top-most decision-making body on security matters. Home Minister Rajnath Singh, Finance and Defence Minister Arun Jaitley and Foreign Minister Sushma Swaraj are members of the committee.
At present, there is a 26 per cent cap on FDI, above that the CCS clears it on a case-to-case basis. It does not allow investment by foreign institutional investors (FIIs). Applications for FDI in excess of Rs 1,200 crore are approved by Cabinet Committee on Economic Affairs (CCEA). Applications for FDI beyond 26 per cent are vetted by the Department of Defence Production (DODP) to see if the company provides access to modern and state-of-the-art technology. The Indian private industry can invest any amount in the defence sector.
Some success
Without any FDI and despite being hampered by the US-imposed sanctions (1998 to 2010), the much-critiqued defence scientists in the public sector companies owned by the MoD have had some success, especially in the past few years. Helped by Russia, and lately by the US and France, some very good equipment was produced locally. But critical cutting-edge technology comes from abroad.
Fighter jet Tejas is powered by US-produced General Electric engines. The Arjun tank runs on German MTU 838 KA engines and over 30 per cent of it has German parentage. The latest version of Dhruv helicopter, now tasked for Siachen operations, flies on Snemca engines from France. The Shivalik-class warships of the Navy are designed in India, but are powered by the French Pielstick engines. These warships — weighing about 6,200 tonnes each — were among the first to use the warship-grade steel produced by the Steel Authority of India.
Vikrant, the under-construction indigenous nuclear-powered attack submarine and sea-borne aircraft carrier, promises to place India in the exclusive league of nations. The submarine is the first such vessel constructed outside the five permanent members of the UN Security Council — US, UK Russia China and France. While Russia helped in design, the main hull of the vessel was built by Indian industry L&T. The aircraft carrier is designed by Italian shipbuilder Fincantieri, but built in India using Indian steel. The fighter jets on its deck will be the Russian MiG 29-K and the engines that power the 40,000-tonne vessel are from the General Electric, US.
Divergent views
Two of the biggest Industries bodies, the CII and FICCI, hold different opinions. While the CII is in favour of going the whole hog, FICCI wants it implemented subject to "strategic safeguards". CII president Ajay Shriram has welcomed the move to raise the bar on the FDI. "The CII is very keen to see very high-tech and highly complex system integration work being done in India and Indian industry is ready to take this challenge and opportunity," he says.
"Higher FDI will definitely help in creating a vibrant domestic defence industrial base in the country," he adds. In 2012, a CII report projected that the defence and aerospace sector could create 10 lakh new jobs in the country.
FICCI has stated: "It recognises the strategic nature of the defence sector and therefore advocates that adequate and mutual strategically beneficial safeguards be put in place while deciding higher levels of FDI in defence production." It suggested that FDI should be allowed as exceptions, on a case-to-case basis, such as aircraft engines, advanced missile guidance systems, seekers, production of smart materials and high-strength carbon fibre.
It also advocates the need for absorption of critical defence technologies without which the aim of substantive self-reliance and higher levels of indigenisation cannot be achieved.
Critics also cite the example of 100 per cent FDI in telecom. India, the world's biggest cellular phone market at some 700 million connections, does not have a single world-class company that makes handsets to rival even Chinese lower-end versions, leave alone high-end smartphones.
Former Defence Minister AK Antony had been a major opponent of hiking the FDI cap beyond 26 per cent. In July 2013, he shot down the Commerce Ministry's proposal to raise the limit to 49 per cent, saying: "Allowing foreign companies to set up manufacturing/assembly facilities here would be a retrograde step as it will stymie the growth of indigenous design and development, and our dependence on foreign countries and manufacturers for modern weapons will get perpetuated."
In August 2013, the Parliamentary Standing Committee on Defence had differed with Antony and laid to rest the fear that foreign companies will finish off MoD-owned public sector companies or the Defence Research and Development Organisation. It stated: "The committee recommends enhancement in FDI limits to attract foreign companies which would benefit Indian defence industry, provide employment opportunities and save precious foreign exchange."
A similar opinion was expressed by the Naresh Chandra Committee set up by then Prime Minister Manmohan Singh. It prepared a report in August 2012, saying "there is every need to support higher FDI so that the latest technologies already developed by foreign entities and owned by them find their way into manufacturing defence items within India".
The purchases
A report by Sweden-based think tank, the Stockholm International Peace Research Institute, released on March 17 this year assessed a five-year period (2009-2013) to say that India has yet again emerged as the single-largest buyer of weapons and military equipment. Titled "Trends in international arms transfers", the report said India's share in global imports had doubled from 7 per cent in the previous five-year block (2004-2008). This indicates that New Delhi's attempts to be self-reliant were not enough as more and more sophisticated planes, warships and radars are procured from outside. During the period under study, India procured fighter jets and Mi-17-V5 helicopters from Russia; specialised transport planes, the C-130-J Super Hercules and the C-17 Globemaster from the US; and UAVs and radars from Israel. Russia supplied 75 per cent of the equipment to India while the US and Israel had 7 per cent and 6 per cent sales, respectively.
Co-production option
India has had joint development in the defence sector with Russia, France and Israel. Moscow and New Delhi were the first to start off in 1998 when they launched the cruise missile programme for BrahMos. Both countries are looking to jointly produce fighter jets and transport aircraft. India and Israel entered into a joint development programme in 2008 when the Defence Research Development Organisation undertook joint development of missiles with Israel Aircraft Industries for the long-range surface-to-air missile for the Indian Navy and medium-range surface-to-air missile for the Air Force — collectively valued at $2.5 billion.
France was the latest entrant in February 2013, after the two countries announced to jointly develop and produce a short-range surface-to-air missile at a cost of $5.6 billion. The US, which holds one of the best technologies and shares some of these with the UK (its closest ally for over 70 years), is keen to offer similar access to India. On September 27, 2013, a joint declaration stated: "The US and India place each other at the same level as their closest partners. This principle will apply to defence technology transfer, trade, research, co-development and co-production for defence articles and services, including the most advanced and sophisticated technology."
However, then Defence Minister Antony was not too keen on this cooperation. A few days after the path-breaking announcement, US Deputy Secretary of Defence Ashton Carter had promised India the same status as G-8 countries — a term denoting countries allowed unfettered access to technology without export controls. The G-8 members are the US, UK, France, Germany, Italy, Japan, Canada and Russia.
Stocks up
Meanwhile, the stocks of local companies related to defence have gained following the June 9 announcement by President Pranab Mukherjee while addressing a joint sitting of Parliament. Shares of MoD-owned companies like BEML and Bharat Electronics Limited surged. BEML rose 5.71 per cent while Bharat Electronics gained 2.87 per cent. Walchandnagar Industries, which supplies specialised pumps to the Navy, rose by 5 per cent while Astra Microwave Products increased by 1.77 per cent. Is it a sign of the times?
What it promises
49 per cent FDI: It says no technology transfer is needed from abroad till 49 per cent FDI, meaning a foreign company will have an Indian partner. This will be a job generator and allow the MoD to pay for the purchases in rupees to Indian companies instead of paying in dollars.
75 per cent FDI: It entails the transfer of technology that is not cutting edge and can be exchanged by friendly countries. Gainers could be SMEs as they will be part of the supply chains of manufacturing companies making these adhere to world standards. This would also help them enter the global supply chain of the original equipment manufacturers.
100 per cent FDI: It may be the toughest. Dr Balachandran of the Institute of Defence Studies and Analyses warns: "Technology will be impossible to get despite any amount of FDI. Countries may not allow companies to sell certain technologies." Even Russia, India's one-time patron and long standing military ally, has refused to give engine designs of the proposed joint production of the fifth generation fighter aircraft — a $ 30-billion project.
Attempts at DIY
Fighter jet Tejas: Powered by US-produced General Electric engines.
Arjun tank: Runs on German MTU 838 KA engines.
Dhruv helicopter: Flies on Snemca engines from France.
Shivalik-class warships: Designed in India; use steel produced by the Steel Authority of India, but powered by French Pielstick engines.
Vikrant: Russia helped in design, but main hull built by Indian industry L&T. The aircraft carrier is designed by Italian shipbuilder Fincantieri, but built in India using Indian steel. Fighter jets on its deck will be the Russian MiG 29-K. Engines are from General Electric, US.
The big sellers
Russia
Fighter jets, Mi-17-V5 helicopters
US
Specialised transport planes, C-130-J Super Hercules, C-17 Globemaster
Israel
UAVs, radars
France
Engines
"Make goal clear"
Let us sit down and decide why we need FDI in defence. Is it for foreign capital, their technology or to provide jobs to the youth in India? The goal should be clear. It is a fallacy that FDI will facilitate access to the latest technology. No country parts with it.
Dr G Balachandran, consulting fellow, institute of defence studies and analyses