M A I N N E W S
Haryana Sikhs get own SGPC
Legislation to be brought in Assembly session on July 11: Hooda
Geetanjali Gayatri & Parvesh Sharma
Tribune News service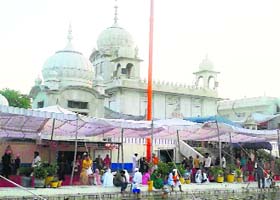 Kaithal, July 6
Haryana Chief Minister Bhupinder Singh Hooda on Sunday announced a separate Shiromani Gurdwara Parbandhak Committee for his state ignoring strong protests from Amritsar-based apex religious body of the Sikhs, the SGPC, and other groups.
"A legislation to this effect would be introduced in the Assembly session that starts on July 11," said Hooda while addressing a gathering of Sikhs at a conference at Patti Afghan in Kaithal.
Earlier, the HSGPC (ad hoc) team of Didar Singh Nalvi and Jagdish Singh Jhinda presented a memorandum for a separate panel to Hooda, who asked the Sikhs present at the gathering to raise their hands if they supported a separate body. On getting an affirmative response, Hooda announced the creation of a panel as the crowd — that braved muggy weather and a dust storm for over five hours — erupted into celebrations.
Hooda said the demand for a separate SGPC has been raised in the past and it was also a poll promise of the Congress in 2005. "On a number of times, we were asked what we are going to do about this (a separate SGPC). I had always maintained that whatever decision we will take, it will be in the interests of the Sikh community of Haryana and in keeping with their wishes and aspirations," he said.
The Chief Minister and other speakers took repeated potshots at Punjab Chief Minister Prakash Singh Badal and SGPC president Avtar Singh Makkar for failing to value the aspirations of the Sikhs in Haryana. "I have complete regard for them. I don't expect them to reciprocate my feelings but they must respect the sentiments of the Sikhs in Haryana. They are only demanding what is rightfully theirs," Hooda said.
"If they (Haryana Sikhs) want to do service at their gurdwaras and manage them, what is wrong in it?" he asked. Hooda said once the separate panel is formed, it will be an independent body with no political interference.
Former Delhi Sikh Gurdwara Management Committee president Paramjit Singh Sarna hailed Haryana Sikhs for not giving up on their demand. "If Delhi can have a separate body to manage its gurdwaras and so can the Patna Sahib and the Nanded Sahib, why can't Haryana have a similar privilege?" he said.
Punjab Congress chief Pratap Singh Bajwa, who was among the guests at the conference, said he has brought with him greetings from Punjabis. "This (separate HSGPC) should have materialised over 40 years back when Haryana was carved out of Punjab. Of the Rs 300 crore coming from Haryana's gurdwaras, only Rs 27 crore is shown on paper and the rest gets pocketed. I want to ask Badal and Makkar if, in all these years, they ever cared to give schools, colleges or a university to Haryana. All they gave was step-motherly treatment," Bajwa said in his charged speech."
Today, you will become independent and this day will go down in history," he told the crowd.
PWD minister Randeep Singh Surjewala said the fight for a separate SGPC was not a battle against an individual or a political party, not even for control over land and finances, but for the self-respect and right of Haryana's Sikhs. He not only targeted the Badals and the Shiromani Akali Dal but also hit out at the INLD for overlooking the state's interests and being opposed to anything that benefits the state. "Whether it was about the waters under the Rajiv Longowal accord, the Hansi-Bhutana link canal or a separate SGPC, the INLD has not stood by you. It is for you to recognise your friends and foes,"Surjewala said.
What happens now?
The state government will table a Bill for the formation of a separate Haryana Sikh Gurdwara Parbandhak Committee (HSGPC) in the Assembly, when it meets for the monsoon session on July 11
The government will seek Haryana Governor Jagannath Pahadia's approval
It will then issue a notification after which the process of electing the new body can begin.

Congress' third assault on Sikhs
After Operation Bluestar and anti-Sikh riots of 1984, this was the third major assault of the Congress against the Sikh community. The Congress is trying to weaken the Sikh power
Parkash Singh Badal, Punjab CM

They have challenged Akal Takht
They have tried to directly challenge the Akal Takht — the supreme temporal body of the community. It's a move to weaken the SGPC. We can't allow this to happen
Avtar Singh Makkar, SGPC chief

Badal, Makkar ignored Haryana Sikhs
I want to ask Badal and Makkar if, in all these years, they ever cared to give schools, colleges or a university to Haryana. All they gave was step-motherly treatment
Partap Singh Bajwa, Punjab Cong chief