HC directs collector to give info on recovery of house tax
Shimla, July 6
Expressing dissatisfaction over the working of the Municipal Corporation (MC), Shimla, on the issue of recovering house tax from defaulters, the HP High Court has made the District Collector, Shimla, and the Tehsildar, Recovery, party in the case and directed both officers to file affidavits indicating how much house tax had been recovered.
Govt clean chit to SLDC termed a 'cover-up'
Shimla, July 6
The clean chit given by the government to the State Load Dispatch Centre (SLDC) of HP State Electricity Board Ltd (HPSEBL) has been termed as a "cover-up exercise". The inquiry has raised more questions than it has answered on the "selective shutdown" ordered by the SLDC to its three major power projects while private power projects were allowed to run on more than their installed capacity on June 8.
Rock-cut Masrur temple — a picture of government neglect
Dharamsala, July 6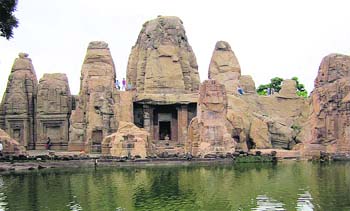 The Masrur temple, located in the small and remote hamlet of Masrur in Kangra district, is among the four monolithic rock temples in the country. Some experts are of the opinion that it has a similarity with the Angkor temples of Cambodia. However, the Department of Tourism in Himachal Pradesh has not been able exploit the full tourism potential of the temple
The rock-cut Masrur temple located at Masrur in Kangra district

HPU panel to stage protest from July 8
Shimla, July 6
Reiterating their demands to fill the vacant posts of teaching and non-teaching employees, strengthen Pension Corpus Fund, form a uniform transfer policy, revive the UGC pay structure and scrap the outsourcing system, the Joint Coordination Committee (JCC) of Himachal Pradesh University (HPU) yesterday decided to take out a rally on July 8, 9 and 10 in case their demands were not met.
Mandi Municipal Council comes under Vigilance scanner
Mandi, July 6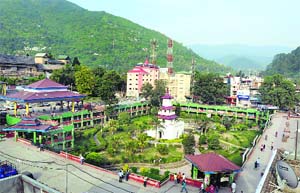 The Mandi Nagar Parishad has come under the scanner of the Vigilance Bureau (VB) in the ongoing probe into subletting of shops in the Indira Market in the town. The issue of subletting of shops in the market is being probed to ascertain the role of different agencies in allowing illegal transfer of shops by original owners.

A view of the Indira Market complex in Mandi. Photo: Jai Kumar

The Dalai Lama turns 79
Dharamsala, July 6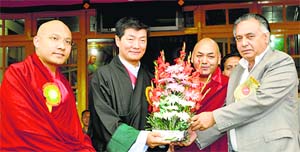 The spiritual head of the Tibetans, the 14th Dalai Lama, today turned 79. His birthday was marked with a performance organised by Tibetan artistes from the Tibetan Institute of Performing Arts (TIPA) at the main temple of the Dalai Lama at McLeodganj today.
GS Bali, Transport, Food, Civil Supplies and Technical Education Minister, being welcomed by Dr Lobsang Sangay (in black gown), Prime Minister of the Tibetan government in exile, at McLeodganj on Sunday. Photo: Kamaljeet

Industries Minister launches new brand of country liquor
Una, July 6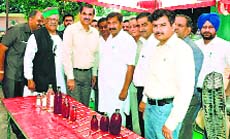 Industries Minister Mukesh Agnihotri launched a new brand of country liquor, named Saunfia, here today. The liquor has been manufactured at the country liquor manufacturing plant owned by the General Industries Corporation (GIC) at the Mehatpur Industrial area.
Industries Minister Mukesh Agnihotri and GIC officers at the launch of a new country liquor brand in Mehatpur on Sunday. Photo: Rajesh Sharma

Service pension
Employees urge CM to honour HC order
Nurpur, July 6
The Himachal Pradesh Government Employees' Confederation has termed the denial of service pension to around 6,000 employees of the state boards and corporations despite the High Court's order as anti-employee attitude of the government.
Foreign visitors to states and UNION TERRITORIES
State slips out of top 10 tally
Kullu, July 5
The data on domestic and foreign tourist visits to various states and union territories (UTs) in 2013, by the Market Research Division of Ministry of Tourism, reveals that Himachal Pradesh has slid down to the 11th position in terms of foreign tourist visits.
BBN industrialists seek changes in Section 118
Solan, July 6
Reacting to the draft notification issued by the state government to simplify the procedures of seeking the mandatory clearance under Section 118 of the HP Tenancy and Land Reforms Act, 1972, for industrial purposes, the Baddi-Barotiwala-Nalagarh Industries Association (BBNIA) has demanded that the no-objection certificate (NOC) issued by the Town and Country Planning (TCP) Department for the purchase of land should be a part of the single-window approval granted for industries.
BJP accuses Cong of being adamant on Pabbar gravity project
Shimla, July 6
The state BJP unit today questioned the Virbhadra Singh-led Congress government as to why were they adamant on the proposal of the Pabbar gravity water supply project, even after being rejected twice by the World Bank.
Rain-hit Kinnauris suggest steps for disaster control
Reckong Peo/ Shimla, July 6
Ahead of a crucial meeting to chalk out disaster management plans, slated to be held on July 11, victims of "unseasonal and excessive" rain, that caused massive devastation in tribal Kinnaur in June 2013, have demanded a ban on hydro power projects in the cold and semi-cold deserts of Kinnaur as areas above 7,000 ft are fragile and vulnerable to landslides and floods.
Exhibition to commemorate Roerich Pact opens today
Shimla, July 6


The International Centre of the Roerichs (ICR), Moscow, is organising an exhibition on "The Roerich Pact: Past and Modernity" in collaboration with the Lalit Kala Akademi and the International Roerich Memorial Trust here tomorrow.
VIGNETTES
The quietest and the most constant friend — a book
The National Book Trust (NBT), India, is an apex body established by the Government of India (Ministry of Human Resource Development) in 1957. The objectives of the NBT are to produce and encourage the production of good literature, to make such literature available at moderate prices to the public and bring out book catalogues, arrange book fairs/exhibitions and seminars and make people book minded.
Tanda medical college ranks 25th in the country
Kangra, July 6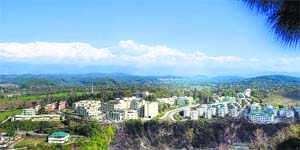 The Dr Rajendra Prasad Government Medical College (DRPGMC) at Tanda is ranked 21st among the top 25 medical colleges, including private and government medical colleges in India, for the first time.
The Dr Rajendra Prasad Government Medical College at Tanda. Photo: Ashok Raina

Sai varsity holds conference on new trends in science
Palampur, July 6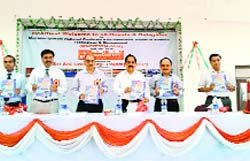 Sri Sai University (SSU) organised a two-day multidisciplinary national conference on "Innovative Trends in Science, Technology and Management", here today. Dr KK Katoch, farm scientist and Vice-Chancellor of CSK HP Agricultural University, Palampur, inaugurated the conference. More than 30 scientists and researchers from all over India are participating in the conference.

Dr KK Katoch, VC, CSK HP Agriculture University, inaugurates a two-day multidisciplinary national conference at Sri Sai University in Palampur on Sunday.

Maintain public utility services: DC
Kullu, July 6
Rakesh Kanwar, Deputy Commissioner, Kullu, presided over a meeting to analyse and boost the efficiency of various government departments at the Bachat Bhawan here on Friday.
Him Urja told to repair power generating machine
Pangi (Chamba), July 6
Forest Minister Thakur Singh Bharmouri took a serious note of the defective power generating machine of the 50- kw Purthi micro-hydropower project at Pangi tribal subdivision in Chamba district, which has been lying out of order for a long time.
Chowgan let out for Rs 67 lakh for Minjar fair
Chamba, July 6
The historic Chowgan of Chamba has been let out to the successful bidder for erecting the dome for a shopping plaza. The district administration has directed the bidder to stick to the prescribed guidelines of keeping the existence of the Chowgan intact during the Minjar fair.
Teachers play key role in nation building: Civil Judge
Kullu, July 6
A one-day seminar on constitutional duties was organised for school teachers by the Manali Legal Services Committee at the conference hall of the Mini Secretariat in Manali, 42 km from here, yesterday.
Workshop on AIDS organised for ITBP jawans
Shimla, July 6
Spreading the message of "Know AIDS, No AIDS" to create awareness among Indo-Tibetan Border Police (ITBP) men posted in border areas, four workshops on HIV/AIDS were organised under the command of Commandant, Sound 17 BN, Reckong Peo, RK Verma.
4 die in road mishaps
Mandi, July 6
Four persons were killed and two others injured in two road accidents during the past 24 hours in the district.
Youth gets life term for murdering girl
Chamba, July 6
Sessions Judge, Chamba, RK Sharma has sentenced Sumit Kumar Sharma of Buland Shehar in Uttar Pradesh to life imprisonment and also fined him Rs 1 lakh under Section 302 of the IPC for murdering a girl. In default of payment of the fine, the convict will undergo further imprisonment for a period of two years.
Man held with charas
Una, July 6
The Una police yesterday arrested Ravinder Singh, a resident of Mairi village in Amb block of Una district for possessing 400 gm of charas, 10.2 kg of poppy husk and an unlicensed pistol.
2 get jail for possessing illicit liquor
Nurpur, July 6
Indora Judicial Magistrate, First Class, Niranjan Singh yesterday convicted two persons, including a woman, for possessing illicit liquor in different cases. A case under Sections 61, 1 and 14 had been registered against them in 2009 by the Indora police.
Van driver dies in road mishap
Dalhousie, July 6
The driver of a pickup van was killed when the vehicle went off the road and rolled down a hillside on the Chanju road, near a hydropower project, in Churah subdivision here last night.
Two tempos seized for carrying goods without bills
Nurpur, July 6
A team of the Excise and Taxation Department, led by Jawali Excise and Taxation Officer Arun Jassal, caught two tempos ( PB-10 EG-3348 and PB10-10DZ-2831) during night patrolling at Khatiyar here yesterday.
Clerk gets 3-year imprisonment in fraud case
Chamba, July 6
Special Judge, Chamba, RK Sharma yesterday sentenced Ashwani Sharma of Baikunth Nagar village in Chamba district to three-year imprisonment and fined him Rs 25,000 for the criminal breach of trust by misappropriating ration articles and cash from wholesale supply depots.
Minor girl held with charas
Kullu, July 6
A minor girl was arrested for carrying charas weighing 240 gm near Sarsadi on the Bhuntar-Manikaran road, 18 km from here, today. SP Surender Verma said the accused, Pratibha (17) of Belagaon village in Hamirpur, was coming on foot from the Kasol side when she was stopped by a police party at a naka.
Husband, father-in-law of newly-wed arrested in dowry death case
Palampur, July 6
Tension prevailed at Ladoh village following the death of a newly-wed girl, Madhubala. Police sources said Madhubala, daughter of Chuni Lal of Ladoh village, had allegedly consumed poison late Saturday night. She was rushed to the Civil Hospital, Palampur, where she was declared brought dead.
Man dies of poisoning
Kangra, July 6
A 52-year-old man of Sumbhal village died of poisoning at the DRPGMC, Tanda, last evening, the police said here today.