Farmers diversifying to cash crops for survival
Shimla, June 26
With farmers already grappling with problems generated by climate change, improper irrigation facilities, inadequate post-harvesting system and labour shortage, the policy of the government to provide foodgrains to the poor at highly subsidised rate has further aggravated their problems, forcing them to abandon farming.
Polyhouse farming a losing proposition
Bilaspur, June 26
The "suicide" by a farmer (polyhouse owner) under debt has once again brought the problems of a large number of them to the fore as running these have become a losing proposition, dragging many of them into a debt trap. Many of the growers are not finding these lucrative and some of them have left these due to several problems.
Ski Village project's fate hangs in balance
Shimla, June 26
The fate of Himalayan Ski Village (HSV) in Kullu is uncertain as even nine months after the plea of promoters for modification in the earlier plans was referred to the Himachal Pradesh Infrastructure Development Board (HPIDB), no decision has been taken.
Green tribunal to act tough on pollution
Shima, June 26
Taking a tough stance on the issue of causing environmental pollution by the municipal solid waste (MSW) plant in Shimla, the circuit bench of the National Green Tribunal (NGT) today directed Hanjer Biotech to start its solid waste plant by tomorrow. It cautioned the plant manager to not to stop the plant without taking specific permission of the tribunal. In case they fail to take its permission, the MD would be personally liable for contempt of court, it said.
Chamba's traditional art to be revived
Chamba, June 26
With a view to promoting the old traditional craft of Chamba rumal and embroidery, the State Bank of India (SBI) has taken an initiative to impart training to needy youth in the district through its Rural Self-Employment Training Institute (R-SETI) at Baloo in the town.
Disaster management team set up in Nurpur
Nurpur, June 26
The local administration conducted a meeting on disaster management in Indora today. Ashwini Sood, SDM Nurpur, presided over the meeting. He said a strategy had been chalked out to cope up with flood disaster in the area.
Deputy Mayor questions govt on MBBS seat cut
Shimla, June 26
The reduction in MBBS seats in Indira Gandhi Medical College, Shimla, and medical college, Tanda (Kangra) from 200 to 115 by the Medical Council of India has kicked up a row with Deputy Mayor of the Shimla Municipal Corporation Tikender Singh Panwar questioning the government on the reduction of seats.
Punjab, UT to buy power from state
Shimla, June 26
Himachal Pradesh is selling 200 mw power to Punjab, 105 mw power to Uttar Pradesh and 22 mw power to Chandigarh everyday at a higher rate than it is getting from the energy exchange. The state has also got fresh offers from Punjab, Chandigarh, UP and Rajasthan for July for about 1,000 mw of power.
Contractors to be punished for delay
Shimla, June 26
The demand to upgrade Nerwa to a tehsil will be considered, said Chief Minister Virbhadra Singh while addressing a public meeting at Nerwa in Shimla district today. The contractors were not adhering to complete works in a time-bound manner and strict action would be taken against them if they failed to achieve the targets, he said.
HPSEB asked to solve low-voltage problem within 20 days
Sundernagar, June 26
The Consumer Forum, Mandi, has directed the Himachal Pradesh State Electricity Board (HPSEB) to take effective steps to deal with the problem of low-voltage and dim light at the house of one Kashmir Singh of Bhangrotu, a consumer of HPSEB electrical division, Sundernagar, within 20 days.
Grievance panel meet in Solan
Solan, June 26
The issue of irregularities in the use of land measuring 31 bigha in the Nalagarh Municipal Committee was raised by SL Verma, vice-president, District Congress Committee, during a district-level meeting of the grievance committee. It was held here today under the chairmanship of Sudhir Sharma, Minister for Housing, Urban Development and Town and Country Planning.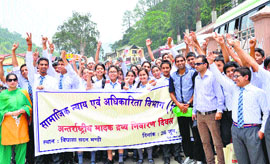 Pratibha urges youth to stay away from drugs
Kullu, June 26
The International Day against Drug Abuse and Illicit Trafficking was observed at the Devsadan in Dhalpur here today. Pratibha Singh, former MP and Vice-Chairperson of the HP Red Cross Society, was the chief guest on the occasion.

Students of DAVCPS take out an awareness rally in Mandi on Thursday. photo: Jai Kumar

Mountaineering courses conclude
Kullu, June 26
Captain Randhir Singh Salhuria, Director, Atal Bihari Vajpayee Institute of Mountaineering and Allied Sports (ABVIMAS), Manali, awarded badges to the trainees in a passing out parade, on the completion of advanced and basic mountaineering courses at Manali, about 40 km from here today.
IT office sought at Palampur
Palampur, June 26
Members of the Taxation Bar Association, Kangra, called on senior BJP leader Shanta Kumar and submitted a memorandum highlighting problems being faced by income-tax payers and their counsels in northern region of the state.
MC to make way for renovation of Town Hall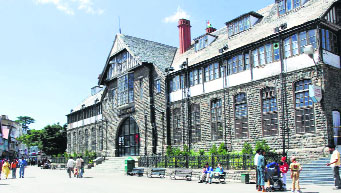 Shimla, June 26
The office of the Municipal Corporation will shift to the Deputy Commissioner's office and Rain Basera to make way for the renovation of the 106-year Town Hall and conservation of The Mall under the Rs 32 crore project the foundation for which was laid by Chief Minister Virbhadra Singh on June 24.

The 106-year Town Hall building on the Mall in Shimla. A Tribune photograph

PTA formed at polytechnic college
Kangra, June 26
A Parent-Teacher Association (PTA) has been constituted for the first time at Government Polytechnic College, Kangra.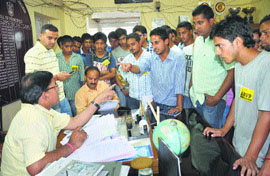 The anti-ragging committee of the college held a meeting today and decided to form the association. The meeting stressed that the involvement of parents was important in view of drug menace, which was fast spreading among the younger generation in society. Principal Dinesh Sharma chaired the meeting. Issues related to ragging, drug abuse and alcohol were also discussed in the meeting. — OC

ABVP activists have heated arguments with the Principal of Vallabh Government College, Mandi, on Thursday. Photo: Jai Kumar

Body of one more student found
Mandi, June 26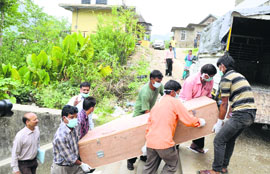 The body of Nerudu Jagdish Mudiraj, a student of VNR Vignana Jyothi College of Engineering and Technology, Hyderabad, was recovered from the Beas today. The body was found floating in the river at a distance from the spot of the mishap. The body has been sent to Andhra Bhawan, New Delhi, for sending it to Hyderabad after the post-mortem. TNS

The body of a student being sent to Hyderabad from Mandi on Thursday. Photo: Jai Kumar

Man duped of Rs 43,500
Nurpur, June 26
Darshan Kumar of Kandwal village was reportedly duped of by a person, who reportedly changed his bank ATM card on the pretext of helping him on June 17 at Jassur. From Darshan's account, Rs 43,500 was withdrawn. He immediately rushed to the bank. He, thus, approached a local police station and registered a complaint. Manoj Joshi, DSP Nurpur, said the police have started investigating the matter and suitable action would be taken thereafter. — OC