Rain for third day triggers landslides, mercury dips
Shimla, June 18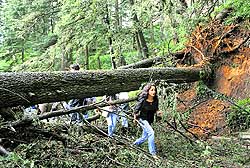 Most parts of the state received moderate to heavy rain as pre-monsoon showers lashed the region for the third day today, causing marginal fall in the mercury. Rain triggered landslides in Shimla as a huge tree was uprooted between Oakover, official residence of Chief Minister Virbhadra Singh and Chotta Shimla, blocking the road and causing inconvenience to people.

An uprooted tree blocks a road due to heavy rainfall in Shimla on Wednesday. Tribune photo: Amit Kanwar

Thunderstorm, hail hit power supply in Palampur
Palampur, June 18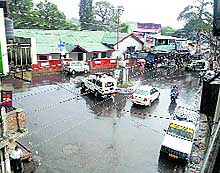 Palampur and its adjoining areas experienced first pre-monsoon showers accompanied by high-velocity winds and thunderstorm yesterday night. Several parts of the town remained without power for 10 to 12 hours as heavy trees fell on power lines at different places. HPSEBL executive engineer VS Thakur said engineering staff worked round the clock and power supply was restored in all parts of the town by morning.

First pre-monsoon showers hit Palampur on Wednesday. Photo: Ravinder Sood

Farmers hail pre-monsoon showers
Kullu, June 18
Intermittent rain provided respite from the heat wave today. Local residents heaved a sigh of relief after the temperature dropped down considerably.
Showers bring respite from blistering heat
Kangra, June 18
Heavy rain accompanied by high-velocity winds lashed Kangra valley today, dropping down the temperature considerably and providing relief from scorching heat.



Normal life disrupted in Mandi
Downpour brings cheer to farmers, locals in Kangra
Nurpur, June 18
Pre-monsoon rain lashed lower Kangra district today giving respite to local residents from the scorching heat and humid atmosphere.
Supreme Court puts counselling on hold
New Delhi, June 18
The Supreme Court has put on hold the counselling for admissions in post-graduate medical courses (MD and MS) at the Indira Gandhi Government Medical College and Hospital, Shimla, and the Dr Rajendra Prasad Government Medical College and Hospital, Tanda, in Kangra.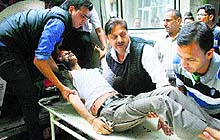 2 die as bus rolls into gorge
Shimla, June 18
Two persons were killed, while nine others received injuries, when a HRTC bus rolled into a gorge near Dhami, 22 Km from here, today.


An injured persons being rushed to the IGMC in Shimla on Wednesday. Tribune photo: Amit Kanwar

Bus fell into gorge after steering part broken, says report
Shimla, June 18
This finding of the magisterial inquiry revealed that the tyre steering rod of the HRTC bus broke following which the bus plunged into the 200-ft gorge on May 27 around 5.20 pm on the Theog-Chopal road.
HPU non-teaching employees defer stir
Shimla, June 18
The Joint Coordination Committee (JCC) of Non-Teaching Employees of Himachal Pradesh University (HPU) has deferred its agitation till the next meeting of the Executive Council slated for June 24.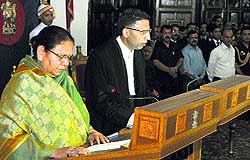 Guv administers oath to new CJ
Shimla, June 18
Acting Chief Justice Mansoor Ahmad Mir was administered the oath of the Office of the Chief Justice of the HP High Court by Governor Urmila Singh in an impressive ceremony at Raj Bhawan here today.


Governor Urmila Singh administers the oath of office to Justice Mansoor Ahmad Mir as the Chief Justice of HP High Court in Shimla on Wednesday. Tribune photo: Amit Kanwar

2 arrested under NDPS Act
Kangra, June 18
Two youths were arrested under the NDPS Act in the last two days.
Nauni varsity staff on the warpath
Solan, June 18
The Joint Coordination Committee (JCC) of non-teaching and Class-IV employees at Dr YS Parmar University of Horticulture and Forestry, Nauni, protested non-implementation of their long-pending demands here today and held a gate meeting in front of administrative block to press for their demands.
England resident held in Dharamkot
Dharamsala, June 18
The McLeodganj police have arrested an English man without proper documents in Dharamkot. In a press release issued here today, Kangra SP said Alexender Slocompe was found roaming without valid documents in Dharamkot, a tourist village two km from McLeodganj. He did not have a passport or visa.
IG inspects murder scene
Una, June 18
Rakesh Aggarwal, Inspector General of Police (IGP) of the Northern Range, today inspected the site where the semi-charred body of Nisha Devi, a resident of Singan village in Haroli segment, was recovered.
Minor boy electrocuted
Kangra, June 18
A minor boy was electrocuted at his residence in Ludhrat village today. The tehsil police said Vishal Choudary (14) was installing a ceiling fan at his residence and was bare foot. He was electrocuted and was rushed to the DRPGMC, Tanda, where he succumbed to his burn injuries.
Special facilities for promoting tourism
Shimla, June 18
As many as 23 tourist spots identified in the state under eco-tourism will be provided special facilities like eatables, sanitation, controlled transport and tourist guides to promote tourism with the participation of local youth.
Mild tremors in Kangra district
Kangra, June 18
An earthquake of 4.2 magnitude hit the Kangra valley last night.
Tikkam Singh Negi conferred with Bharat Jyoti Award
Shimla, June 18
Joint Director of Higher Education, Tikkam Singh Negi, has been conferred with Bharat Jyoti Award by India International Friendship Society (IIFS).