For centuries Indian women have lived their lives as refugees, in their own land. Their migration has been accepted as a natural result of matrimony. Now, forced under rapid urbanisation and the complexity it generates, migration has become a subject of fresh enquiry and research.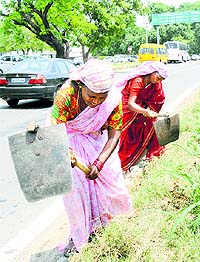 A home away from home: Migrant labourers, from as far as South India, help to keep Corbusier's modern city, Chandigarh, clean. Photo: Manoj Mahajan

Migration and displacement are the changes women are prepared for right from their childhood. Matrimony changes their name, identity and geographical location. Displaced from their roots for most part of their lives, women live with a sense of ambiguity about their identity, but are unable to articulate it for the cultural sanction of their displacement. The acceptance of their migration as a natural outcome of their being born a female has never called for an enquiry into their displacement. It is thus obvious that the research and studies conducted on migration in India do not capture gender-sensitive realities of migration. It is assumed that migration of women is natural and does not lead to further probe into causes and effects, rights and entitlements of women migrants.
Across regional boundaries of India, vidai songs like chidiyan da chamba, or, babul mora naihar chhoota jaaye, sung at the time of wedding mark the departure from a lifestyle she was accustomed to at her parental home. These songs express the pain of an unwanted uprooting and separation, a woman is doomed to take in her stride. It also reflects the limitation of choices women are born with. Overnight their identities change, in some communities they are rechristened afresh, as though taking a new birth, doing away with identity associations of the past. The domestic help, the woman who migrates yet again with her man to work in the middle class urban homes, often changes her name and attire to adapt to the city manners, to earn more acceptability in the urban milieu. Many Ramkalis, Imarti Devis and Rampyaris rechristen themselves as Vimla and Sunita to fit into the urban domestic space. And soon learn to switch their vocabulary.
Gender-specific migration experiences, of the educated and the labour force are not addressed in India due to these cultural connotations, in spite of the fact that women constitute an overwhelming majority of migrants. For most studies conducted on migration, it is assumed that men migrate in search of work. According to the census of 2001, 70.7 per cent women were migrants, with different motivations, patterns and options and faced more obstacles for internal migration than men. Men work on sites and women work in homes — and that calls for complex cultural negotiations.
Following their men
A study conducted by the UNICEF, under the Internal Migration in India Initiative concluded that marriage was the most prominent reason given by women responders; by 91.3 per cent women in rural India and 60.8 per cent women in the urban areas, according to National Sample Survey Office (NSSO) data of 2007-08. However, several researchers are working to uncover the more complex reality lying behind statistics and consider that by reducing all women to mere numbers, they fail to grasp the complexity of both the scale and motives of women who migrate for other reasons, or, those who enter the labour force after migrating as a member of a migrating household, which often means accompanying their husbands.
The trouble with most research formats — since respondents are asked to cite only one reason for migrating — most women cite marriage as the sole reason for migration. Many of them are a part of the labour force, a fact that is not revealed by the data collected.
Women's migration for employment remains under-reported due to cultural factors, which emphasise social rather than economic roles for women to migrate and contribute towards making women invisible economic actors of society. It reinforces the old belief that women migrate for matrimony alone.
Faces without a name
Those who migrate in the lower-end informal sector occupations, which constitute the majority of migrant population of women, remain invisible and discriminated against in the work force. Since data does not reflect their existence, there are hardly any schemes for their welfare. Female migrants remain less represented in regular jobs and thus more likely to be self-employed, or employed in the informal sector than the non-migrant women. The NSSO data 2007-08 indicates that nearly 60 per cent of female migrants in rural areas were self-employed and 37 per cent were casual workers, whereas in urban areas, 43.7 per cent of women migrants were self-employed (which is again a misnomer) and 37 per cent were engaged in regular jobs. The fact is, a majority of them are engaged as domestic workers, which perhaps does not fit in the classification of either a regular worker or as casual worker. They are paid less than male migrants and have no privilege of maternity leave, other maternity entitlements or breast-feeding breaks at worksites. Lack of sanitation too has serious health consequences but women and girls suffer in silence because of the stigma around women's personal hygiene issues at work sites.
Sexual harassment
As such, in India occurrences of gender-based violence are widespread. According to National Family Health Survey (NHFS-III), one-third of women between the age of 15 and 49 had experienced physical violence, and one in 10 had been a victim of sexual violence. Migrant women and girls, in particular, remain vulnerable to sexual harassment and abuse, especially at the hands of agents and contractors. Poverty may cause women migrants to get pushed into sex work at the destination, either by coercion or to supplement their earnings. A recently released film City Lights highlighted this issue in a layered manner. The Criminal Law (Amendment) Act 2013 was passed to strengthen penalties for crimes against women, and in particular, trafficking of persons for exploitation in prostitution and other forms of sexual exploitation. But, most migrant women, who are at the lowest rung of the social hierarchy, do not have access to information about their rights, nor do they have resources to engage legal help. They fail to come out of the trap of poverty, ignorance and exploitation.
Domestic help needs help
Migrant women constitute a highly vulnerable and socially sensitive group, particularly domestic workers who are in constant interaction with the other strata of society due to their large numbers. They need promotion of safe migration, along with others migrant workers. Most women who migrate to urban areas in search of work, either with family members or in groups are poor and are mostly illiterate. It's a vicious circle; illiteracy, poverty and migration are interconnected. The lack of education and skills leave them vulnerable to exploitation at the hands of illegal employment agencies and touts. Estimates indicate that the number of domestic workers in India vary from 4.75 million to 6.4 million (Census 2001).
The National Commission for Enterprises in the Unorganised Sector has estimated that out of four million domestic workers, 92 per cent are women, girls and children, and 20 per cent of them are under 14 years. This challenges the rights of children guaranteed under many legislations. Other sources suggest that these figures are underestimated and the number of domestic workers in the country could be much higher. The sector is said to have grown by 222 per cent since 1999-2000, and is the largest sector of female employment in urban India, involving approximately 3 million women. Paradoxically, as one section of women is getting economically empowered, it requires other section of women to support it. But, the latter do not have their rights charted out in the absence of their existence on paper.
To regulate the migration process and make it safer for women, registration of domestic workers, guaranteeing legal protection against trafficking and exploitation by touts and fixed minimum wages need to be introduced. It is a huge task, but nothing can be impossible. Few efforts in this direction have been made in different parts of the country, but what is needed is a concerted effort.
The National Commission of Women drafted a bill titled "Domestic Workers Welfare and Social Security Act 2012", which is yet to be passed in Parliament. The first requirement, before the bill is passed, is some kind of process by which the domestic workers get a registration card and number to ensure their basic rights.
Identity crisis
India is a signatory to the convention on the elimination of All Forms of Discrimination against Women (CEDAW) and the General Recommendation no 26 of CEDAW deals with woman migrant workers, which remains largely unimplemented in India.
In India, internal migration accounts for a large population of 309 million as per Census of India 2001, and by more recent estimates the number is estimated to be 360 million (NSSO 2007-2008), nearly 30 per cent of the total population.
Internal migrants, of which 70.7 per cent are women, are excluded from the economic, cultural, social and political life of society and are often treated as second-class citizens.
In the absence of proof of identity and residence, internal migrants cannot claim social protection entitlements and often remain excluded from government- sponsored welfare schemes and programmes.