Love lost

It is one of the most enduring marriages in Bollywood but Dilip Kumar reveals that though aware of her 'crush' on him, he annoyed Saira Banu by refusing to work with her in films.

Earth shaking

Pop star Kylie Minogue has joined Dwayne Johnson and Carla Gugino on the cast of earthquake disaster movie San Andreas. The 46-year-old is set to return to her acting roots.

Moment of honour

Oscar-winning actor Matthew McConaughey will be this year's recipient of the American Cinematheque Award. McConaughey, 44, is to be honoured for his contributions to cinema.
Utterly Fugly Unpalatable
Nonika Singh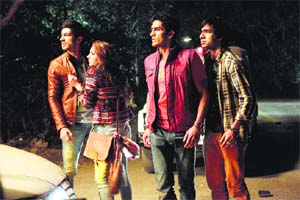 It's a motley group of friends. A minister's son , a youngster who dreams of setting up an adventure tour company, a girl whose only mission is to see a smile on her war widow mother's lips and a fidgety lad from a small-time business family. They hang out together, let their hair down at a night club and climb up electricity poles in the after party hours. Expectedly, their idea of fun lands them in innocent wrangles with police-wallahs too. No problem at all, after all they have a minister's son for company. But their bad luck, in their bid to teach a molester a lesson they run into the devil incarnate policeman Chautala and the business gets Fugly.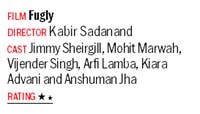 Yes, you got it right the word means exactly what it implies. It's an…. ugly world out there where men paw at girls, where police traps innocent boys and where the marriage of convenience between the political class and the law enforcing machinery ensures that life of a common man gets even murkier. Perhaps, the intention behind the film is well-meaning, even lofty.
Alas, the problem is it not only bites into every conceivable ill that plagues our society but also is unable to bring it all on a platter as a cohesive, let alone entertaining, whole. So just when you nod in empathy with the heroine's predicament, 'indeed we are a country that doesn't value its war heroes', the dirty tricks department of politicians begins to unfold. From rave parties to lecherous men to the unholy 'club' of police and politicians there is too much to digest. Worse still, even credibility takes a leap and none of the laudable motives hold ground. Then there are far too many songs , including an item number. So at the end of the day what you get is a confusing storyline, a concoction that falls neither here nor there. And in the climax when Vijendra Singh emerges wearing a t-shirt with Shaheed Bhagat Singh's picture emblazoned on it (ah the Rang De Basanti syndrome), in sheer exasperation you can only wince…at least the great martyr deserved better. If not us — the viewers!
As for the icing on the cake — the debut of our handsome boxer Vijendra Singh. Well, he looks as cute as he does in the boxing ring. On the big screen when he opens his mouth, surprisingly he fits into the part of the politician's son with Haryanvi accent and earnestness in place. So does Arfi Lamba as the nervous end of this foursome. Jimmy Sheirgill, as the bad man Chautala, is like always in fine form and brings out the negative shades of his character with devilish relish. But even he can't make us savour the film, where the male lead Mohit Marwah is undone by the script. Coming to Kiara Advani…before we can hail her cocksure character who has the gall to hit a man below the belt when he dares to accost her, as the new brave heroine, she too sinks at the altar of contrived conjectures.
All we are left clutching at is Yeh fugly fugly kya hai… sadly we have little clue. Should you bother to figure it out…well if only F had stood for irreverent fun (as it promises in the beginning), we would have gladly recommended the two hour fifteen minute break from the sweltering heat as a perfect reprieve. However, as things stand just as one swallow doesn't make a summer, a couple of laughs don't make a film worth its while. If you still haven't got it, here it is crystal clear — unless you are as desperate as the lead characters in the film, skip this one.
Short of saving grace
Ervell E. Menezes


Like Greta Garbo and Elizabeth Taylor before her, Grace Kelly is a Hollywood icon and one may like her or hate her but one just cannot ignore her. Grace of Monaco sets out to capture this near-legend but tries too hard and with too much on its plate. How far it succeeds, therefore, will remain a matter of conjecture.
The Monaco royal family ignored it and the opening at Cannes this year was decidedly poor. So were the reviews. But the daughter of a Philadelphia bricklayer has surely carved a niche of her own and those who have lived through her acting career will be drawn to Grace of Monaco. That it takes a while before one comes face to face with her is a gimmick not uncommon to cinema. And may be it therefore ends on the other extreme — her face on the large screen in all its glory.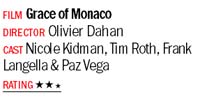 The film opens in December 1961 in that quaint district of Monaco with Alfred Hitchcock (Roger Ashton-Griffiths) paying Grace (Nicole Kidman) a visit with a film proposal. It's 'Hitch' and 'Gracie' terms of familiarity that gives the narrative a much-needed boost.
We then come to how Grace is accepted or otherwise in her new role — From 'it doesn't get any better' to the prolonged period of adjustment and the plethora of problems on her plate. Prince Rainer III (Tim Roth) isn't very supportive initially and then Princess Antoinette (Geraldine Summersville) hatches a plot to promote her regent son. It's all happening although liberties have been taken with the political overtones.
One also comes face-to-face with a host of celebrities like Aristotle Onassis (Robert Lindsay) with a brash opening line, to Charles De Gaulle, Robert McNamara and singer Maria Callas (Paz Vega). In the first half, the director Olivier Dahan dwells far too long on Grace's new avatar. He isn't helped much by a mundane screenplay. However, Arush Ariel and Maria Callas' singing gives the film some substance. After a lacklustre middle, Dahan tends to go overboard with the climax. But the Grace-Rainer rapprochement is clearly one of its plus points. Nicole Kidman isn't very consistent in a rather difficult role while Tim Roth lacks spark. Frank Langella's Fr Francis Tucker provides some warmth and is balanced well by Parker Posey.
Horrifying affair
Johnson Thomas
Film Machhli Jal Ki Rani Hai
Director Deboley Dey
Cast Swara Bhaskar, Bhanu Uday, Murli Sharma, Reena Debnath
Rating HH

Machhli Jal Ki Rani Hai, a childish name for a film proposing to unleash the scares, is yet another attempt to cash-in on the recent craving of the audience for films from the horror genre. A sizeable number of horror flicks have done reasonably well at the box-office irrespective of their quality and it's probably a sound decision to tackle this genre as a first-time investment in mainstream Bollywood.
But filmmakers latching on to a trend without developing their story idea are also a dime-a-dozen in Bollywood. Deboley Dey is no different from this set of filmmakers. His film is about Ayesha (Swara Bhaskar) and Uday Saxena (Bhanu Uday), who along with their young son move to Jabalpur after a major accident in Mumbai. The accident, of course, changes everything. Their move to their new home in Jabalpur involves them in paranormal activity. Everyone around them appears doubtful. The family is in turmoil and scared out of their wits. Ugra (Deepraj Rana) gets called-in to do the exorcism. It's of course a huge challenge for him. Will he succeed? You just don't want to know because you can't be bothered. That is how uninvolving the movie is. The film doesn't even boast of a genuine scare. The faultily engineered scenes are laughable. Even the performances don't have any conviction. The only time you'll be lucky to be genuinely horrified is when you come across the open ending. Just the thought of a sequel to this horror farce can scare you.
Too long a watch
Ervell E.Menezes


Film How to Train Your Dragon 2 3D
Director Dean De Blois
voice Jay Baruchel, Cate Blanchett & Gerard Butler
Rating HH
So, it's time for another round of dragons and Vikings; quaint lands and huge creepy creatures with loads of action dotted by dashes of humanity. But quality very nearly goes out of the window in How to Train Your Dragon 2 3D. Hiccup (voice of Jay Barucher) and Dragon Toothless have made peace with the Vikings of Berk and move on to more distant lands in search of adventure. With them is Hiccup's girlfriend Astrid (America Ferrera).

Adventure they find in the person of Eret (Kit Harrington), a dragon trapper who sells captured dragons to the villainous Drego Bludvion (Djimon Hounsou). Some dragons live in an ice cave under the control of an Alpha dragon. It is in this cave that Viking chieftain Stoic (Gerard Butler) traces his son Hiccup who is to succeed him. They also get in touch with the reclusive vigilante Valka (Cate Blanchett) who has drifted away from her family. It is this reunion (there are some cute lines) that forms the best part of the film.
True, the animation is of high quality and grows more appealing in the second half but this surfeit of action tends to drag on endlessly, with the result its 102-minute duration seems much too long. There are other sub-plots that only seem to prolong the agony. Hiccup hogs too much of the footage to the detriment of the story with director Dean De Blois drifting in no-man's land pretty often. This is a likely flaw in sequels. And though children below eight will enjoy it, it is their parents, who accompany them, who will not.