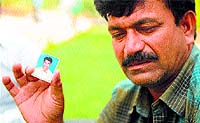 When their world came crashing down
Hyderabad, June 9
The world came crashing down around family members of the engineering students who were washed away in the gushing waters of the Beas in Himachal Pradesh.

Banoth Shekhar Naik, father of missing student B Rambabu Naik, holds a photograph of his son in Hyderabad on Monday. — AFP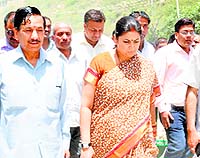 Smriti Irani assures students help
Pandoh (Mandi), June 9
Union Human Resource Development Minister Smriti Irani also visited the spot and also interacted with students from Hyderabad today assuring them of every help. The minister said, "I have come here to monitor the rescue operation and for better coordination between Talengana and Himachal Pradesh governments during the operation."

HRD minister Smriti Irani in Mandi on Monday.
Lack of warning signal led to tragedy
Thalot (Mandi), June 9
Lack of warning system during sudden release of water from the Larji dam and negligence on part of engineering students venturing deep into the Beas last evening have led to tragic incident here.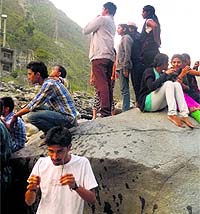 It all happened in just 30 minutes
Mandi, June 9
It just took about half an hour when 24 members of a group of 48 students from the VNR Vignana Jyothi College of Engineering and Technology, Hyderabad, visiting Manali, were washed away by a strong water current in the Beas near Thalot yesterday. All of them travelling in two buses were playing games, singing songs and enjoying together about half an hour ago while coming back from Manali.


A group of students on a rock in the Beas moments before 24 of them were washed away in the water released from the Larji dam at Thalot on Sunday. (Photo taken from a student's camera)

BJP, Cong spar over poor fiscal health of state
Shimla, June 9
The war of words between the Bharatiya Janata Party (BJP) and the Congress over the poor financial position of the state became more intense on Saturday with both parties accusing each other for creating a financial mess in the state.
Kangra sailor released after 42 months of captivity
Nurpur, June 9


Twentythree-year-old Aman Sharma of Kardial village in Jawali subdivision was finally released from Somali pirates' captivity. The news of his release was received by his father, Kewal Krishan, who is an ex-serviceman, last evening. Kewal told this correspondent that it took more than three-and-a-half years to release his son, who was one of the 23 crew members made hostage by Somali pirates. Their ship was hijacked on November 26, 2010, west to the Maldives in the Indian Ocean.

Aman Sharma
Govt implements standard cartons for apple packaging
Shimla, June 9
Apple farmers have asked the state to strictly implement the proposed 22.5 kg and 12 kg smaller universal cartons this season to make the industry compete in international markets.
Bahra varsity joins hands with IBM
Solan, June 9
Waknaghat-based Bahra University has joined hands with global Information Technology (IT) major IBM to start BTech (Hons) course in computer science from the current academic session.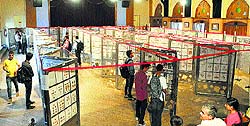 Stamp on HPU released
Shimla, June 9
A commemorative stamp to mark the achievements of Himachal Pradesh University (HPU) was released here yesterday.


Visitors during a philately exhibition at the Gaiety Theatre in Shimla on Monday. Tribune photo: Amit Kanwar

Piplu fair held
Una, June 9
The traditional district-level Piplu fair was held on the occasion of Nirjala Ekadhashi at the Nahar Singh temple in Piplu panchayat here today.
VC inaugurates Himachal Folk Theatre Workshop in Palampur
Palampur, June 9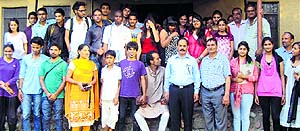 A three-week-long Himachal Folk Theatre Workshop was inaugurated at Andretta,12 km from here, yesterday. Dr KK Katoch, Vice-Chancellor, CSK HP Agriculture University (CSKHPAU), was the chief guest.

Participants of theatre workshop with KK Katoch, Vice-Chancellor, CSKHPAU, at Andretta in Palampur on Sunday. Photo: Ravinder Sood

Electrical Engg Dept holds alumni meet at NIT
Hamirpur, June 9
The second alumni meet of the Electrical Engineering Department at the National Institute of Technology (NIT), Hamirpur, was attended by 50 former students yesterday.
IPH Dept asked to cope with water scarcity in Nurpur
Nurpur, June 9
To cope up with the ongoing drinking water scarcity in the Nurpur area, local MLA Ajay Mahajan convened a meeting of officials of the Irrigation-cum-Public Health (IPH) Department and the Electrical Division here on Saturday.
Lahaul residents, hoteliers want congestion charges to go
Shimla, June 9
The Border Roads Organisation (BRO) restored traffic movement on the 473-km Manali-Leh National Highway-21 two days ago, but the permit-based entry from the Kothi barrier uphill Manali to the Rohtang Pass has pushed local hoteliers and guest-house owners in Lahaul valley to the brink.

Rs 32-cr green tax collected in 10 years
Demand to introduce music subject in schools, colleges gathers pace
Shimla, June 9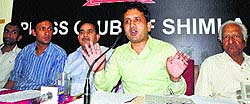 Reiterating their demand to introduce music as a subject in government schools, members of the Sangeet Chhatra Kalyan Sangathan today said music was being taught as a subject in only 57 out of the 10,676 primary, 2,345 middle and 1,535 senior secondary government schools in the state.
Members of the Sangeet Chhatra Kalyan Sangathan at a press conference in Shimla on Monday. Tribune photo: Amit Kanwar

200 examined at medical camp
Kullu, June 9
Office-bearers of the local Media Manch and members of Neuli panchayat organised a free medical camp at the Panchayat Bhawan here today. Over 200 villagers were examined and provided with free medicines.
Patwari held for taking bribe
Nurpur, June 9
A team of the Kangra district Vigilance and Anti-Corruption Bureau, led by Inspector Prem Chand, today caught Patwari Harbans of the Revenue Department in Jawali subdivision red handed while accepting bribe from a local villager. He was arrested and a case under Sections 7 and 13 (2) of the Prevention of Corruption Act registered against him.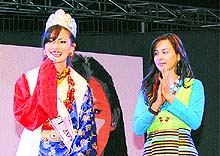 Tenzin Yangzom addresses her fans after winning the Miss Tibet 2014 contest at McLeodganj on Sunday night. Photo: Kamaljeet

House burnt in fire
Chamba, June 9
A five-storeyed house was reduced to ashes at Machhetar village in a remote Holi tribal terrain here yesterday, as per a report today.
Girl dies of burns
Kangra, June 9
A 16-year-old girl, who was admitted to the DRPGMC, Tanda, on May 25 with 30 per cent burn injuries, died last evening in the hospital, the police said here today.
Woman killed in road mishap
Kangra, June 9
A 60-year-old woman, Sareshta Devi, of Upper Dadh village was killed and three others were injured, one of them seriously, in a road accident at Upper Dadh here yesterday, the police said today. The car they were travellin in was being driven rashly by Sanjeev Kumar of Upper Dadh.
3 killed in road, train accidents
Nurpur, June 9
Two persons were killed in a road accident at Khehar near Rehan last night.
Woman slips off hillside, dies
Chamba, June 9
A woman was killed when her foot slipped from a hillside near Makola village in Churah subdivision here yesterday, a report from the district headquarters said here today.