Victims kin oppose prayer meeting
Pandoh (Mandi), June 15
Relatives of the victims camping here today objected to the holding of a prayer meeting by a Christian preacher KA Paul from Andhra Pradesh at the dam site.


Govt fails to check link roads to river
Shimla/Larji, June 15
The PWD, Mining and Forest Departments have failed to check the illegal link roads leading to the riverbeds in the Beas and Tirtha rivers, which have become the hotbed for the mining mafia operating with the alleged connivance of the field staff.

A file photo of a road being dug up illegally along the Beas.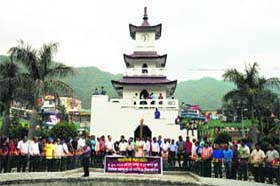 Residents pay homage to the Beas tragedy victims in Mandi on Saturday evening. Photo: Jai Kumar
Minister talks tough on illegal mining
Shimla, June 15
Industry Minister Mukesh Agnihotri today directed officers of the Mining Department to take steps to ban illegal mining. They were told to install boards at various sites and impose a fine of up to Rs 25,000, along with action as per the rules against people found responsible for illegal mining activities.
CM praises Red Cross Society
Shimla, June 15
The Red Cross Society is rendering valuable services to the society by providing relief to the poor and needy, besides extending immediate help to those injured in accidents or affected by natural disasters.
Brace yourself for harrowing holiday in Shimla
Shimla, June 15
Planning a holiday in Shimla? Brace yourself as it will be no surprise if you are greeted by pot-holed roads, long traffic jams, parking hassles, harassment of touts and fleecing by unscrupulous hoteliers who make hay during the peak tourist season.
Police challan vehicles parked on the main road and (right) cars queue up near the lift in Shimla. Tribune photographs
HPU in deep financial crisis
Shimla, June 15
The Himachal Pradesh University (HPU) authorities are reportedly in a deep-financial crisis as they are struggling to meet the salaries and pension liabilities of employees and pensioners.
Agriculture varsity pensioners on the warpath
Palampur, June 15
The HP Agriculture University Pensioners Association has threatened to resort to direct action in case the university authorities fail to release their pension, gratuity and leave encashment.
Students oppose HPU fee hike
Shimla, June 15
The Students Central Association (SCA) of Himachal Pradesh University (HPU) opposing the hike in fees today said, "As per the constitution, education is a non-profitable sector. Therefore, the burden of the fees should not be put on the students."
State eyes firm for generic medicines
Shimla, June 15
In order to tide over the problem of the non-availability of low-cost generic medicines in hospitals, the state government is proposing a tie up with Hindustan Lifecare Ltd (HLL). This will ensure that the entire regimen of drugs is available and patients are not forced to purchase expensive medicines.
Hopper attack hits mango crop
Nurpur, June 15
The mango hopper, an insect locally known as "tella", which attacks the crop in lower Kangra district has been playing havoc with fruit growers, who were expecting a bumper crop this year.


Pine tree waste causes forest fires
Dharamsala, June 15
With temperature increasing in the hills, pine tree bio-waste spread in forest in Dharamsala is a major source of forest fire. Already fire broke out in the forest around Dharamsala and threatened public infrastructure, including the water storage area of the Circuit House.
A youth of Sakoh village douses flames in a forest near Radio Colony at Dharamsala on Saturday night. Photo: Kamaljeet
13,000 trees likely to face axe in Una
Una, June 15
Two major development projects coming up in Haroli Assembly constituency, the Indian Institute of Information Technology (IIIT) and the new industrial area in Pandoga, are likely to cause the felling of more than 13,000 green trees.


Chail wettest in state, met predicts more rain
Shimla, June 15
The maximum day temperatures increased marginally in Himachal Pradesh even as several areas of the state were lashed by moderate to heavy rain during the past 24 hours.


Children splash water over themselves in Shimla on a hot Sunday. Tribune photo: Amit Kanwar
4 state-produced drugs termed sub-standard
Solan, June 15
Four drugs manufactured by various manufacturers in the state have been found to be sub-standard in the latest drug alert issued by the Drug Controller General of India.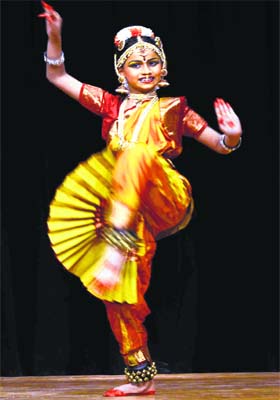 Grace personified: An artiste during a competition organised by the All-India Artists' Association Mumbai-Shimla at the Kalibari Hall in Shimla recently. Photo: Amit Kanwar
CM for scaling up health sector
Shimla, June 15
Chief Minister Virbhadra Singh expressed the need to scale up the health sector so as to overcome various challenges of rising diseases. The Chief Minister, while presiding over the inaugural function of the annual state conference of Him-Medicon 2014, yesterday said the state government was endeavouring to provide state-of-the-art services even in the remotest of places.
One killed, 10 hurt in road mishaps in Nurpur
Nurpur, June 15
A speeding bus (No. PB 46M-5009) hit a Maruti car (No. HP47-3494) coming from the opposite direction at Raja ka Bagh on the Pathankot-Mandi national highway, near here, last night. One of the car occupants, Deepak (30), sitting on the rear seat, died on the spot.
Foetus dies after mother gets beaten up
Nurpur, June 15
A six-month foetus of a woman, a mother of two daughters, was killed after she was severely beaten allegedly by her husband and mother-in-law. The local police on Friday registered a case under Sections 316 and 34, IPC, against Purn Singh of Nakodar, near Rehan, husband of the complainant, and his mother.
VIGNETTES
All for the dignity of elderly people
Shielu Sreenivasan, Editor of Dignity Dialogue (See photo), had come to Shimla from Mumbai to establish the Shimla Chapter of Dignity Foundation (DF). The DF is a 19-year-old not-for-profit organisation that offers to those who have crossed 50 years an enriching set of opportunities to lead a more dignified, secure, joyful and fulfilling life.
Producers oppose proposed levy on power generation
Shimla, June 15
The proposed levy on power generation has been opposed by independent power producers (IPPs) in the state. A Bill to this effect is pending for the assent of the President. Chief Minister Virbhadra Singh has taken up the matter with Prime Minister Narendra Modi.
3-day reform programme concludes at sub jail
Nurpur, June 15
The Divya Jyoti Jagriti Sansthan (DJJS), a spiritual and social organisation, organised a three-day special discourse at the sub-divisional sub jail here. The programme, which was organised for reforming jail inmates under the Antarkranti project of the sansthan, concluded today.


NCC camp ends
Una, June 15
The 10-day Combined Annual Training Camp (CATC) for National Cadet Corps (NCC) cadets concluded at the Jawahar Navodaya Vidyalaya in Pekhubela village here yesterday. This camp is a mandatory provision towards completing the A, B and C certificate courses offered by the NCC.
Winners during the NCC camp with Commanding Officer Lt Col Mangat Saini in Una on Saturday. Photo: Rajesh Sharma
Formulate service policy, say computer teachers
Chamba, June 15
Members of the Himachal Pradesh Computer Teachers' Union have urged the state government to formulate a concrete policy, similar to the one adopted by the Punjab Government, for the regularisation of their services and absorption in various government departments.
Accused in rape case nabbed
Shimla, June 15
The Shimla police have arrested one of the accused in a minor's rape case. He has been remanded to police custody. The accused, whose sketch was publicised by the police, is a resident of Shimla. He works as a peon in the Education Department. He has been identified by the victim, police sources said.
Tourist killed in mishap
Chamba, June 15
A woman tourist died on the spot and three others were injured when their Mahindra XUV in which they were travelling rolled down the road near Khajjiar in Chamba district on Saturday night.
One dies in road mishap
Una, June 15
A college student from Salodi Singhan village near Ludhiana died, while his brother sustained serious injuries when the truck by which they were travelling fell into a gorge at Bhaira village, 23 km from here, yesterday.