2 BDPOs booked for Rs 1 cr scam in job scheme
Patiala, June 15
The police today registered two FIRs against as many Block Development and Panchayat Officers (BDPOs) for alleged embezzlement of Mahatma Gandhi National Rural Employment Guarantee Act (MNREGA) scheme funds. Both Patran BDPO Malwinder Singh and his Samana counterpart Dinesh Vashisht have gone into hiding.
Golden temple clash
No clean chit yet to Simranjit Mann: Akal Takht
Amritsar, June 15
Akal Takht Jathedar Giani Gurbachan Singh today said Simranjit Singh Mann, SAD-Amritsar president, and other radical groups were never given any clean chit for their alleged involvement in the violent clash on at the Golden Temple June 6. The Sikh high priests today held a meeting in Amritsar and the clash was one of the issues on their agenda.

No politics behind Sangat Darshan: CM
Talwandi Sabo (Bathinda), June 15
Urging the people to judge the SAD-BJP alliance on the basis of its performance rather than criticism by political opponents, Chief Minister Parkash Singh Badal here today claimed that there was no political agenda behind the sangat darshan programme.


15 more hand grenades found in Jagraon pond
Jagraon, June 15
The pond at Sidhwan Khurd village near Jagraon continues to spew explosives with 15 more hand grenades recovered from the village pond today. These hand grenades were recovered by the members of the anti-sabotage team that has been searching for the explosives in the pond after the earlier recoveries of ammunition.
No government support, addicts in Moga suffer at private rehabilitation centres
Moga, June 15 The ongoing drive of the state police against the drug menace has its immediate fallout on addicts in the district. They are feeling helpless due to the alleged insensitive attitude of the Punjab Government to rehabilitate them.
Four-laning project brings no respite for these commuters
Ferozepur, June 15
Although the Centre has approved extending the National Highway No. 1 four-laning project from Ludhiana to Ferozepur, commuters continue to remain a harassed lot due to the appalling condition of this stretch. Work on the project remains suspended for unknown reasons.
Muktsar shows the way in direct sowing of paddy
Muktsar, June 15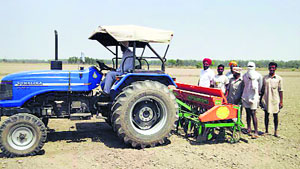 While the direct sowing of rice (DSR) technique is yet to catch the fancy of farmers in many districts of the state, paddy growers in the home district of Director, Agriculture Department, Mangal Singh Sandhu are setting an example in this field. According to officials of the Agriculture Department, around 20,000 acre land has been already brought under DSR since June 1.

A farmer uses DSR technique to sow paddy in his fields in Muktsar district. A Tribune photograph

Relief for aspiring medical officers
Chandigarh, June 15
In a major relief to medical graduates seeking appointment as medical officers in Punjab, the Punjab and Haryana High Court has made it clear that the cut-off date for furnishing applications was not the last date for submitting online pleas, but the hard copies.
Ropar police get leads on drug trade in jail
Ropar, June 15
In its drive against drug traffickers, the local police have traced a gang involved in drug trade in the district jail. The kingpin of the gang, identified as Manoj Kumar alias Mamu of Muktsar, was arrested by the Ropar police.
Former Minister Kushal Bahl dies


Gurdaspur, June 15
Former Cabinet Minister Kushal Bahl (87) died following a cardiac arrest at his residence last night. His mortal remains were consigned to the flames at the Batala road cremation ground today. People from all walks of life, including politicians cutting across party lines, attended the cremation. Considered one of the tallest Congress leaders in Gurdaspur district, he is survived by three sons, Raman Bahl, Aman Bahl and Ajay Bahl.
Fruit growers pin hopes on Harsimrat Badal
Abohar, June 15
With Harsimrat Kaur Badal becoming the Minister of State for Food Processing in the "Modi Sarkar", fruit growers of this area are hopeful that the state-owned agro-juice plants based at Abohar and Hoshiarpur would be strengthened now. The plants were inaugurated jointly by Chief Minister Parkash Singh Badal and then Union Minister Subodh Kant Sahai in October 2007.
2 teenagers drown in Gang canal, 1 missing
Abohar, June 15
Three teenagers, who had gone for a swim in the Gang canal near Hanumangarh Road in Sriganganagar last evening, have reportedly drowned. The district authorities have so far recovered two bodies. The police control room was informed at about 8 pm. Two of the victims have been identified as Kuldeep Meghwal, Paurush Batra of Suratgarh. Kuldeep's motorcycle was spotted on a bridge near Sadhuwali.
Amritsar centre plans rehab for drug addicts
Amritsar, June 15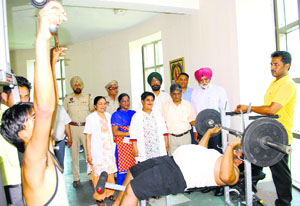 The management of Swami Vivekananda Drug De-addiction Centre has planned to set up a rehabilitation centre. It has submitted a proposal in this regard to Chief Minister Parkash Singh Badal at a meeting in Chandigarh recently. The de-addiction centre, functioning from the premises of Government Medical College, is one of the five model de-addiction centres announced by the state government a couple of years ago.

Inmates of the Swami Vivekananda De-addiction Centre exercise at a gymnasium in Amritsar on Sunday. Photo: RK Soni

New fence to fortify border in Amritsar
Amritsar, June 15
To strengthen its fight against anti-national forces resorting to intrusion as also smuggling of contraband and counterfeit currency, the BSF has embarked on a project of erecting a new barbed wire fence in the Amritsar sector.
Security cover
Sangrur MP Mann seeks public opinion
Sangrur, June 15
Contrary to his party's stand that its leaders will not take security cover, Aam Aadmi Party (AAP) MP from Sangrur Bhagwant Mann has sought advice from his friends and supporters on whether he should take security for himself and his family.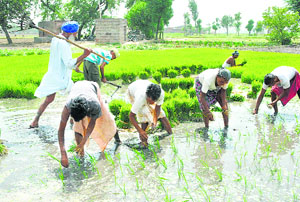 Planting hope: Paddy sowing in progress at a village near Patiala on Sunday. Farmers claim they got over seven-hour power supply for tubewells. Tribune photo: Rajesh Sachar

Employment office in Fazilka hit by acute staff shortage
Fazilka, June 15
The District Employment Generation and Training Office is facing a staff crunch with 85 per cent of the posts lying vacant since September 30, 2013. A senior assistance and a clerk run the district-level office, where about 8,000 unemployed youths are registered. The office was set up on January 23, 1990.
Father's day My dad's greatest, Sukhbir tells his son
Chandigarh, June 15
Deputy Chief Minister Sukhbir Singh Badal today credited his father and Chief Minister Parkash Singh Badal for everything in his life in response to his teenaged son Anantbir Badal's Facebook greetings to him on the Father's Day today. Extending wishes to his father in a post on his (Sukhbir's) Facebook page, Anantbir wrote: "You are the best dad in the world".
Insecurity grips Faridkot, 5 go missing in 8 months
Faridkot, June 15
Local residents have been living in fear as five youths, including a girl, have disappeared mysteriously over the last nine months. The police have failed to make headway in any of these cases. One of the affected families has been sitting on an indefinite dharna in front of the police station here while other residents have been holding protests, but to no avail.
Rice millers urge Modi to review FCI policies
Fatehgarh Sahib, June 15
The Punjab Rice Millers Association has urged the Centre to review the "wrong" practices prevalent in the Food Corporation of India (FCI) for the past 50 years. The association said its similar pleas had evoked no response from the state government or the FCI.
Dalits ask state to reduce land rates
Sangrur, June 15
The Krantikari Pendu Mazdoor Union has asked the state government to allot panchayat land reserved for SCs to them at Rs 10,000 per acre. They said the SCs were not able to pay more for the land.
Photos of bank guard's killers released
Sangrur, June 15
The district police have released a poster carrying photographs of three unidentified robbers who allegedly shot dead Gopi Singh, 50, a security guard of Malwa Gramin Bank at Khadial village, near Sunam, on June 13. DSP Dirba Sewa Singh Malhi said the photographs had been taken from the footage of the CCTV cameras installed at the bank branch.
Thousands visit tombs of Laila, Majnu at fair
Abohar, June 15
The hot weather did not stop thousands of people from visiting the mazaars (tombs) of Laila, Majnu in Binjaur village on the last day of a five-day annual fair. Pakistani nationals have also been attending the fair, but this time they couldn't get their visas on time. The fair also attracted tourists from far-flung places in Haryana and Gujarat.
Govt plans to remove noxious weed
Chandigarh, June 15
The Punjab Government has drawn up a comprehensive plan to eradicate 'lantana camara', a noxious weed posing a major threat to forest cover in the state. The project would be completed within three years, Forest and Wildlife Preservation Minister Chunni Lal Bhagat said today. The plan was drawn up after after a survey pointed out that spread of the weed in forest areas may have been responsible for loss of over 500 sq km of state's forest cover. The weed poses serious threat to resurgence of forests if established in the forest ecosystem as each plant puts out up to 12,000 seed, which can remain dormant up to 11 years and germinate faster if exposed to smoke. — PTI
Surprise checks at Hoshiarpur hospital
Hoshiarpur, June 15
Member of Punjab Human Rights Commission, Baljinder Singh conducted a surprise check at civil hospitals in Mukerian and Hoshiarpur. He asked the patients and staff if they were facing any problems. At Mukerian, the doctors on duty complained to him about the shortage of space at the hospital that has an inflow of around 400-500 patients daily. The patients complained about the poor sanitary conditions there. They also said few medicines were available at the hospital. Addressing media persons, he said the commission had disposed of 2,04,000 of the total 2,12,000 complaints received since its formation in 1997. "The commission is serious about addressing complaints on water contamination in the Malwa region," he added. OC


Shiv Sena leader killed in Tarn Taran
Tarn Taran, June 15
The president of the local unit of Shiv Sena, Angrej Singh (40), died after being attacked with sharp-edged weapons allegedly by a rival family. His supporter Bobby was also injured in the attack when he tried to save him. Angrej, a resident of Guru Ka Khuh Mohalla, succumbed to his injuries at Guru Nanak Dev Hospital in Amritsar.
Thieves steal ATM loaded with Rs 11 lakh
Muktsar, June 15
Thieves on Friday night stole an automated teller machine (ATM) of HDFC Bank at Mandi Killianwali. The ATM contained nearly Rs 11.25 lakh. They broke into the ATM booth, sprayed black paint on the CCTV camera, uprooted the ATM, loaded it onto a vehicle and fled. They also cut the wires to the alarm, rendering it useless. The police reached the spot, after a morning walker reported the theft. A police team led by the Superintendent of Police (SP) Gurinderjit Singh examined the crime site. Forensic experts collected samples from the site. The police blamed the bank authorities for not installing the machine properly. They are investigating the case. On December 3 last year, thieves had decamped with an ATM loaded with Rs 4.63 lakh from Kotkapura Road in Muktsar. They had used a JCB machine. TNS