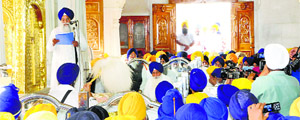 Need to save youth from drugs, says Jathedar
Amritsar, June 6
Akal Takht Jathedar Giani Gurbachan Singh today stressed the need to save Punjab's youth from the scourge of drugs.


Akal Takht Jathedar Giani Gurbachan Singh delivers his address to the community on the Operation Bluestar anniversary at the Akal Takht in Amritsar on Friday. photo by vishal kumar

State govt to focus on RTS Act, dept reforms
Chandigarh, June 6
Having received a negative feedback on the implementation of the Right to Services (RTS) Act vis-à-vis the electoral losses, SAD chief and Deputy Chief Minister Sukhbir Singh Badal today launched twin projects to provide 149 services to the people without any government interface and to start the process of reforming five major departments.
Farmers protest inadequate canal water supply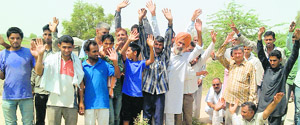 Fazilka, June 6
A large number of farmers of border villages whose land is located at the tail end of the Bandiwala canal, protested against the government over scarcity of water for irrigation, at Sivana village in Fazilka district today.


Farmers protest scarcity of canal water at tail-end villages in Fazilka on Friday. Tribune photo

Muktsar to be first stubble burn-free dist: DC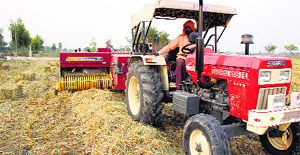 Muktsar, June 6
The National Bank for Agriculture and Rural Development (NABARD) has chalked out a plan to make Muktsar the first "zero burning" district of the state. Under the project, NABARD would launch an awareness campaign to motivate farmers against burning paddy straw or other crop residuals in 79 villages of the district.

A baler machine at work in a field. A Tribune photograph

Shandil panel asked to return
Chandigarh, June 6
In a surprise move, AICC vice-president Rahul Gandhi has asked the Shandil committee to return to Delhi on June 9.
Post-elections, state Cabinet to meet on June 11
Chandigarh, June 6
The first meeting of Punjab Cabinet after the Lok Sabha elections will be held on June 11. With the BJP coming to power at the Centre, the meeting is expected to see the four BJP ministers in a more aggressive mode.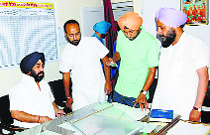 SAD halqa in charge raids offices in Nabha
Patiala, June 6
Even as SAD president Sukhbir Singh Badal is reportedly considering to do away with the system of halqa chiefs, the party's Nabha in charge today raided government offices in the town and "took to task" the officers allegedly absent from the duty.

Makhan Singh Lalka (seated), SAD halqa in charge, during a raid at a health centre in Nabha on Friday. A Tribune photograph

Notice to Chief Secy on Ghaggar pollution
New Delhi, June 6
The National Human Rights Commission has issued notices to the chief secretaries of Punjab and Haryana with regard to high pollution levels in the Ghaggar.
Thermal plant unit made functional
Ropar, June 6
The unit number 5 of the Guru Gobind Singh Super Thermal Plant (GGSSTP) became functional today. The unit was under repair after a leakage was detected in its boiler on June 3. The repair was completed at 11 pm yesterday.
Residents of Bathinda village cane-charged
Bathinda, June 6
Residents of Bhai Rupa village, who are at loggerheads with the SGPC over the ownership of 161 acre of land, protesting outside the courts complex in Phul town today. They were cane-charged. Two villagers were injured. They were hospitalised.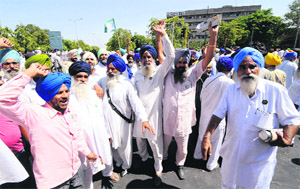 farmers protest:

Members of the Bharatiya Kisan Union (Rajewal) block traffic in support of their demands in front of Kisan Bhawan in Sector 35, Chandigarh, on Friday. Tribune photograph: Pradeep Tewari
No drugs, patients protest
Sangrur, June 6
A large number of drug addicts today held a protest against the non-availability of medicines at Jan Aushadhi Store at the local Civil Hospital. They raised slogans against the government.
Poll expenditure reports sought
Fatehgarh Sahib, June 6
The district electoral officer has directed all candidates who contested from the Fatehgarh Sahib (Reserved) constituency in the recently concluded parliamentary elections to submit their election expenditure reports by June 16.
Heat wave: PAU lists steps to protect cotton
Chandigarh, June 6
Punjab Agricultural University (PAU) today came out with an advisory for the farmers recommending measures to be taken to protect crops, including cotton and paddy nurseries, from intense heat wave prevailing in the region. The temperature today hovered around 45 degree Celsius in most parts of the state.
Moga admn promotes maize cultivation
Moga, June 6
The state government has launched a drive to promote crop diversification for saving ground water.
Under debt, Bathinda farmer ends life
Bathinda, June 6
Under debt, a 47-year-old farmer allegedly committed suicide by consuming a poisonous substance in Rampura town of the district last evening.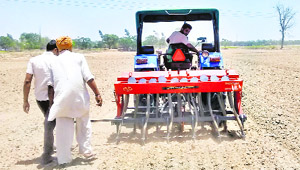 Sangrur to double area under direct sowing of paddy
Sangrur, June 6
With an aim to check further depletion of water table in its areas, Sangrur district is all set to double area under direct-sowing of paddy and basmati during the current kharif season (2014-15).

Mechanised farming: A farmer uses a machine for direct sowing of paddy in his fields in Cheema village of Sangrur district. A Tribune photograph

Anti-drug drive casts shadow on paddy sowing
Rajpura/Patiala, June 6
Farmers from across the Malwa belt are thronging far-off railway stations of Rajpura and even Ambala to look for labourers for sowing paddy.
Fatehgarh Sahib to go hi-tech on 4,000 hectares
Fatehgarh Sahib, June 6
Direct sowing of paddy and opting for less water-consuming crops like maize could be of major help to farmers as the water table had been depleting very fast over the past few years, said Deputy Commissioner Arun Sekhri here today. He was addressing a gathering of farmers at Kasumbri village after inaugurating a farmers' training camp under the ATMA scheme.



Illegal donations: Sikh hotelier Chatwal's sentencing deferred
New York, June 6
Indian-American hotelier Sant Singh Chatwal's sentencing on charges of illegally donating thousands of dollars to political campaigns in the US has been delayed till October.



HC stays hiring drivers for Ambulance 108
Chandigarh, June 6
Acting on a petition filed by "Employees Association 108" for restraining the State of Punjab and other respondents from showing the door to 1,200 employees working with its ambulance services, the Punjab and Haryana High Court today stayed the operation of an advertisement for carrying fresh recruitment.
Spell out reasons for appointing junior as Judge-Advocate: HC
Chandigarh, June 6
In a significant judgment on court martial proceedings, the Punjab and Haryana High Court has ruled that non-recording of reasons for appointing a junior officer as the Judge-Advocate in the convening order, and lack of communication of reasons for constitution of the court martial, invalidate the proceedings.



Member of gang with Pak links held
Tarn Taran, June 6
The district police today unearthed a seven-member gang of smugglers having links with Pakistan-based smugglers, arresting one of the gang members near Kajikot village.
Former sarpanch killed by labourer
Kahnuwan, June 6
A former sarpanch was allegedly killed by the migrant labourer he had engaged to look after his agricultural land at Bikhari Harni village located in the jurisdiction of Kahnuwan police station here today.
One killed, eight medicos hurt
Abohar, June 6
Raghuvinder (30) of Himmatpura village was killed and eight persons were injured when the motorcycle he was riding on collided with a medical van near a petrol pump in Khubban village today.