PRTC employees, men of Akali transporter clash

Faridkot, June 1
A clash between PRTC employees and supporters of an Akali transporter at the local bus stand today left several persons injured. Four buses were damaged.




Supporters of an Akali transporter and PRTC staff clash at the Faridkot bus stand on Sunday. A Tribune photograph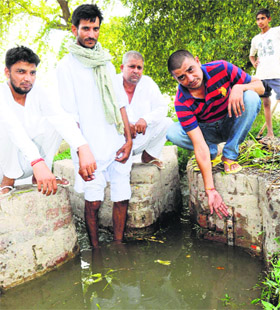 At tail-end of canal, woes flow aplenty for this village
Khanpur (Fazilka), June 1
Thirtythree-year-old Jasbir Singh would have been a typical strapping youth of Punjab but for his early grey hair. Those are partly due to the high-flouride content in the underground water and largely due to stress on account of repeated crop failures. Under debt, like almost all the 125-odd families of this border village, Jasbir has been waiting for a good crop for the past four years.






Getting Scarce: Khanpur residents show poor water level in the distributary reaching the village. Tribune photo: Pawan Sharma

Sunil Jakhar quits as CLP Leader
Muktsar, June 1
Senior Congress leader Sunil Kumar Jakhar, who lost the Lok Sabha elections from Ferozepur, has said that he has resigned as Congress Legislature Party Leader.
naxalite remark
AAP leaders threaten to sue Capt
Patiala, June 1
Two AAP leaders have threatened to take former Chief Minister and Congress Working Committee member Capt Amarinder Singh to court for calling AAP a party of Naxalites.They have threatened to sue him if he fails to prove the allegation.
My son had only offered to resign, says Dhindsa
Sangrur, June 1
Shiromani Akali Dal (SAD) general secretary Sukhdev Singh Dhindsa today said his son Parminder Singh Dhindsa never resigned from the post of Finance Minister.
Don't help those in drug trade, Akali Dal tells its workers
Jalandhar, June 1
Shiromani Akali Dal (SAD), Jalandhar (Urban) president, Gurcharan Singh Channi has instructed party activists and office-bearers of the district unit not to extend any help to those involved in drug trade.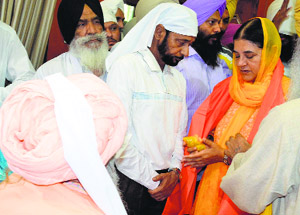 Maneka visits Hansali dera
Fatehgarh Sahib, June 1
Union Minister for Women and Child Development Maneka Gandhi visited Nirmal Dera Hansali and sought the blessings of Sant Baba Ajit Singh Hansaliwale here this morning.




Union Minister for Women and Child Development Maneka Gandhi at the Nirmal Dera Hansali on Sunday. A Tribune photograph

Put diesel on list of essential items: CM
Bathinda, June 1
Reluctant to criticise the BJP-led NDA Government at the Centre, Chief Minister Parkash Singh Badal today urged the Central Government to include diesel on the list of essential commodities.
30th anniversary of Operation Bluestar
Resolution passed for UN investigation
Chandigarh, June 1
A convention called here today to observe the 30th anniversary of the Operation Bluestar at the Golden Temple passed a resolution demanding a probe by the United Nations Organisation (UNO) into the circumstances leading to the massacre of hundreds of innocent pilgrims at the shrine in 1984.
Dal Khalsa calls for Amritsar bandh on June 6
Amritsar, June 1
Radical Sikh outfit Dal Khalsa has called for Amritsar bandh on June 6 to mark the 30th anniversary of the Army's Operation Bluestar at the Golden Temple.
Dell's decision to log off from Mohali a setback for IT sector
Chandigarh, June 1
The decision of US-headquartered Dell Corporation to transfer its customer support business from its Mohali unit may not augur well for Punjab's fledgling Information Technology (IT) sector.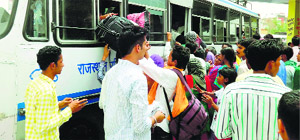 Over 21,000 take test for 300 posts of cops
Abohar, June 1
As many as 21,348 youths turned up to take the test for 300 posts in the Rajasthan Police in Sriganganagar district today.

Candidates try to board a bus to reach their examination centres for taking the test for 300 posts of policemen in Sriganganagar on Sunday. A Tribune photograph

Where liquor distillation is a cottage industry
Fazilka, June 1
Chack Balocha village in Fazilka district has been a heaven for bootleggers and drug peddlers for the past around five decades. The Saturday night assault on a police party by sarpanch Om Parkash (alias Raju) and his supporters has once again brought the village into spotlight. Those attacked included Jalalabad Sadar SHO Harinder Singh. The police party had gone there to raid an illicit liquor distilling unit.
Permanent Lok Adalat non-functional
Abohar, June 1
The Permanent Lok Adalat (Public Utility Services) at the Ferozepur divisional headquarters has been virtually non-functional ever since the retirement of its Chairman Amarjeet Singh Katari two years ago.
Hyderabad clash: SGPC to assist jailed Sikhs
Amritsar, June 1
The SGPC has decided to take legal recourse to ensure the release of Sikh youths arrested in the aftermath of a communal clash in Hyderabad recently. It would also construct a boundary wall around the 'Nishan Sahib' where the incident took place. The SGPC has sanctioned Rs 10 lakh for the purpose.
Anandpur Sahib centenary on June 19
Anandpur Sahib, June 1
The Shiromani Gurdwara Parbandhak Committee (SGPC) is all set to celebrate the centenary of Anandpur Sahib, which was founded by ninth Guru Tegh Bahadur on June 19, 1665. The centenary celebrations will start with a big congregation at Gurdwara Bhora Sahib and will conclude on June 19 next year.
Teachers told not to leave station during vacation
Mohali, June 1
Government school teachers of at least six districts have reportedly been directed not to leave their respective stations during the summer vacations. These are to start today and end on June 30.
VAT refund claims down by 50%, says Excise Commissioner
Patiala, June 1
Claiming that there is no dearth of funds for the grant of VAT refunds, Anurag Verma, Excise and Taxation Commissioner, Punjab, said since a dedicated fund was set up in December 2013, the pendency of refund claims had come down from Rs 547 crore to Rs 273 crore.
Millers demand security refund, threaten stir
Fatehgarh Sahib, June 1
Rice millers have alleged that the state government has not refunded their securities worth crores of rupees despite the fact that they have delivered the rice to the central pool.
Rajasansi youth dies at Army recruitment rally
Amritsar, June 1
Sukhwinder Singh, a 19-year-old youth, today collapsed during an Army recruitment rally at the Khasa Cantonment area here.


protest against khaki:

BKU (Ugrahan) protest against the Punjab Police for "protecting" a local Akali leader, who had allegedly abused their activist Ranjodh Singh Jodha, at Badhni Kalan in Moga on Sunday. A Tribune photograph
Waris brothers' musician killed in US plane crash
Sacramento, June 1
Two Punjabi men were killed in a plane crash near Denver, US. One of them was singers Manmohan Waris and Kamal Heer's musician Jatinder Singh, 30. The singers, who are performing throughout the US, cancelled their Denver show.



Official renews licence as liquor firm moves court
Chandigarh, June 1
Ropar-based KD Sharma and Company, holding a wholesale licence for Indian-made foreign liquor since 1977, was denied renewal for 2014-15 after the state government allegedly adopted a "pick-and-choose" policy. But responding to a petition filed by them before the Punjab and Haryana High Court, the authorities concerned finally renewed the licence.



Three cops in police net for killing villager
Faridkot, June 1
The police have booked three of its own staff members for allegedly mowing down a villager under their car. The mishap occurred on the Faridkot-Talwandi road last evening allegedly as the car was being driven rashly. The trio were allegedly in an inebriated condition.