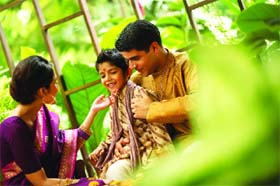 The crux of the complicated world of financial planning lies in answering one simple question - What my rupee can buy today, how much of it will the same rupee be able to buy tomorrow?
We all want the best for our children, the prime objective is my child should get better in life than what I got as a child, it means providing them with better education which will allow him to prosper, ability to help them settle down with marriage and then the so called "my responsibility ends" feeling sets in. The irony is that as each year passes, the cost for each of our basic needs increases significantly and our pursuit to chase our dreams still continues. This is how inflation squeezes our wallet every single year. And with inflation rate growing faster than macro-economic growth rate over the past few years, the future won't be easier.
Well begun is half done they say but in the financial world beginning early to plan for your child's future is extremely important, we have access to financial planning as a concept which helps in planning for our life goals in a systematic manner both in the short term as well as long term.
At an inflation rate of 6-7%, average cost of education from Rs 1 lakh will jump to Rs 2 lakh in just 10 years time, we learn compound interest formulae very early in our school lives but apply it very late in our financial lives is a fact that many of us can't run away from.
There are various instruments which facilitate planning for children's education. These include savings account for children, child insurance plans, child mutual fund schemes or creating own plan through combination of stocks, mutual funds and bonds.
Opening a children's savings account is perhaps the easiest way to start planning for the child's future. With this account, parents can build a long-term savings corpus for the child by depositing money regularly in the form of Systematic Investment Plans (SIPs) or Recurring Deposits (RDs). Such accounts also inculcate early savings habit in children.
Child benefit mutual fund scheme is an alternative for parents seeking to invest in options that provide them relative growth through equity participation as well as stability of debt instruments. These schemes are structured either as balanced fund or debt-oriented hybrid structure which is low on equity.
These schemes also provide the flexibility of systematic investments for those who cannot invest lump sum amount. SIPs help investors in investing at regular intervals for a certain period in a disciplined manner even allowing for smaller amounts.
Children insurance plans help in insuring child's education needs in future even if the parent (policy holder) passes away. The future premiums will be paid by the insurer so that the child receives the targeted corpus on maturity. There are certain children insurance plans which come with riders such as providing regular income in case of parent's death.
Investors can also create their own portfolio of stocks, bonds and various mutual funds. However, these require in-depth analysis of various instruments, awareness and continuous update of macro-economic conditions and a proper assessment of one's risk appetite.
Another important asset class people plan for is gold but with the way gold prices has moved over the past 10-15 years, these expenses may come to you as a sudden jolt if we do not plan in advance.
In the past five years, gold mutual fund schemes have emerged as one of the attractive investment tools for investing in gold. These are either in the form of Gold ETFs or Fund of Funds which invests in Gold ETFs. Investors can buy one unit to multiple units either from the exchange or by applying to AMCs. Gold ETFs invest in physical gold which has almost 99.9% purity and is stored with custodians. These units come in electronic mode and get stored in the demat account of the customer.
The customer saves on the insurance cost and wealth tax also on these investments. If one does not have lump sum amount to invest in Gold ETFs, Gold Fund of Funds provide systematic investment options. Thus, investors may choose a specific investment amount which will get invested regularly over a pre-specified period.
There are various alternatives, which will help you in achieving important goals of life. However, one needs to plan smartly to achieve it.
And the harsh reality of life is "failing to plan means planning to fail."
The author is executive vice-president, Kotak Mahindra Bank. The views expressed in this article are personal and do not reflect the views of Kotak Mahindra Bank.