rape of 'lower-caste' girls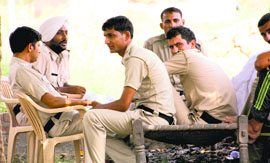 Bhagana Dalits stand divided
Bhagana (Hisar), June 6
A section of Dalits of Hisar's Bhagana village, where four Dalit girls were allegedly raped by Jat boys, don't want any confrontation with the upper-caste community. Probe them about their brethren who have been protesting for justice to the victims and they say that the law should take its own course.

Police deployed outside Bhagana village in Hisar district. Photo: Manoj Dhaka

Hooda clears Rs 15 crore for Yamunanagar uplift
Chandigarh June 6
Haryana Chief Minister Bhupinder Singh Hooda today approved over Rs 15.23 crore for various development works in the Municipal Corporation of Yamunanagar-Jagadhari. An official spokesman said Rs 290.93 lakh has been approved for development works such as streets, drains, nullahs, footpath and parks in ward numbers 1,2,3,4,5 and 6 of the Yamunangar-Jagadhari Municipal Corporation.
Hooda hints at separate gurdwara panel
Sirsa, June 6


Sikhs in Haryana can hope to get a separate Shiromani Gurdwara Parbandhak Committee (SGPC) before the coming Assembly elections - a demand that has been hanging fire for the past more than a decade. Chief Minister Bhupinder Singh Hooda gave enough hints of this during his speech in the workers' meeting and while addressing the media in the PWD Rest House here today.
Cong puts Sadhaura MLA on notice for indiscipline
Yamunanagar, June 6
The Haryana Congress Committee today issued a show-cause notice to Sadhaura MLA Rajpal Bhukhri for breaking party discipline. Sources said Bhukhri was issued the notice after he spoke out against Chief Minister Bhupinder Singh Hooda yesterday. He had done so several times in the past, too. Shakeel Ahmad, party's state in-charge, said the notice might have been issued by the party's state unit.
Hooda out to consolidate activist base
Sirsa, June 6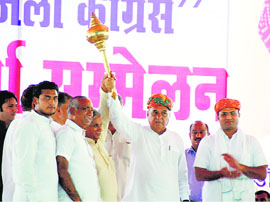 Chief Minister Bhupinder Singh Hooda will meet over two lakh Congress workers in the state in June to constitute a committed force of party activists for the upcoming state Assembly polls. Hooda and State Congress chief Ashok Tanwar addressed a meeting of party workers in Sirsa today. He said the results of the coming Assembly polls would be different from the parliamentary elections, as voters were misled to vote in favour of one individual.

Chief Minister Bhupinder Singh Hooda is presented a mace during a workers' meeting in Sirsa on Friday. State Congress chief Ashok Tanwar (extreme right) is also seen. A Tribune photograph
One killed in acid attack on family
KAITHAL, JUNE 6
In a shocking incident, five members of a family from Harnouli village of Guhla subdivision in the district were severely injured in an acid attack, at their house late Wednesday night.
Protesting computer teachers reach Pipli
Kurukshetra, June 6
Hundreds of computer teachers, who are marching towards New Delhi to put forth their demands before Prime Minister Narendra Modi, reached Pipli Chowk in Kurukshetra here today braving high temperature.
Gharaunda minor's rape: Traders shut shop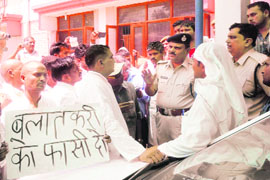 Karnal, June 6
Irate over the police inaction in an eight-year-old girl's kidnapping and rape case, the residents and traders of Gharaunda, today held a protest and downed their shutters. They raised the slogan against the police and demanded arrest of the accused. Protesters also served an ultimatum of ten days to find the accused.

Police personnel pacify angry villagers protesting inaction in the kidnapping and rape of a minor at Gharaunda in Karnal on Friday. A Tribune photograph

In Ambala, girls race past boys in boards
Ambala, June 6
Ankur Pal, brought laurels to SA Jain Senior Secondary School, Ambala City, by securing 93.6% marks in the Class X examinations, conducted by the Haryana School Education Board. As many as 34 students of this school secured merit positions. In the Class XII examinations, Sunil Kumar secured 92% marks in the non-medical stream while Subham secured 86% in the commerce stream.
Fresh warrant against Drug Control Officer
Fatehabad, June 6
A local court has once against issued a fresh warrant to arrest absconding Drug Control Officer Suresh Chaudhary. Chaudhary has been evading arrest ever since a case under Prevention of Corruption Act was registered against him at the State Vigilance Bureau police station here on May 27.
KU teachers call on Hooda
Kurukshetra, June 6
A delegation of Kurukshetra University Teachers' Association (KUTA) met Chief Minister Bhupinder Singh Hooda to submit a memorandum in Delhi on Friday. KUTA president Dr Anil Gupta said teachers felt discriminated against the grant of five advance increments given to teachers holding PhD degree without NET at the entry level.
Govt boost for healthcare
Chandigarh, June 6
The Referral Transport Service of the Health Department will now benefit children up to the age of five. The service was earlier given to newborns till 30 days of their birth. Besides, the state government would soon purchase 50 new ambulances.
Three get 20 years' jail for raping minor
Sonepat, June 6
Additional Sessions Judge Manisha Batra has sentenced three persons to 20 years' imprisonment each for raping a minor. The court also imposed a penalty of Rs 35,000 each on the convicts , including Naveen of Nizampur Majra, Virender and Jitender of Farmana village.
Woman kills alcoholic husband
Ambala, June 6
Unable to bear the daily tantrums of her alcoholic husband, a woman in Haldri village of the district took his life by hitting him on his head with a hammer and then surrendered before the police. Roshan Lal, a local farmer, was killed by his wife Vimla Devi late last night after the two got into an argument over the selling of a piece of agricultural land which belonged to Roshan Lal. The feud turned bloody, when Vimla Devi picked up a hammer and hit her husband on his head. She then strangulated him to make sure he died, the police said. Police have registered a case. — TNS
23 vehicles destroyed in fire at police station
Karnal, June 6
As many as 23 vehicles caught fire at the Nissing police station today. A major tragedy was averted as the fire was controlled in time with the help of two fire brigades, local residents and policemen. The incident caused panic among people living in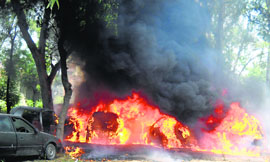 surrounding areas. Superintendent of Police (SP), Abhishek Garg, also visited the spot. Ajit Singh, SHO, Nissing, said some vehicles that caught fire were accidental, while some were impounded. He said the exact cause of fire was yet to be ascertained. As many as 23 vehicle including 12 cars, two three-wheelers, a tractor, two jeeps and six bikes caught fire and were destroyed completely. TNS

Impounded vehicles that caught fire at Nissing police station in Karnal on Friday. A Tribune photo

Subsidy for Hepatitis-C patients
Chandigarh, June 6
The state government has extended the Jeevan Rekha project to all chronic Hepatitis C patients. General category patients who were earlier not covered under this scheme would now be given treatment at a subsidised rate of Rs 1 lakh for six months. A round-the-clock Hepatitis C Helpline (8950012900) is already operational for all queries on the disease. — TNS
Electoral rolls to be revised
Chandigarh, June 5
As per the directions of the Election Commission of India, the special summary revision of the electoral rolls of all 90 Assembly constituencies in Haryana will be done with reference to January 1, 2014, as qualifying date. Maheshwar Sharma, Additional Chief Electoral Officer, Haryana, said here today that the draft electoral rolls would be published on June 9. The period for filing of claims and objections will be between June 9 and 30. — TNS
Employment Dept office moved to Panchkula
Chandigarh June 6
The office of the Haryana Employment Department has shifted from Chandigarh to Panchkula. A spokesman said now, the office would function from Bays No. 55-58, Paryatan Bhawan, Sector 2, Panchkula. The new phone number of Director of the Department is 0172-2570054 and the fax number is 0172-2570065. — TNS