Evasion of tax
Paonta Sahib industry slapped Rs 2,100 crore penalty
Shimla, June 22
After the Economic Intelligence Unit (EIU) of the Himachal Excise and Taxation Department gathered specific inputs, a Paonta Sahib-based industry has been fined Rs 2,100 crore for alleged tax evasion while a Baddi unit is under the scanner. R S Negi, Excise and Taxation Commissioner, said the defaulter unit, Indian Technomet Industries, manufactures refined non-edible oils used for heavy machinery, including aircrafts.
25 govt degree colleges to get Rs 1-cr grant each
Shimla, June 22
As many as 25 government degree colleges in the state will get infrastructure grant of Rs 1 crore each, while Rs 18.3 crore will be provided to the state for the creation of university by the conversion of cluster of colleges. The Project Approval Board (PAB) of the Rashtriya Uchchatar Shiksha Abhiyan (RUSA) has sanctioned Rs 50 crore for these colleges for two years and the allocation for 2014-15 is Rs 25 crore.
Admission norms for engg colleges may not be eased
Mandi, June 22
Private engineering colleges facing admission crunch are not likely to get relaxation in admission norms for Bachelor of Engineering (BTech) courses in the current session as the state government does not finding merit in this demand. Sources in the state government have said the state government has decided not to relax the eligibility conditions for admission in private engineering colleges. The students, appearing in Joint Entrance Examination (JEE), will be eligible for admission.
Disaster-hit state needs action plan
Palampur, June 22
After the June 8 Beas mishap and the devastation caused by heavy rains and flash floods in Kinnaur district last year, there is an urgent need for setting up a Disaster Mitigation Action Plan in the state. Several organisations, NGOs, environmental groups and public bodies have already demanded such a plan to cope with natural disasters.
Parents of abducted youths seek govt help
Kangra, June 22
Three youths, Aman Kumar of Passu, Inderjeet of Kadreli Lunj and Sandeep Kumar of Dameta, have been in the custody of terrorists in Iraq. They had joined TNH company in September last year. The youths talked to their family members on June 15 last time.
BJP, CPM flay govt for playing with future of medical students
Shimla, June 22
While accusing the Congress government of playing with the future of medical students, BJP state president Satpal Singh Satti today said it was strange that seats of Indira Gandhi Medical College (IGMC), Shimla, and Dr Rajendra Prasad Government Medical College (DRPGMC), Tanda, had been reduced from 200 to 115. On the other hand, a private medical college had been given permission to admit 150 students.
Board to take stock of rescue, relief operations
Shimla, June 22
The Himachal Pradesh Disaster Management Board (HPDMB) will take stock of district-level disaster management plans, including rescue and relief operations, in case any emergency hits the state. The washing away of 24 engineering students from Hyderabad on June 8 in the Beas due to the sudden release of water from the Larji power project barrage exposed that the disaster management cells remain defunct in the state.
VIGNETTES
Siddharth Pande clicks to motivate people
The quality of Siddharth Pande's recent photographic exhibition at the Gaiety Theatre is not to be gauged by the fact that he had had an exhibition of his photographic skill at Cambridge, UK. It is our habit that we grandiose a thing or person or skill that has a western air about it. A photograph needs to be evaluated through the five tenets of art photography.
Palampur faces power woes; lack of equipment, staff blamed
Palampur, June 22
Poor infrastructure, old equipment and shortage of technical staff have led to an acute power crisis in the Palampur region. Power failure has become a regular feature here as Himachal Pradesh State Electricity Board Limited (HPSEBL) resorts to unannounced power cuts.
Dalai Lama's Kalachakra teachings in Leh from July 3
Dharamsala, June 22
The Kalachakra teachings by the Dalai Lama will be held in Leh from July 3 to 13. This was a setback for the tourism industry in Dharamsala. The Kalachakra teachings are considered to be the most holy sermon among Buddhist people in India and the world at large.
Stone of awareness centre laid
Bharmour, June 22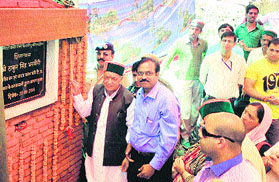 Forest Minister Thakur Singh Bharmouri laid the foundation stone of a forest awareness centre (van chetna kendra) yesterday. The centre will be constructed at an estimated cost of Rs 50 lakh at Lahal tribal village of Bharmour subdivision in Chamba district. The three-storey building will be completed by the end of this year.

Forest Minister TS Bharmouri lays the foundation stone of forest awareness centre in Bharmour village on Saturday.

Bihar resident nabbed with 5 kg charas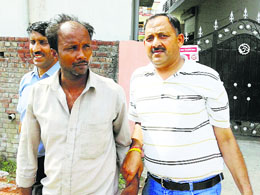 Kangra, June 22
Acting on a tip-off, the Kangra police arrested a 37-year-old man today and recovered 5 kg charas from his possession. MS Manhas, SHO, Kangra, said Kanti Lal, a resident of Jonkati village of Pachim Champaran district of Bihar, was carrying 5 kg charas and was scheduled to deliver the consignment to Dinesh Kumar of the Zamanabad road area near Jayanti Vihar.

Kanti Lal (left) being taken by a policeman in plain clothes in Kangra on Sunday. Photo: Ashok Raina

1 killed, 18 injured in Kangra road mishaps
Kangra, June 22
A person was killed and 18 others were injured in road accidents in the district during the past 24 hours, the police said here yesterday. Kangra District Additional Police Chief Shiv Kumar said in the first incident, Sunny (27) was killed when his bike was hit by a Santro car at Jachh on Friday. The police arrested car driver Mohammad Azad Pir of Srinagar.
Traffic jams put off tourists
Shimla, June 22
As thousands of tourists are arriving in the state during the ongoing tourist season, the recurrent traffic jams have become a nightmare for the visitors. Long queues of vehicles have become the order of the day. A large number of vehicles were stranded between Dharampur and Kalka on National Highway-22. Vicky Malik of Karnal, who was going back after his weekend holiday at Chail, said, "We came to Himachal to enjoy the cool climate, but the charm of the holiday has faded due to the long wait in the jam. I was held up near Timber Trail for three hours." Commuters said the metalling of the road near Timber Trail and deployment of heavy machinery was responsible for the traffic jam, but the authorities should ensure that visitors are not hassled. TNS
Una DC goes strict on under-age drivers
Una, June 22
Abhishek Jain, Una Deputy Commissioner (DC), has issued written directions to the heads of educational institutions to check the driving licences of their students driving two-wheelers. The step was taken after a number of accidents were reportedly caused due to school-going children driving two-wheelers. The DC observed that not only do the minors ride two-wheelers, they are never seen wearing helmets. These, he said, were the reasons for the increasing rate of accidents. He also appealed to the parents to desist from giving two-wheelers to their children who did not have a valid driving license. He said the administration would get tough on law offenders. — OC
Rape accused confesses crime
Shimla, June 22
The Shimla police today claimed that the second accused in the 17-year-old girl's rape case, who was arrested on June 20, has confessed to the crime. The accused has been sent to judicial custody for identification test by the victim. Sketches of both the accused were made public and the first accused, who was earlier arrested is a resident of Shimla, and works as peon in the Education Department. The minor girl was allegedly raped by two unknown persons near tunnel number 103 on May 16. TNS
SBI opens customer service centre
Bharmour, June 22
IS Negi, Regional Director of the Reserve Bank of India (RBI), inaugurated an SBI customer service centre at Sirdi tribal village in Bharmour subdivision of Chamba district last week. The centre was set up by FIA Technology, an authorised agency of the SBI. Pankaj Gupta, head of FIA Technology north-zone, said schoolchildren would get a facility of online banking in schools. Ravi Rawal, Assistant General Manager, RBI, Rahul Shashni, District Manager, NABARD, and LR Thakur, lead District Manager, were also present. — OC
Transferred
Shimla, June 22
Chaman Lal, SDO (Civil), Chopal, Shimla district, has been posted as OSD (Officer on Special Duty), Sainik Welfare, Hamirpur, while Naresh Kumar, OSD, Sainik Welfare, Hamirpur, has replaced Chaman Lal at Chopal. — TNS