2 police officers clash at Gurdaspur jail
Gurdaspur, June 22
Two Deputy Superintendents of Police (DSPs) allegedly clashed at the Gurdaspur Central Jail late last night. A jail employee who was trying to mediate was injured.
Lambi villages to install 'drug free' boards
Lambi, June 22
Villages falling in Chief Minister Parkash Singh Badal's home constituency Lambi will soon display boards announcing they are "drug free".
22 rehabilitation centres to be set up for addicts: Jyani
Phagwara, June 22
Punjab Health Minister Surjeet Jyani said the state government was planning a rehabilitation programme to ensure a dignified life for drug addicts in the state. He said it wanted to set up 22 rehabilitation centres, one in each district.
Dental colleges fear seats may remain vacant this year
Chandigarh, June 22
With several students from the state clearing the All India Pre-Medical Test (AIPMT)-14, dental colleges of the state apprehend that almost all of their seats will remain vacant. They fear that most students will prefer the MBBS course in medical colleges.
MBBS admission
Domicile issue mars day 2 of counselling
Faridkot, June 22
Counselling by Baba Farid University of Health Sciences (BFUHS) for admission to 770 MBBS seats in seven medical colleges of Punjab has once again created a controversy as many students of Punjab are objecting to filling of over 70 seats from among the students of other states.
Colleges keep medicos in dark on seats
Patiala, June 22
Even as Baba Farid University of Health Sciences (BFUHS) began counselling for MBBS seats in state medical colleges on Saturday, aspirants are still in the dark on the number of sanctioned seats available in the state.
Capt takes on Badal over Haryana gurdwara panel
Amritsar, June 22
Amritsar MP Capt Amarinder Singh today questioned Chief Minister Parkash Singh Badal's "double standards" in opposing the formation of a separate gurdwara parbandhak committee for Haryana.
Cong dharna outside CM's house today
Chandigarh, June 22
Congress MLAs in the state plan to stage a dharna outside the residence of Chief Minister Parkash Singh Badal at 11 am tomorrow to seek payment to sugarcane farmers totalling Rs 183 crore, withdrawal of property tax and payments under various social security and welfare schemes
Youths in Iraq post video seeking help
Hoshiarpur, June 22
Several Indians stuck in strife-torn Iraq are using their cellphones to post videos to their families, depicting the sorry state of affairs that they are in and desperately seeking help. Some of these videos have been uploaded on the net.
Confusion over number of Batala youths stuck in Iraq
Gurdaspur, June 22
The latest list released by the police control room in Chandigarh on the missing people in Iraq does not match with the statistics gathered by the Batala police.
Desperate for help, families gather in Ludhiana
Ludhiana, June 22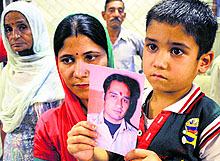 Families of several youths stranded in Iraq assembled in Ludhiana today and appealed to the government to ensure the safe return of their near and dear ones. "Twentytwo Punjabi youths, most of them working in Al Nijam company in Baghdad, are not being allowed to move outside the company building. Their passports have been taken away," claimed a woman, her face stained with tears.


holding on to hope: The son of Rajesh Kumar, who is stranded in Iraq, holds his picture, in Ludhiana on Sunday. Tribune photo: Himanshu Mahajan


'Agent promised me job, firm didn't exist'
Jalandhar, June 22
The narrative by 22-year-old Gagandeep, a resident of Mehandpur village in Nawanshahr who returned from Iraq two days ago, has once again exposed the misdeeds of the travel agents.



Gagandeep of Nawanshahr
State wants Centre to hike funds for food parks
Chandigarh, June 22
The state government has urged the Centre to change its Mega Food Park (MFP) scheme to make it viable for states like Punjab. In a detailed note submitted to the Centre, the government has sought that the debt component be lowered and the financial support enhanced.
Five more die in heat wave
Amritsar, June 22
Five persons, including a woman, have died in the past 24 hours because of intense heat, say police sources. One of the victims was identified as Baldev Singh, a resident of Khalsa Nagar Bhai Manj Road.



2 ITBP men dead
More farmers turning to groundwater
Amritsar, June 22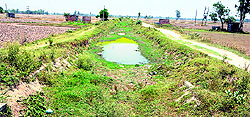 With the century-old canal system collapsing, farmers are being forced to draw more and more groundwater for irrigation. Owing to sheer apathy of the authorities, a number of canal distributaries in Amritsar and Tarn Taran have not received water for decades.

A dried up canal in Ajnala. Photos: Vishal Kumar

Strike called off as Sukhbir invites engineers
Patiala, June 22
In a major relief for farmers during the paddy season, the state executive committee of PSEB Engineers' Association has decided to discontinue the 'work to rule' agitation.
Punjab to emerge as global tourist centre, says minister
Nawanshahr, June 22
State Tourism and Jail Minister Sohan Singh Thandal today said Punjab would emerge as a global tourist centre. The Cultural and Tourism Department has been told to submit a report in this regard in a month.
the tribune impact
Rain brings cheer to guar growers
Abohar, June 22
Pre-monsoon rain that lashed Rajasthan's border district Sriganganagar on Sunday brought cheer to the local guar growers.
Woman rickshaw puller gets bank support
Muktsar, June 22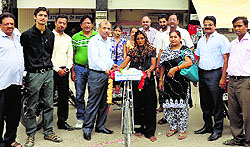 The State Bank of Patiala on Saturday handed over a new rickshaw to Jinder Kaur, the lone woman rickshaw puller of Muktsar. A report on her plight, "Muktsar's Jinder plies a rickshaw for a living", was carried in The Tribune on Thursday.



Officials of the State Bank of Patiala hand over a rickshaw to Jinder Kaur in Muktsar on Saturday. A Tribune photograph

Sale of broken grains can't be restricted: HC
Chandigarh, June 22
The Punjab and Haryana High Court has made it clear that restrictions cannot be imposed on sale of small and broken grains in markets; and the imposition of such restriction by Market Committees in Punjab would be invalid. The trading of grains takes place in the markets, where full grains are sold after separation from the small and broken grains, and also from the chaff. The ownership rights of small and broken grains, and the chaff, remain with the seller.