Bus fares hiked by 8 paise per km
Chandigarh, June 16
Bowing to pressure built by private bus operators, the Punjab Government today hiked bus fares by eight paise per kilometre. The state government has not revealed the revenue generated by the hike.
Pepsu staff strike work in Patiala
Patiala, June 16
Hundreds of employees working with Pepsu Road Transport Corporation (PRTC) held a massive protest at the Patiala bus stand today demanding merger of PRTC with Punjab Roadways in view of the PRTC's poor financial condition.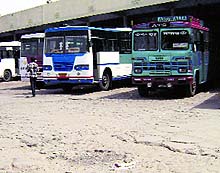 PRTC chief lying about bus stand's condition, BJP leader to rights body
Sangrur, June 16
State BJP secretary Jatinder Kalra today said PRTC Managing Director's reply to Punjab State Human Rights Commission's query on the poor condition of the PRTC bus stand was a bunch of lies. Kalra had complained to the commission about the bad state of the bus stand.

The PRTC bus stand in Sangrur. A Tribune photograph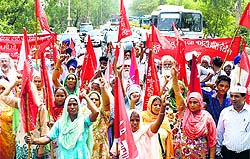 From farms to roads:

Farmers hold a demonstration at the Rajpura-Patiala highway on Monday. Tribune photo: JS Virdi

New Gurdaspur bus stand hangs fire
Gurdaspur, June 16
The construction work of the new bus stand on Tibri Road has hit a road block with the district administration wary of shifting a gurdwara situated on the premises. They remain tight-lipped as to why the gurdwara was not removed when the original map was drawn. Deputy Chief Minister Sukhbir Badal had laid the stone around three years ago.
MGNREGA scam: No action taken against indicted officials
Muktsar, June 16
The police have failed to take any action against erring officers of the Zila Parishad even though two inquiries found them guilty of misappropriating MGNREGA funds in Muktsar district in 2012. The probe officers found that the erring officers bungled nearly Rs 13 lakh while purchasing stationery items.
Congress MLAs to hold protest outside Badal's residence
Chandigarh, June 16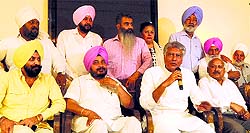 The Congress Legislature Party (CLP) is preparing to corner the ruling SAD-BJP alliance on property tax, the drug and sand mafia, the 'pitiable' condition of cities and non-payment of dues amounting to Rs 186 crore to cane growers.



Congress legislators at a meeting of the Congress Legislature Party at Punjab Bhawan in Chandigarh on Monday. Tribune photo: Pradeep Tewari


Harsimrat's first meeting post-poll win likely in Lambi
Lambi (Muktsar), June 16
After remaining away from her constituency for more than a month, Bathinda MP-cum-Union Minister for Food Processing Industries Harsimrat Kaur Badal is likely to visit Lambi Assembly segment on June 20. Lambi gave her the highest lead of 34,300 votes in the Lok Sabha elections.

Harsimrat Kaur Badal, Bathinda MP-cum-Union Minister for Food Processing Industries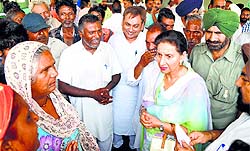 Former Union Minister of State Preneet Kaur with Congress workers at a meeting in Rajpura on Monday. Tribune photo: JS Virdi

AAP will oppose move to amend labour laws
Chandigarh, June 16
The Aam Aadmi Party (AAP) said it would not allow the Modi-led NDA Government to implement the agenda of corporate houses, which "perceptibly played a big role" in the BJP's win in the Lok Sabha election.


'Mission Vistaar'
Akalis losing ground, says Bajwa
Chandigarh, June 16
Partap Singh Bajwa, Punjab Congress president, today alleged the Akali Dal had failed to put up a good show in the Lok Sabha poll since people had judged the state government by its "negative" performance.
Students, teachers of govt-aided schools allege discrimination
Fatehgarh Sahib, June 16
Managing committees, teachers' associations and students of government-aided schools have resented the government decision of not allowing these students admission in newly set up model schools.
Prisoners con cops into recharging cellphones
Chandigarh, June 16
"Jaspal Singh speaking. Please speak to DIG Sahib." A Station House Officer receives a call. A few seconds later, a man with a deep voice and an authoritative tone identifies himself as DIG Farooqui.
Resolve Nanakshahi Calendar controversy, Pakistan gurdwara committee tells SGPC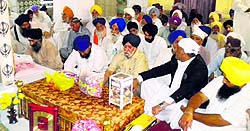 Amritsar, June 16
Sikhs in Pakistan today observed the martyrdom day of Guru Arjan Dev at historic Gurdwara Dehra Sahib in Lahore as per the original Nanakshahi Calendar."



Former DSGMC chief Paramjit Singh Sarna and other members of the Sikh jatha at Gurdwara Dehra Sahib in Lahore on Monday on the occasion of martyrdom day of Guru Arjan Dev. A Tribune photograph

Haryana CM trying to divide Sikhs: Makkar
Amritsar, June 16
SGPC president Avtar Singh Makkar today condemned Haryana Chief Minister Bhupinder Singh Hooda for "trying to create a divide among the Sikh community through a well-planned conspiracy".
Nod to building plan proposals
Chandigarh, June 16
Deputy Chief Minister Sukhbir Singh Badal today approved recommendations for simplifying the process for sanction of building plans. He also emphasised the need to empanel architects and engineers to certify the plans.
Patiala cops looking for Gaba's son
Jalandhar, June 16
Two days after Goraya-based businessman Chunni Lal Gaba appeared before the Enforcement Directorate (ED) for questioning in connection with the Rs 6,000 crore synthetic drug case, the Patiala police today raided his residence in Goraya to nab his son Gurjit Gaba alias Monu.



Why no demand for probing 'fake' encounters, asks Dal Khalsa

land scam
Akali leader had got GPA from Cong activist
Ropar, June 16
The Akali leader, who allegedly sold land that belonged to Takht Sri Kesgarh Sahib to a dera in Pehowa, had got the general power of attorney (GPA) from a Congress leader of Kiratpur Sahib for Rs 12.5 lakh two years ago.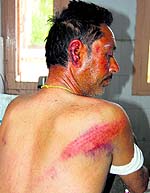 Man alleges police torture, cops deny
Phagwara, June 16
Ram Pal, his wife Anu Bala and sister-in-law Asha Rani were allegedly beaten up by policemen posted at the Dosanjh Kalan police station, near Virk village, last night. Ram Pal, who was admitted to Bara Pind hospital, told mediapersons that he was on way to Phagwara along with his wife and sister-in-law in a Tata Ace vehicle. On the way, their vehicle collided with a motorcycle near Bird Ashram. The motorcyclists attacked them.



Ram Pal shows his injuries. A Tribune photograph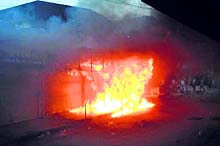 Abohar shop gutted in fire
Abohar, June 16
A confectionary shop was gutted in a fire on Railway Road here today. Fire tenders reached the spot minutes after the incident was reported. However, the shop was badly damaged by the time the fire was doused.



A confectionary shop engulfed in fire in Abohar on Monday. A Tribune photograph

Health Minister raids Barnala Civil Hospital
Barnala, June 16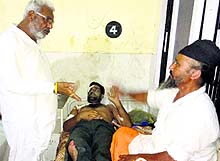 Health Minister Surjit Kumar Jyani conducted a surprise check at the local Civil Hospital last night. He ordered district health authorities to seek written explanation from Senior Medical Officer (SMO) of the hospital why he did not attend to his phone when he (minister) rang him up during the raid at the hospital.



Punjab Health Minister Surjit Kumar Jyani interacts with a patient and his attendant during a surprise visit to Civil Hospital in Barnala on Sunday night. A Tribune photograph

WHO-sponsored project gets going
Patiala, June 16
The Government Medical College, Patiala, that has been selected by the World Health Organisation (WHO) for a neonatal-perinatal database network, conducted the post-mortem of a baby girl who was delivered 'dead' on June 12.
Vaccination for foot and mouth disease
Chandigarh, June 16
The government has issued instructions to provide free vaccination to check the outbreak of foot-and-mouth disease among cattle. It today appealed to the farmers to get their cattle vaccinated at the nearest veterinary hospitals.
BFUHS opens clinic for adolescent drug addicts
Faridkot, June 16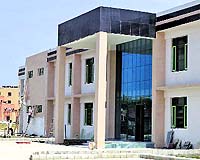 The Baba Farid University of Health Sciences (BFUHS) has started an exercise to map the prevalence of the drug abuse among children and adolescents and treat them. It has also opened a clinic for adolescent drug addicts at the super specialised tertiary de-addiction centre in Faridkot. Set up at a cost of Rs 5 crore, the de-addiction center will provide specialised healthcare to patients.


The newly built de-addiction centre in Faridkot. A Tribune photograph

Counselling for Adesh varsity cancelled?
Bathinda, June 16
The state government has reportedly cancelled counselling for admission to Adesh University Bathinda that was to be held tomorrow (Tuesday). The university is charging Rs 40.28 lakh for admission to MBBS in violation of rules.
Govt to augment water supply
Chandigarh, June 16
The Punjab Government aims to provide piped water supply to all villages by March next year and toilets in the next three years with the help of World Bank.
Woman, son hacked to death by robbers
Fatehgarh Churian, June 16
Unidentified assailants reportedly hacked to death a woman and her son with sharp-edged weapons while the duo was asleep in their house at Bagh Wali Gali in Ward No. 10 at Fatehgarh Churian town in the wee hours today.
2 booked for gangrape
Mansa, June 16
Three persons of Makha Chehla village have been booked for allegedly gangraping a woman of the same village. The victim accused brothers, Jaspal Singh Kaka, Karamjit Singh and Pirtpal Singh, of assaulting her husband and raping her.



Minor raped in Rajpura
Four held with drugs
Fatehgarh Sahib, June 16
Four persons have been arrested in separate drug-related cases in the district.