Hike in railway fare and freight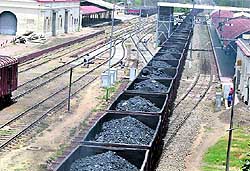 Power tariff hike almost certain
Chandigarh, June 20
The hike in rail freight will hit Punjab State Power Corporation Limited and consequently the consumers too. The annual additional fiscal burden on the PSPCL because of the 6.5 per cent rail freight hike will be about Rs 225 crore. The power generation cost will go up as all thermal plants in the state use coal as fuel to operate the units.

The hike would mean costly coal to thermal plants. A Tribune photograph

Industrialists feel let down by govt
Ludhiana, June 20
The increase in railway fares by 14.2 per cent and in freight by 6.5 per cent has sent shock waves among the industry while also evoking strong resentment among other people, especially frequent travellers.
Gaba's son in 3-day police custody
Jalandhar, June 20
The interrogation of Gurjit Singh Gaba, alias Monu, one of the accused in the synthetic drug case, who was arrested by the police yesterday, is likely to yield vital information on those involved in the trade.



Nine held with heroin worth Rs 6.5 crore
Indo-Pak trade back on track
Amritsar, June 20
The trade between India and Pakistan through the Integrated Check Post (ICP) at Attari resumed after around 24 hours as the stalemate between the porters and the authorities came to an end following a meeting between the two sides.
Harsimrat begins thanksgiving tour from Lambi
Lambi, June 20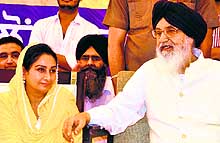 Bathinda MP and Union Minister for Food Processing Industries Harsimrat Kaur Badal, accompanied by her father-in-law Chief Minister Parkash Singh Badal, today started her thanksgiving tour of the parliamentary constituency from Lambi Assembly segment, from where she got the maximum margin of about 34,300 votes.


CM meets Irani, seeks IIM, central varsity for state
Chief Minister Parkash Singh Badal and his daughter-in-law and Union Minister Harsimrat Kaur in Lambi on Friday. A Tribune photograph

Process begins for two byelections
Chandigarh, June 20
The state today set the ball rolling for the Patiala and Talwandi Sabo byelections by declaring the Patiala Assembly seat vacant. An official spokesperson said the Vidhan Sabha had confirmed that the Patiala (Urban) seat was vacant with Capt Amarinder Singh resigning from the assembly seat after winning the parliamentary election from Amritsar.
Decision to set up AIIMS shocking, says Khaira
Jalandhar, June 20
Congress Spokesperson Sukhpal Khaira today termed Chief Minister Parkash Singh Badal's decision to set up an All India Institute of Medical Sciences (AIIMS) in Jalandhar as shocking. He said, instead, the multi-speciality Punjab Institute of Medical Sciences (PIMS) should be upgraded in order to set up AIIMS. He has urged the Union Health Minister to take over PIMS and upgrade it.
RTI: Activities of land grabbers go unchecked
Muktsar, June 20
The Block Development and Panchayat Office (BDPO) in Lambi, Chief Minister Parkash Singh Badal's assembly segment, has revealed that the activities of land grabbers go unchecked. An RTI plea has found that the police are allegedly not assisting the Rural Development and Panchayat Department in freeing encroached land.
Samrala farmers destroy crop as payment held up
Mushkabad (Samrala), June 20
The crop diversification scheme of the state government may run into rough weather as several farmers of Samrala area today destroyed their standing sugarcane crop. The farmers took this extreme step as they failed to get their long pending dues from sugar mills of the state.
Tax refund scam unearthed
Patiala, June 20
Over 100 companies and traders in the state are under scanner in a bogus "tax claim and refund" scam. They allegedly claimed refund worth crores, showing exports to Nepal. An internal probe conducted by the Excise and Taxation Department unearthed the scam, which is believed to extend to other states such as Uttar Pradesh and Bihar.
Suspended by Maluka on graft charge, SDO cries foul
Sangrur, June 20
Rural Development and Panchayats Minister Sikander Singh Maluka today ordered suspension of Ranjit Singh, Sub-Divisional Officer (SDO), for alleged financial irregularities in utilisation of welfare grants.
Middle schools to be upgraded, says Cheema
Jalandhar, June 20
The Punjab Government will seek financial help from the Centre to provide education to its students under the Right to Education Act, 2009.
High Court gets three new judges
New Delhi, June 20
Justice Ashutosh Mohunta has been transferred back to the Punjab and Haryana High Court. He was shifted to the Andhra Pradesh High Court in October 2010.
Will restore gurdwara in Lahore: Sarna
Ludhiana, June 20
Shiromani Akali Dal (Delhi) president Paramjit Singh Sarna has said his outfit has got the "sewa" of restoring the Gurdwara Dera Sahib building, the site where Guru Arjun Dev was martyred, at Lahore. He said this was decided by a Sikh congregation and Pakistan Sikh Gurdwara Parbandhak Committee, which are overseeing the restoration work of Nankana Sahib.
tribune impact
Rights body seeks report on rickshaw puller's plight
Muktsar, June 20
The Punjab State Human Rights Commission (PSHRC) has taken suo motu cognisance of the Tribune report "Muktsar's Jinder plies a rickshaw for a living" published on Thursday.
Short-staffed BBMB re-employs retired officials
Ropar, June 20 Facing an acute shortage of staff, the Bhakra Beas Management Board (BBMB) has decided to re-employ its retirees on contractual basis. Some of the posts offered are Senior Xen and Assistant Engineer.
Fake documents racket to get US visa unearthed
New Delhi, June 20
A fake documents racket to help young Punjabis secure a US non-immigrant visa was unearthed by the US Embassy in Delhi when four persons arrived there for an interview on Wednesday.
One killed, 2 hurt in accident
Patiala, June 20
One person was crushed to death and two were injured when a speeding truck hit several vehicles near the bus stand flyover here today.
Wife, paramour held for killing man
Sangrur, June 20
With the arrest of a woman (mother of four) and her alleged "paramour", the Malerkotla police today claimed to have solved a blind murder case in a day.