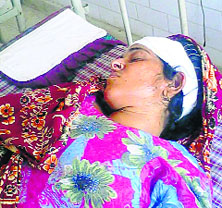 Colleagues of 'assaulted' teacher seek police action
Abohar, June 17
The Punjab EGS Teachers Union has warned the Abohar police that it would launch an agitation if the persons responsible for thrashing Radha Rani, a teacher, were not arrested within the next two days. Union executive member Goga Rani said Radha Rani had been waiting for justice during her treatment at the Community Health Centre in Seetogunno village for the past one week but the police were trying the "shield the culprits under pressure from some ruling politicians".

Radha Rani at a health centre at Seetogunno village
350th anniversary of Anandpur Sahib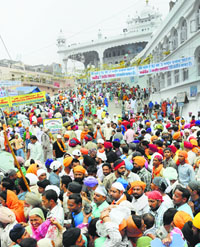 Celebrations begin tomorrow
Chandigarh, June 17
The year-long celebrations of the 350th anniversary of Anandpur Sahib, associated with the birth of the Khalsa, begin on June 19. An akhand path was started today at Gurdwara Takht Sri Kesgarh Sahib. Earlier known as Makhowal, the town was founded by Guru Teg Bahadur. The foundation was laid on June 19, 1665. On the occasion of Baisakhi in 1699, Guru Gobind Singh baptised "Panj Piare" at this place, marking the birth of the Khalsa. The SGPC has constituted a committee to celebrate the town's 350th anniversary. The town, that has a fort, is now a subdivisional headquarters where thousands of devotees and tourists gather for Hola Mohalla in March every year.

A file photo of gathering on a holy occasion at Anandpur Sahib.


AAP workers raise ruckus
Ludhiana, June 17
Pandemonium prevailed outside the venue of the Aam Aadmi Party (AAP) meeting here today where the party leadership had gathered for its first meeting of "Mission Vistaar". The exercise is aimed at expanding AAP's base in Punjab and restructuring the party.

Work on Ropar IIT complex to begin in 3 months
Ropar, June 17
Students and staff of the Indian Institute of Technology (IIT), Ropar, can hope for better facilities in the near future as work on the new building for the premier institution will start soon. While the tender for work on the first phase of the new campus (to be spread over 501 acre) has been already floated, the construction is likely to start in the next three months.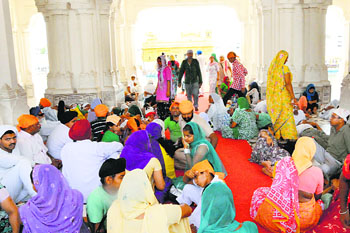 Scorching heat no deterrent for devotees
Amritsar, June 17
Even as the mercury continues to soar with each passing day, there has been no let-up in the number of devotees visiting the Golden Temple. The number of pilgrims visiting the shrine is touching the one-lakh mark daily, says the SGPC.




Devotees at a Golden Temple sarai. Tribune photo: Vishal Kumar


Wrong to ignore PSGPC, says Sarna


Amritsar, June 17
Former DSGMC chief Paramjit Singh Sarna today said the Pakistan Sikh Gurdwara Parbandhak Committee (PSGPC) could not be ignored, and that the Akal Takht must ensure it was kept in loop when any key decision concerning the Sikh community was made.

Education Dept to launch web portal, toll-free service
Mohali, June 17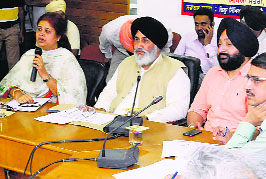 To help people register their complaints, make suggestions and to know about the status of their application, the state Education Department will launch its web portal and a toll-free service soon. Dr Daljit Singh Cheema, Education Minister, chaired a high-level meeting of senior functionaries of the department here today. He said: "The portal and toll-free service aims to encourage public participation in the decision-making mechanism of the department.


Dr Daljit Singh Cheema, Education Minister, at a meeting in Mohali on Tuesday. Tribune photo: Vicky Gharu

Deceased Vidhu Jain's family shifts to Ludhiana
Sangrur, June 17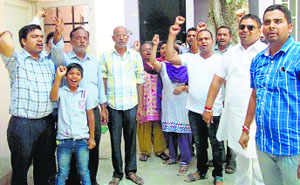 The family of 12-year-old Vidhu Jain, who was burnt alive on September 30, 2013, has shifted to Ludhiana. "My son's killers are roaming free in Malerkotla and may also harm my younger son Naman," says Navneet Jain, who sold his ancestral house in Malerkotla about three months ago.


Relatives of deceased Vidhu Jain demonstrate against the state government at Malerkotla on Tuesday. A Tribune photograph

De-addiction centres to come up in Badal village, Bathinda
Faridkot, June 17
Chief Minister Parkash Singh Badal has decided to open a de-addiction centre at his native village Badal to provide succour to addicts. The 10-bed centre will function under Baba Farid University of Health Sciences (BFUHS), Faridkot. The Chief Minister today sanctioned a Rs 30 lakh grant to the university for this centre.
Govt to create land banks for new projects
Chandigarh, June 17
Deputy Chief Minister Sukhbir Singh Badal today asked Chief Secretary Sarvesh Kaushal to create a land bank of at least 3,000 acres along the Chandigarh-Ambala national highway to cater to the needs of investors for setting up new ventures.
Counselling cancelled, chaos prevails at Adesh University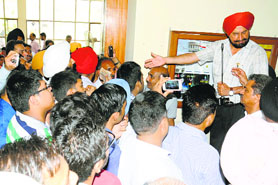 Bathinda, June 17
Chaos prevailed on the campus of Adesh University in Bathinda today after the students and their parents, who had reached there for counselling, were intimated by the management around 9.30 am that the counselling had been cancelled following orders from the state government.


An official of Adesh University tries to pacify parents and students after the counselling for MBBS admissions was cancelled in Bathinda on Tuesday. A Tribune photograph

MGnrega scam
Raids on to arrest panchayat officials
Patiala, June 17
The Patiala police today conducted raids at various places to nab the two suspended Block Development and Panchayat Officers (BDPOs), Malwinder Singh and Dinesh Vashisht, for allegedly embezzling MGNREGA scheme funds. The police have summoned the original record of all purchases made under the scheme.
Dalits on dharna at DC office
Sangrur, June 17
Members of the Scheduled Caste (SC) community from Balad Kalan village (Bhawanigarh) started an indefinite dharna at the district administrative complex here today. They are organising the protest under the banner of Zamin Prapati Sangharsh Committee.
Heat wave claims 2 lives in Jalandhar
Jalandhar, June 17
With the extreme heat claiming two more lives, the toll has reached six in the city in a week. Assistant Sub-Inspector Lakhwinder Singh said the police was informed by some residents that an unidentified person was lying unconscious on an empty plot in Nurpur village.


'Toothless' NRI wing
Lawyer seeks HC intervention
Chandigarh, June 17
Alleging that the NRI wing of the Punjab Police was virtually lying defunct, a Punjab and Haryana High Court advocate has sought judicial and political intervention for making it effective to prevent the feeling of alienation among the NRI community.


15 vehicles recovered, one arrested
Fazilka, June 17
The district police claimed to have recovered 15 stolen two-wheelers from a resident of Chack Mannewala village in Fazilka district. In another case, the police recovered 2 kg of opium from a drug peddler.