No room for confusion!
A familiar dish with an exotic twist! There is no escaping from this fusion trend which the Chandigarh chefs are merrily ushering in
Amarjot Kaur
More often than not, fusion food becomes a half-baked linguistic excuse to administer some unnatural experiment upon an innocent diner. But most of the food that we eat is 'fusion' in one form or another. So, to entirely dismiss fusion food is as foolish as it is myopic. Fusion food is perhaps an ultimate test of a chef's true merit. While the city's brave-heart chefs have thrown caution to the winds to wed their culinary knowledge of different cuisines and exotic ingredients with much deliberation, the time has come to applaud their efforts. Here are a series of twists, which validate a flavourful perception of globalisation-not all boundaries are barriers!
When Greek happened to the Mexican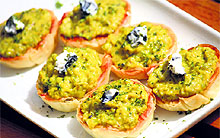 When one speaks of Guacamole in Phyllo Cups, it is not just the complexity of the dish's name that raises a brow, but also the choice of cuisines where it comes from. This is the story of Mexican style avocado salsa, romancing the Mediterranean phyllo cups, of a Greek origin, topped with ash-coated chevre that is typically French. "This dish is a mix of European, Middle-Eastern and Mexican food, a mix that is quite hard to find," says Richa. This dish is available at the Whistling Duck.
Taste wise: This one is a robust, flavourful mix of tangy and spicy.
Maggie with a Thai twist
While we have all savoured Maggie in all possible forms, the Thai Maggie at Mocha is perhaps one of the most interesting twists of all times. "Basically the Thai Maggie is made in the Thai Curry, which gives it a Thai flavour," says Ayush Singla, the owner of Mocha.
Taste wise: While Maggie is the hot favourite of each one of us, but for those of you, who have a taste for Thai curry, this one is definitely your pick!
Sweet story of the bitter gourd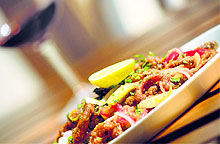 While history stands witness to the accidents that led to great discoveries, the only trouble with the one that helped Richa Johri, the head chef at Whistling Duck, a city restaurant, discover karela salad, involved a ridiculously bad taste of bitter gourd at a family get together. "At a family party, my relatives settled for a platter full of fried karelas to go with their schnapps, the taste of which was enough for me to work my magic on it. That's how the Karela Salad happened," she says. Meanwhile, Ambar, the owner of the restaurant, advocates the dish, which sells like hot cakes! The salad is essentially a mix of Sri Lankan flavour with Indian spices. "We add sweet mango pickle to the fried chunks of sliced karelas with different herbs, dressed with cucumber," says Richa.
Taste wise: The taste of this bitter gourd salad is anything but bitter. It is sweet, tangy and spicy.
Coastal curries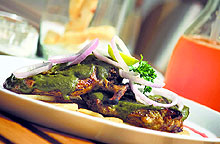 Galina de Cafreal is quite like a Goan hippie of a Portugal lineage. Available at Whistling Duck, this dish makes for a hippie happy bite! "Galina de Cafreal is essentially Goan homemade chicken with toddy vinegar, and it is made with exotic herbs, some of which are Indian while the others are typically Portugal," says Richa. It is served with onion rings, shallow fried potatoes, and peri peri chilli oil.
Taste wise: If you like your dish high on spices and a tangy flavour with mild sweetness to it, this one is your pick!
The big fat burger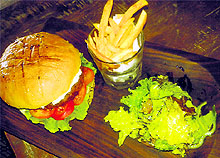 This is the story of a burger, the spoilt brat of American cuisine, the bad boy who we all hate to love! And guess who's fallen for it this time? It's the doted daughter of Arabic cuisine, falafel. The man who made it all happen, Vijay Goswami of Brooklyn Central, fills us up on this interesting blend of the American and Arabic dish, Chickpea Lentil Burger. "The Chickpea Lentil Burger has the falafel patty that is fried and those who love the taste of falafel, will surely enjoy this variety of burger," he shares. Meanwhile, the herbs used in the falafel patty are also a mix of American and Arabic, including paprika and chillies.
Taste wise: The Chickpea Lentil Burger tastes like the first few months of a new romance. It's sweet, tangy and juicy!
Turkish tadka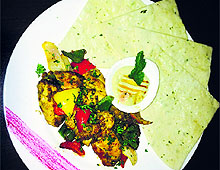 The Spicy Chicken Kebab at Ten Towns traces its roots back to Turkey where it basks in the glory of its rich flavourful history of spices. Had it not been for Gaurav Sogi, the owner of the restaurant, this Turkish Shish Touk, it would never have found its boisterous Punjabi cousin! "This one is a blend of Turkish and Punjabi cuisine. We take chunks of chicken and marinate with onion paste, harissa paste, paprika oil, salt, black pepper, cumin, lemon, fresh coriander and keep it for overnight," says Gaurav. The marinated chicken is then cooked in the wood-fire oven for 8-10 minutes with dice of bell pepper and onion.
Taste wise: While the chicken gets a well-cooked texture on the outside, it is very succulent inside and has a strong smoky flavour. Spicy chicken kebab is served with hummus/yogurt harissa with a sprinkle of fresh coriander and pita bread.
Meat and nut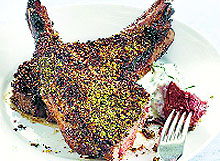 The Pistachio Masala Lamb Chops with Cucumber, quite like the old-fashioned westernised yuppie that settles for a good deal and here it means health. Available at the Rustic Door, this dish is all about texture and is a blend of Indian and continental. "While the lamb chops are coated with chat masala, which gives it an Indian flavour, it is then coated with pistachio and other spices, which are both Indian and western spices," says Ameena, the owner of Rustic Door.
Taste wise: It's hard to decide whether the texture of this dish overrides the taste or the flavours, or adds to its texture. Why don't you go and find out for yourself?
The Chinjabi way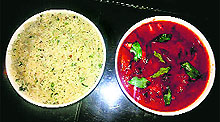 Since Punjabis like their food with tadka, the authentic Chinese had to adjust to the Punjabi flavours. At The Purple Rice, they have an interesting blend of Chinese and Indian. "In our Chinese dishes, we use a lot of Indian spices, which makes it an instant hit. We also serve Mangalorean curries, which is essentially Thai red curry and tastes like the South Indian curries, with a robust flavour of kadi patta," shares Vipul Dua, the owner of the restaurant. Also, At Peddlers, the basement of Purple Rice, they serve an Indian Italian Pizza, with varieties like Chicken Tikka Pizza.
Taste wise: While the Mangalorean curry has the texture of Thai red curry, it tastes more like the South Indian curry, with a rich flavour of black cumin.
amarjot@tribunemail.com