PUNJAB

HARYANA

JAMMU & KASHMIR

HIMACHAL

REGIONAL BRIEFS

NATION

OPINIONS

LETTERS

BUSINESS

SPORTS

WORLD


M A I N N E W S
Rail Budget

Gowda boards reforms express, promises bullet trains
No fare hike

58 new trains, faster connectivity, FDI, public-private partnership projects, better food, cleaner rides in the offing
Girja Shankar Kaura
Tribune News service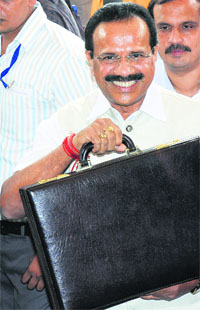 Rail Minister Sadananda Gowda at Parliament. Mukesh Aggarwal
New Delhi, July 8
Sparing passengers any fresh fare hike, which was effected last month, Railway Minister Sadananda Gowda on Tuesday presented his maiden Rail Budget pitching for reforms by proposing FDI and Public Private Partnerships (PPP) to meet the resource crunch besides introducing bullet trains and high-speed connectivity among major cities.
Bearing Prime Minister Narendra Modi's stamp, the Rail Budget unveiled many new measures to make the Railways, which runs about 20,000 trains and ferries 23 million passengers daily, a modern, efficient and commercially viable utility. Gowda had three big messages to offer — consolidation, limited populism and expansion largely with private investment.
The minister presented proposals, subject to parliamentary approval, for introduction of 58 new trains, paperless office in five years, digital reservation charts, wi-fi in select stations and trains, wake-up call for passengers, separate freight terminals, office-on-wheels for business travellers, more money for cleanliness and safety, food courts at stations, expansion of rail tourism and better connectivity in hilly areas and northeastern states. He said some identified stations will be developed like modern airports.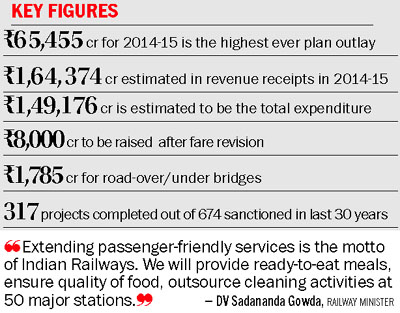 The minister, however, indicated the enormity of the task at hand by pointing out that the Railways operating ratio had come down to 94 paise per rupee (it loses 94 paise on every rupee earned) and that while the recent rail fare hike would net the railways only Rs 8,000 crore annually, the public sector transporter needs a steady infusion of at least Rs 50,000 crore every year for the next 10 years as against the actual spending of Rs18,400 crore in the past 10 years. Freight and passenger fare hikes alone could not fetch such large requirements, he said.
Gowda focused on ways to earn from other sources, such as allowing foreign equity in areas excluding operations, as also public-private partnerships. Details, he said, would be worked out. He also made it clear that commercial viability cannot be sidestepped. "An organisation of this magnitude vested with varied responsibilities, is expected to earn like a commercial enterprise but serve like a welfare organisation. These two objectives are like the two rails of the railway track, which travel together but never meet," he said in his hour-long speech.
Gowda said the Railways had plans to introduce a bullet train on the Mumbai- Ahmedabad sector and also promised a diamond quadrilateral project of high-speed rail connectivity between the four metros. A sum of Rs 100 crore has been provided for initiating the project.
Modi, in his election speeches, had talked about introducing bullet trains, after seeing them run in Japan and China, if he came to power.
"It is the wish and dream of every Indian that India runs a bullet train as early as possible. Madam Speaker, Indian Railways is on its way to fulfil that long cherished dream. We propose bullet trains by starting off with an already identified Mumbai-Ahmedabad sector, where a number of studies have been done," Gowda said.
Regarding the high-speed projects, the minister said the Railways would require more than Rs 9,00,000 crore ($150 billion) to complete the golden quadrilateral network and about Rs 60,000 crore ($100 billion) for introducing one bullet train alone. He promised introduction of nine high-speed trains, including one on Delhi-Chandigarh and another on Delhi-Pathankot route.
Gowda also said he plans to leverage Railway PSU resources by bringing in their investible funds in infrastructure projects and extending tax holidays for long gestation projects. A dedicated varsity for Railway studies, summer interns in the Ministry of Railways from management and technical institutes and e-procurement and monitoring system for other railway projects are the other key announcements.
Gowda pegged the total receipts at Rs 1,64,374 crore and the total expenditure at Rs 1,49,176 crore while expecting a 4.9% growth in freight and a small growth in passenger traffic this fiscal. In keeping with the ambitious plans unveiled by Gowda, the hike in the annual plan was a modest Rs 5,000 crore more than the Rs 60,000 crore unveiled in the previous government's interim Budget.


India on fast track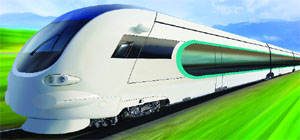 Bullet train proposed on Mumbai-Ahmedabad sector


Diamond quadrilateral for high-speed trains; Rs 100 cr for project


Train speed to go up to 160 to 200 km per hour in 9 select sectors


Five Jansadharan, five premium, six AC, 27 express, eight passenger trains


18 new line surveys, 10 surveys for doubling 3rd and 4th lines and gauge conversion


The Railways would require more than Rs 9,00,000 crore ($150 billion) to complete the golden quadrilateral network
Better amenities
Workstation on trains


Internet, workstations on select trains


WiFi in A-1 and A category stations and select trains


RO drinking water at all stations


Battery operated cars for differently abled


Bio toilets on trains to remove human waste


Mechanised laundry services for bedrolls in AC coaches


Cleaning services to be outsourced at 50 stations


CCTVs to monitor cleanliness, inspections
Safer travel


RPF escort for women coaches

Women coaches to be escorted by women RPF constables; 17,000 RPF men recruited, 4,000 women constables on their way


Multi-pronged approach to eliminate unmanned level crossings; automatic closing of doors in some trains
Easy ticketing
e-ticketing to be revamped


Ticket-booking through mobile phones, post offices to be popularised


e-ticketing to support 7,200 tickets per minute


Allow 1.2 lakh simultaneous online users
Quality catering
Order food via SMS


Food can be ordered by SMS and phone


Pre-cooked ready-to-eat meals to be provided


Food courts at major stations for regional flavour
Infra boost
World-class stations

10 major stations to be converted into international-level facilities


Foot over-bridges at major stations through PPP

Claps & slaps
Congratulations to the Railway Minister for presenting a futuristic & growth oriented budget. It is a budget for the common people.
Narendra Modi,
prime minister

It is a hopeless budget. Congress-ruled states have been ignored in this budget.
Rahul Gandhi, congress vice-president

It is a pro-rich budget. It has nothing new to offer. There is no new scheme, no new plan and no new railway line. They have admitted that it is a plan holiday.
Mallikarjun Kharge,


ex-rail minister
It's a visionless budget without any new ideas by the Modi govt. They are literally selling the country by bringing in FDI.~
Mamata Banerjee,
ex-rail minister