OPED —

Environment
Ushering the Evergreen Revolution
Dr. Manjit S. Kang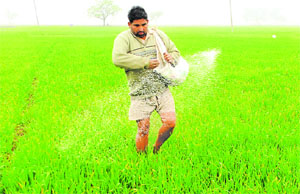 Once, more than 300 crops were grown in Punjab. But after the 1980s, only the wheat-rice system has dominated. A Tribune file photo
Every species has an ideal environment in which it can live and thrive. It takes thousands of years for a species to adapt to a particular environment. Recent studies at the University of Chicago's School of Medicine have established that genetic and physiological adaptations for life at high elevations in residents of Tibetan plateau originated around 30,000 years ago in people related to contemporary Sherpas.
While Tibetans thrive at high altitudes, people from lowlands suffer from extreme altitude sickness there. An example from plants would be halophytes, that is , salt-loving plants. Sea water generally contains 40 grams per litre (g/l) of dissolved salts (mostly sodium chloride). Rice and beans can tolerate only around 1 to 3 g/l. On the other extreme, dwarf glasswort grows well at 70 g/l and is a promising halophyte for use as a crop. Barley and date palm can tolerate about 5 g/l (marginal halophytes).


Evergreen Revolution


"Evergreen Revolution", means "to increase productivity in perpetuity without causing any ecological harm".


It entails organic farming, conservation agriculture, precision agriculture, agro-forestry with fertiliser trees, integrated pest management, integrated nutrient management and protection of natural resources.


If farm ecology and economics go wrong, nothing else will go right in agriculture and sustainable agriculture cannot be achieved.
The coastal area in Tamil Nadu has dozens of species of halophytes that can be used as cash crops (edible oils, medicines, vegetables, and cattle and fish feed). Once a species is removed from its zone of adaptation or its environment is changed anthropogenically or otherwise, the survival of that species will be threatened. Once the environment of one species is drastically disturbed, it not only affects that species but also has cascading effects on other species in the ecosystem.
Green Revolution impact
The ecosystem of Punjab prior to the Green Revolution contained more than 300 crop species and hundreds of species of trees and birds. Since the days of the Green Revolution (late 1960s and 1970s), Punjab has been called the "granary of India". During the Green Revolution, wheat and rice production witnessed unprecedented increases. India achieved self-sufficiency in wheat production by 1972 and in rice and other cereals by 1974. Punjab's wheat production increased during 1965-1972 from 1.9 million tonnes to 5.6 million tonnes, which jumped further to 15.8 million tonnes in 2007-08. India's wheat production increased from 12 million tonnes in 1964 to 80 million tons in 2009, with a major contribution from Punjab. Punjab's rice production increased remarkably from 1.03 million tons in 1970-71 to 15.65 million tonnes in 2007-08. Thus, Punjab became a major contributor to India's food security. The state primarily adopted a monoculture of wheat-rice cropping system.
While wheat was the main staple food in Punjab, rice cultivation was added in the 1940s and 1950s, primarily to make use of water-logged soils in some areas of Punjab. For various reasons (productive rice varieties and greater profits), rice cultivation picked up pace in Punjab, Haryana and western UP. Soon, rice replaced maize, pulses, cotton, groundnut, and several other crops.
Crop diversification
The monoculture of wheat-rice cropping system destroyed crop diversification. Once, more than 300 crops were grown in Punjab, but after the 1980s, only the wheat-rice system dominated. Because of the lack of a visionary long-term agricultural policy both at the state and central levels, the area under rice in Punjab, which was merely 230,000 hectares (ha) in 1960-61, jumped to 2.83 million ha by 2012. On hindsight, rice cultivation turned out to be an ecologically unsound practice, as reflected by the critical depletion of groundwater, degradation of soil health, nutrient deficiencies in crops, and of course, the loss of diversification. The number of tubewells in Punjab increased from 120,000 in 1970s to 1.3 million in 2010. With free power and water in Punjab, water wastage increased.
In the mid-1960s, when Mexican dwarf wheat varieties were introduced in Punjab, the scientists of Punjab Agricultural University had to convince farmers through field demonstrations to use adequate quantities of inorganic fertilisers. Now, decades later, farmers overuse fertilisers and other agro-chemicals (herbicides, fungicides and insecticides). The excess chemicals end up polluting underground water and the soil, and eventually enter into the human and animal systems. Indiscriminate use of chemicals, such as DDT, 2,4-D, and 2,4,5-T, has been linked to health problems, including cancer, in Punjab villages. The latter two chemicals are teratogenic, that is, can cause developmental deformities. Because of loss of habitat and chemical usage, bird species like the house sparrow have nearly disappeared from Punjab.
Nutrient deficiencies
Soil organic matter has practically vanished because of the adoption of the wheat-rice system because neither crop adds much organic matter to the soil. After harvest, the crop residue of both crops is burned with impunity to quickly plant the next crop. Not only does burning of stubble lead to depletion of organic matter, but it also adds carbon to the environment, which is a major greenhouse gas and causes global warming.
Nutrient deficiencies have been recorded as follows: Nitrogen deficiency in Muktsar and Hoshiarpur districts (20 per cent cropland), phosphorus deficiency in Patiala and Muktsar districts (20 per cent cropland), and potassium deficiency in Hoshiarpur district (35 per cent cropland). In Punjab, nitrogen-phosphorus-potassium ratio has changed for the worse from 4:2:1 to 20:5:9. This means that Punjab farmers do not use these three nutrients in a balanced manner. Such problems have occurred because of the lack of functional nutrient-testing laboratories at the district level.
Water and air pollution
Punjab faces a serious problem of chemical toxicity in water. According to Sant Balbir Singh Seechewal, who has revived many rivers, laws to control pollution are only on paper and no serious efforts are made to control water and air pollution. Toxic and dangerous chemicals, such as cyanide, which originate from some factories in Ludhiana and Phagwara, flow freely in river waters. Consumption of such water can cause various diseases. In 2009, a Bhabha Atomic Research Centre report revealed that in the Malwa area, a litre of water contained up to 244.2 microgram uranium when the World Health Organization considers 15 microgram per litre as the safe limit. During 2001 to November 2009, 1074 deaths in Muktsar and 211 deaths in Lambi constituency were attributed to cancer.
The air pollution resulting from burning of stubble causes serious health problems every year. The smoke and particles generated by the burning of rice stubble (containing silica) cause breathing problems and diseases, such as asthma. In addition, by burning stubble, farmers burn away millions of dollars worth of precious nutrients and also destroy crop-friendly soil micro-organisms.
Punjab has established several coal-fired thermal plants to generate electricity. Coal-fired thermal plants produce dangerous coal ash/fly-ash. All fly ash generally contains silicon dioxide (SiO2) and calcium oxide (CaO). It also contains oxides of aluminum and iron. Thermal power plants, in addition to being responsible for greenhouse-gas emissions, are a major source of local pollution and health damages. In India, 70 per cent of electricity is generated from coal.
The toxic constituents of fly ash can dissolve in water and seep into the soil. Toxic substances can enter into rivers, streams and wetlands and into underground water aquifers that supply drinking water wells. In December 2012, Conservation Action Trust, Urban Emission, and Greenpeace India jointly published a document entitled, Coal Kills — An Assessment of Death and Disease Caused by India's Dirtiest Energy Source. The document pointed out that, in 2011-12, exposure to air pollution from Indian coal plants was responsible for 80,000 to 115,000 premature deaths and more than 20 million asthma cases. Health impacts, such as increased number of heart attacks, emergency room visits, hospital admissions and lost workdays, were also attributed to coal-based emissions. Annual cost associated with these health impacts was estimated to be Rs. 16,000 - 23,000 crore. The US Environmental Protection Agency (USEPA) has shown that living next to a coal-ash disposal site can increase one's risk of cancer or other diseases. For example, if one lives near an unlined wet ash pond and one gets his/her drinking water from a well, he/she would have a 1 in 50 chance of being afflicted with cancer from drinking arsenic-contaminated water. Arsenic is believed to be one of the most common and most dangerous pollutants from coal ash.
Remediation
In developed countries, such as Germany, 80 per cent of the fly ash generated is being utilised, whereas in India only 3 per cent is being used. If concerted efforts are made by both central and state governments to control fly ash, only then India would be able to tackle this serious environmental problem.
According to Prof M.S. Swaminathan, if farm ecology and economics go wrong, nothing else will go right in agriculture, and sustainable agriculture cannot be achieved. Prof. Swaminathan has advanced the concept of "Evergreen Revolution", which means "to increase productivity in perpetuity without causing any ecological harm". Evergreen revolution would entail organic farming, conservation agriculture, precision agriculture, agro-forestry with fertiliser trees, integrated pest management, integrated nutrient management, and protection of natural resources.
A healthy ecosystem provides humans these services: Mitigation of floods and droughts, services provided by soil (food), pollination, pest control, and seed dispersal. It must be protected and preserved. There should be a course taught on "Survival of Humankind" in colleges and universities. If humankind will protect the environment, the environment will protect humankind. Our slogan should be "Save Environment, Save Humanity!"
— The writer is former Vice-Chancellor, Punjab Agricultural University, Ludhiana