Fifty Fifty


A working mom must also be a good juggler
Kishwar Desai

After Sheryl Sandberg's honest confession about how difficult it is to juggle professional and domestic duties, we have our very own Indra Nooyi, CEO of PepsiCo, reiterating her woes about bringing up children while being a full-time high-profile executive.
It is accounts like this, which essentially say that 'women can't have it all' that make me wonder if the world hasn't moved forward, at all, in the past few decades? These were the very same debates that used to worry us when we were young. Getting married was always an enormous tussle if you wanted to work, because who was going to look after the kids? And even now, things haven't changed much ...except that technology has ensured working women can keep an eye on, or connect with, their children no matter where they are.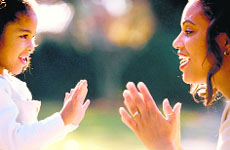 Nothing can replace a mother's love.
Thus Ms Nooyi recollected recently at the Aspen Ideas Festival in Colorado that she had actually begun to outsource parenting to family members and even her assistants in the office. Curiously, the latter is something in all my years as a working woman I had not tried. Of course we relied on parents and close friends to pitch in, but frankly I never thought I could ask my office receptionist to 'help' with my children and give them permission to play computer games! That is certainly something I never would have dreamt of doing...but perhaps that is why Ms Nooyi is way ahead of all of us.
The solution she has suggested is so peculiar that I would really like to know from all of you whether I am the only one who thinks it strange! She says that she had restricted her daughters from playing too many computer games. And the children knew they had to take permission from her. So they would call her office, and in case she was travelling, she would leave instructions with the receptionist to ask her daughter a set of questions. After the questions had been asked, the receptionist would give the child permission to play the game, perhaps for around half hour. And then this information would be communicated to Nooyi, no matter where she was.
It all sounds fascinating, but I am not sure if this is absolutely the best way? One might wonder if 'outsourcing' of parental authority means actually replacing yourself with a 'receptionist'. And did the children get fooled into thinking it was mother Nooyi at the other end of the phone line and so obeyed her orders? Forget the Nooyi kids, I am totally confused with this example!
To be fair, in most middle-class families we do 'outsource' bringing up babies to maids and other domestic staff in the absence of family or friends, especially if one is working. This, too, can be considered a far-from-perfect solution, as usually this staff could be, even if very kind and loving, totally uneducated. But at least, the child gets the continuity of care in one's own home without mixing up the 'real' mommy and the other caregivers.
Yet coming from a successful executive, Ms Nooyi's example makes me wonder if working mothers in future will require support staff in the office who can take over long-distance maternal roles, if one is travelling or unavailable.
However, even if this solution works — no matter how many primary, secondary, tertiary caregivers a working mom conjures up — nothing, it seems, takes away the burden of guilt, and that is what Ms Nooyi seems to indicate. Not even a salary of over $14 million can make it vanish.
Her main point is that women's ambitions are felled by their biological clock, which inevitably, need attention at a time just when their careers are taking off. And then, let's not forget the spouse! It is the other half who also suffers his share of neglect as well. Some husbands might help out and forget their ego, revelling in the wife's success, while others might decide that this is an uncomfortable situation.
Ms Nooyi's long-suffering husband has apparently conceded that he comes at the bottom of the list of her priorities and is now reconciled to it. But she is concerned that her daughters might be less charitable. After all, they might feel hurt that they were not at the top of her mind, constantly.
I can, as someone who has been a working mother, empathise with her. But at the same time I would add that it is important for all of us to encourage women of all ages to follow their dream. But the lesson to be learnt from Indra Nooyi's experience is not that women cannot have a fulfilling life both at home and at the office, but that they have to remain determined and not give in and find innovative solutions — as Ms Nooyi did.